Ukrainian troops battle exhaustion

UKRAINE:

Istoryk, a 26-year-old soldier in eastern Ukraine, finally managed to fall asleep one morning, exhausted from the relentless battles against Russian forces in the pinewood forests near Kreminna.
His rest was cut short just an hour later when a fresh firefight broke out, forcing the senior combat medic back into action in a fierce and lengthy exchange.
"We had a firefight for over 20 hours," said Istoryk, identified by his military call sign. "Non-stop fighting, assaults, evacuations, and you know, I managed it," he told a Reuters reporter visiting his position on Thursday.
"And we all managed it. We aren't very fresh, and right now we need to find strength."
His description of recent clashes, and the fatigue that he and his unit are experiencing, underscore the huge strain that the war, now in its 21st month, is putting on Ukraine's limited resources and on its troops.
The soldiers also know that Russia has a far bigger army and more weapons and ammunition, raising the uncomfortable question of how Ukraine can ever repel the invaders once and for all in Europe's bloodiest conflict since World War Two.
Ukraine's commander-in-chief, Valery Zaluzhnyi, described a "stalemate" on the battlefield in an interview published this week, adding that a protracted, attritional war would favour Russia and could threaten the very state.
Read Russia's Shoigu accuses West of seeking to expand Ukraine war to Asia-Pacific
Only new capabilities, including more supplies from Western allies as well as locally produced drones, would tip the balance back in Kyiv's favour, Zaluzhnyi said.
The highly respected general's stark assessment coincides with the advent of seasonal rains, which makes it harder to advance over muddy ground, and follows a summer counteroffensive which has liberated far less territory than Kyiv had hoped.
For those in the trenches, while exhaustion is unavoidable, motivation remains strong.
Istoryk, speaking in a broad west Ukrainian accent, recounts his grim experiences with a winning smile.
Asked whether he could continue to fight for another year, or even two, he replied: "I think so. For sure."
FALTERING OFFENSIVE
Istoryk serves in a rifles battalion of the 67th Mechanised Brigade in the Serebryanskyi forest in the Luhansk region. Most of the province is occupied by the Russians.
The ground around the road to the trenches is dotted with craters from incoming shells, and charred trees have snapped in half from the explosions.
Fighting of this kind is raging along the frontlines running from the border with Russia's Belgorod region in the northeast all the way to the Black Sea in the south.
Istoryk said Russia had taken "huge" losses in the area; five Ukrainian soldiers in an evacuation team were also killed by recent shelling nearby, he added.
Reuters could not independently verify his account of casualties, but tens of thousands of troops have died in battle over 20 months of a conflict that shows no sign of ending.
Having focused on defence earlier in the year, Ukraine launched a counteroffensive in June in a bid to wrest back the initiative and cut Russia's supply lines by thrusting south towards the Sea of Azov.
Five months on, that objective remains a distant dream – Ukrainian forces are some 80-90 km from the coast, and extensive Russian defences have so far largely held firm.
More dramatic advances are still possible; last year Russian forces swiftly retreated from positions in Kherson region in early November. But offensive operations could be stymied by muddy conditions.
"It's one thing to run 300 metres to an enemy position in June, and totally another when you are up to your knees in mud, warm clothes, protective gear, a backpack with spare clothes," Colonel Oleksandr Popov, an artillery reconnaissance brigade commander whose units also operate in the area, told Reuters this week.
The drone pilots from his brigade appeared less tired than those in infantry units nearby.
Michael Kofman, Senior Fellow at the Carnegie Endowment for International Peace, said the conflict had reached a "transitional phase" where both sides hold the initiative in different parts of the front.
"Overall, Ukraine's offensive in the south has either culminated or is about to," he said.
ARTILLERY WARFARE
Key battles along the front stretching nearly 1,000 km (620 miles) are raging around the eastern cities of Bakhmut, Avdiivka and Kupiansk, while two main thrusts are taking place in the south – one near Orikhiv and another south of Velyka Novosilka.
Artillery would remain a key weapon in the winter, according to Popov, adding that it was more effective when targets were more static and bare trees provided little camouflage for troops on the ground, something that affected both sides.
While the colonel noted a near three-fold drop in the number of Russian artillery strikes in the Lyman sector of the front last month when compared to October 2022, some experts said that both sides had limited stocks of ammunition.
"My sense is that the artillery advantage that Ukraine had for much of its offensive is now going to recede, and that Ukraine's ammunition availability is going to be constrained," said Kofman.
"Russia will also be forced to conserve ammunition, but will now increasingly benefit from the influx of supply coming from North Korea."
Away from the battlefield, Ukraine has sought to knock out Russian air defences, aircraft and naval assets using long-range missiles supplied by the West, hoping that such attacks make it harder for the enemy to support frontline troops.
Russia, meanwhile, has kept up its bombardment of Ukraine using drones and missiles in what it says is a targeted military campaign but which has killed thousands of civilians and knocked out infrastructure vital for heating, power and transport.
Back in the forests around Lyman, Zakhid, a 26-year-old officer, said the next phase of the war would be tough and a true test of character for the military.
"We're exhausted, they're exhausted. But there are more of them, and they have more equipment."
US vetoes UN ceasefire bid as Israel continues Gaza assault

GAZA:

Israel pressed its invasion of the besieged Palestinian enclave of Gaza on Saturday after the United States blocked an extraordinary UN bid to call for a ceasefire in the two-month conflict.
Hamas and the Palestinian Authority swiftly condemned the US veto as the Palestinian health ministry put the latest death toll in Gaza at 17,487 people, mostly women and children.
An Israeli strike on the southern city of Khan Yunis killed six people, while five others died in a separate attack in Rafah, the ministry said Saturday.
⚡️MINDBLOWING: Hamas published a new video showing scenes of Hamas clashing with military vehicles, including Merkava tanks, penetrating the Gaza City axes. pic.twitter.com/7kzzO4CPwq

— Arya – آریا 🇮🇷 (@AryJeay) December 8, 2023
Vast areas of Gaza have been reduced to rubble and the UN says about 80 percent of the population has been displaced, with dire shortages of food, fuel, water and medicine reported.
"It's so cold, and the tent is so small. All I have are the clothes I wear, I still don't know what the next step will be," said Mahmud Abu Rayan, displaced from Beit Lahia in the north.
A UN Security Council resolution that would have called for an immediate ceasefire was vetoed by the United States on Friday.
US envoy Robert Wood said the resolution was "divorced from reality" and "would have not moved the needle forward on the ground".
Israeli Foreign Minister Eli Cohen said the ceasefire "would prevent the collapse of the Hamas terrorist organisation, which is committing war crimes and crimes against humanity, and would enable it to continue ruling the Gaza Strip".
Hamas slammed on Saturday the US rejection of the ceasefire bid as "a direct participation of the occupation in killing our people and committing more massacres and ethnic cleansing".
Palestinian Prime Minister Mohammed Shtayyeh said it was "a disgrace and another blank cheque given to the occupying state to massacre, destroy and displace".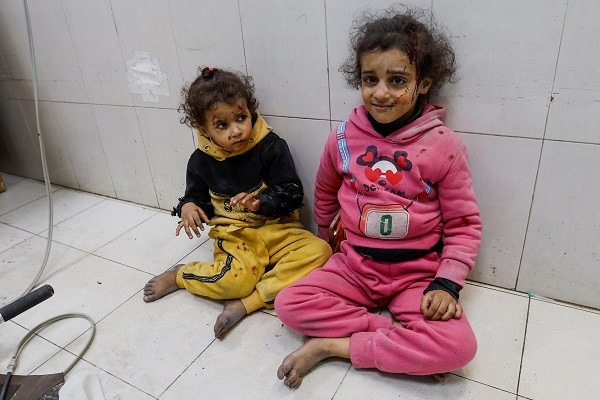 Wounded Palestinian children sit on the floor at Nasser hospital following Israeli strikes. PHOTO: Reuters
The veto was swiftly condemned by humanitarian groups, with Doctors Without Borders (MSF) saying the Security Council was "complicit in the ongoing slaughter".
Israel's military said Friday it had struck 450 targets in Gaza over 24 hours, showing footage of strikes from naval vessels in the Mediterranean.
The Palestinian health ministry reported 40 Palestinians killed near Gaza City in the north, and dozens more in Jabalia and the main southern city of Khan Yunis.
Following two months of conflict and barbaric Israeli bombardment, UN chief Antonio Guterres said Friday "the people of Gaza are looking into the abyss".
"People are desperate, fearful and angry," he said. "All this takes place amid a spiralling humanitarian nightmare."
Many of the 1.9 million Gazans who have been displaced by the war have headed south, turning Rafah near the Egyptian border into a vast camp.
Only 14 of the 36 hospitals in the Gaza Strip were functioning in any capacity, according to United Nations' humanitarian agency OCHA.
⚡️WATCH: Al-Quds Brigades published a new video showing scenes of targeting israeli military vehicles including Merkava tanks on the incursion axes towards Gaza City. pic.twitter.com/vpPQs24vT2

— Arya – آریا 🇮🇷 (@AryJeay) December 8, 2023
With the civilian toll mounting, US National Security Council spokesman John Kirby told reporters Friday that Washington believes Israel needs to do more to protect civilians in the conflict.
"We certainly all recognise more can be done to… reduce civilian casualties. And we're going to keep working with our Israeli counterparts to that end," he said.
The death toll also rose in the Israeli-occupied West Bank, where Israeli forces shot dead six Palestinians on Friday, the territory's health ministry said.
Israel claimed Friday it has lost 91 soldiers in Gaza. The real number of casualties is likely higher.
It claimed two others were wounded in a failed bid to rescue hostages overnight, and that "numerous terrorists" were killed in the operation.
Hamas said a hostage was killed in the botched Israeli rescue operation, and released a video purporting to show the body, which could not be independently verified.
An attack on the US embassy in Iraq on Friday deepened fears of wider regional conflict.
Salvoes of rockets were launched against the mission in Baghdad's heavily fortified Green Zone, adding to dozens of recent rocket and drone strikes by resistance groups against American or coalition forces in Iraq and Syria.
Separately, three Hezbollah fighters and a Syrian were killed on Friday in an Israeli drone strike on their car in the south of Syria, a war monitor said.
WHO members urge Israel to protect humanitarian workers
More than a dozen member states of the World Health Organization submitted a draft resolution on Friday that urged Israel to respect its obligations under international law to protect humanitarian workers in Gaza.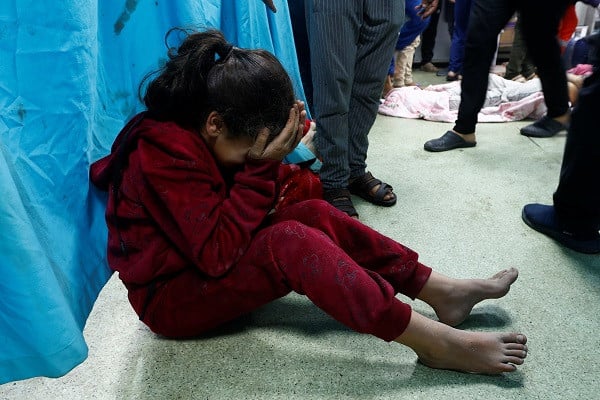 A wounded Palestinian child sits on the floor of Nasser hospital following Israeli strikes. PHOTO: Reuters
The text of the draft resolution is due to be examined on Sunday during a special session of the WHO's Executive Board convened to discuss "the health situation in the occupied Palestinian territory".
It was proposed by Algeria, Bolivia, China, Egypt, Indonesia, Iraq, Jordan, Lebanon, Malaysia, Morocco, Pakistan, Qatar, Saudi Arabia, Tunisia, Turkey, United Arab Emirates and Yemen.
Palestinian representatives have WHO observer status, and were also signatories to the proposal.
The member states expressed their "grave concern about the catastrophic humanitarian situation in the occupied Palestinian territory, including east Jerusalem, especially the military operations in the Gaza Strip".
They called for Israel to "respect and protect" medical and humanitarian workers exclusively involved in carrying out medical duties, as well as hospitals and other medical facilities.
Separately, WHO spokesman Christian Lindmeier told reporters on Friday that Gaza's health system was on its knees and could not afford to lose another ambulance or a single hospital bed.
"The situation is getting more and more horrible by the day… beyond belief, literally," he said.
The United Nations' humanitarian agency OCHA said late on Thursday that only 14 of the 36 hospitals in the Gaza Strip were functioning in any capacity.
 
Hundreds still stranded, plants closed in India's Chennai

CHENNAI:

Volunteers waded through stagnant water to hand out food and supplies, and some manufacturing plants remained shut in India's southern tech-and-auto hub district of Chennai on Friday, four days after cyclone Michaung lashed the coast.
At least 14 people, most of them in Chennai and its state of Tamil Nadu, have died in the flooding, triggered by torrential rains that started on Monday.
The cyclone itself made landfall further north in Andhra Pradesh state on Tuesday afternoon.
Authorities said some low-lying areas of the state were still inundated and government officials and volunteers were taking supplies to people stuck in their homes in slums and other areas.
The larger Chennai area is home to the Indian units of several global firms including Hyundai Motor (005380.KS), Daimler and Taiwan's Foxconn (2317.TW) and Pegatron (4938.TW) which do contract manufacturing for Apple (AAPL.O).
Read more: Chennai flooded as heavy rains from cyclone Michaung batter south India
While many of them including Pegatron and Foxconn resumed operations within a day or two of the cyclone making landfall, some plants of the TVS group located in the worst-affected areas are yet to open, industry sources said.
Adani Krishnapatnam Port (APSE.NS) in Andhra Pradesh, said on Friday the cyclone had "very badly affected" its operations and it was declaring a force majeure period starting Dec. 3.
Force majeure is a notice used to describe events outside a company's control, such as a natural disaster, which usually releases it from contractual obligation without penalty.
State-run Madras Fertilizers (MDFT.NS) notified stock exchanges that its Chennai plant has been shut and is tentatively expected to resume operations within two to four weeks.
Infrastructure questioned
Information technology (IT) services providers told staff to work from home for the week, while schools and colleges closed. A few schools and colleges were converted into temporary shelters.
This week's floods in Chennai brought back memories of the extensive damage caused by floods eight years ago which killed around 290 people.
In Andhra Pradesh, the damage from the cyclone was relatively contained, with roads damaged and trees uprooted as big waves crashed into the coast.
Defence Minister Rajnath Singh visited Chennai on Thursday and announced New Delhi will release a second instalment of 4.5 billion rupees ($54 million) to Tamil Nadu to help manage the damage. The federal government has also approved a 5.6 billion-rupee project for flood management in Chennai, he said.
Chennai residents questioned the ability of the city's infrastructure to handle extreme weather.
"Not only has urbanisation itself caused a problem, but the nature of the urbanisation has preyed upon open spaces, holding areas like marshlands and flood plains," social activist Nityanand Jayaraman said.
Experts have, however, said better stormwater drainage systems would not have been able to prevent the flooding caused by very heavy and extremely heavy rains.
"This solution would have helped a lot in moderate and heavy rainfall, but not in very heavy and extremely heavy rains," Raj Bhagat P, a civil engineer and geo-analytics expert, said on Wednesday.
Gunman described as struggling academic with 'target list'
The gunman who killed three professors and wounded one at the University of Nevada, Las Vegas, was a financially struggling academic whose job applications were rejected by several higher-education institutions in Nevada, police said on Thursday.
Anthony James Polito, 67, also had mailed nearly two dozen suspicious letters to faculty at universities across the country and had prepared a "target list" of people at both UNLV and a North Carolina university where he once worked, police said.
Polito, facing eviction from his home in the Las Vegas suburb of Henderson, had a criminal record of computer trespass dating to 1992 in Virginia, but police said there were no advance signs of violence.
The Taurus 9mm handgun he used in the shooting was legally purchased in 2022, according to Sheriff Kevin McMahill of the Las Vegas Metropolitan Police Department. He said Polito, who police shot dead after the attacks, was believed to have acted alone.
The precise motive for the rampage remained to be determined, though officials said it appeared students were not the primary target.
All four people shot on Wednesday inside Beam Hall, the campus building that houses UNLV's business school, were faculty members.
Two of the dead were identified as professor Cha Jan "Jerry" Chang, 64, and assistant professor Patricia Navarro Velez, 39. The identity of the third slain professor was being withheld pending notification of family.
Read: Las Vegas campus shooting leaves 4 dead, including suspect
The surviving victim remained hospitalized, and his condition worsened on Thursday, McMahill said.
Letters and list 
Detectives learned Polito had visited a post office shortly before the shooting and mailed 22 letters with no return address to university personnel across the United States, and had a list of people he was seeking on the UNLV campus as well as faculty from his former employer, East Carolina University in Greenville, North Carolina.
His LinkedIn profile described Polito as a semi-retired associate professor of business who taught at East Carolina from 2001-2017.
Authorities intercepted the letters before any were delivered and found a suspicious white powdery substance in at least one of them, McMahill said at a news briefing on Thursday.
The letters' contents remained under investigation, the sheriff told reporters, warning that anyone in higher education who received such an envelope should exercise caution and contact authorities.
He said officials were working to notify the intended recipients and had contacted nearly everyone on the separate target list to make sure all were safe.
"None of the individuals listed on the target list became a victim," he told reporters.
He said detectives also had uncovered evidence that Polito was struggling financially, including an eviction notice taped to the entrance of his apartment. He said a document that appeared to be a will was found inside.
"We know he had applied numerous times for jobs with several Nevada higher-education institutions," McMahill added, but he did not say whether UNLV was one of them.
Police searching Polito's home also recovered ammunition similar to the 150 rounds he was carrying.
The UNLV campus will remain closed through Friday. The UNLV website said classes had been canceled through Dec. 10.