SC disposes of 257 cases in a week

ISLAMABAD:

The Supreme Court has disposed of 257 cases (excluding CMAs) from September 25 to September 30 and instituted 204 new cases during this period.
In a statement on Saturday, the apex court noted that Chief Justice of Pakistan (CJP) Qazi Faez Isa and other judges of the top court remained committed to accelerate disposal of cases and diminish the backlog.
It further stated that the judiciary remained committed to provide relief to the litigants.
As Justice Qazi Faez Isa took as the chief justice of Pakistan (CJP), several challenges await him as it will be closely watched how he navigates issues such as holding general elections within 90 days, trials of civilians in military courts under the Army Act, and political parties' concerns about civil liberties.
He was sworn in as the 29th chief justice on September 17.
One of the major tasks is the hearing of a set of review petitions, challenging the top court's verdict on Faizabad sit-in authored by CJP Isa on February 6, 2019.
The judgment had directed the country's intelligence agencies, including the ISI, IB, MI, and the army's media wing, the ISPR, not to exceed their constitutional mandate.The judgment specifically addressed the role of intelligence agencies during a 20-day sit-in organised by the TLP at the intersection of Rawalpindi and Islamabad in November 2017.
The TLP had initiated the protest in response to alleged changes made in lawmakers' oath regarding the finality of prophethood, through the Elections Bill 2017. The protesters demanded the resignation of the then-law minister, Zahid Hamid.
Lately, the Ministry of Defence, PTI and the ECP submitted applications to withdraw their pleas. Similar applications had previously been filed by the IB and the Pemra.
The top judge expressed his curiosity about the withdrawal of the review petitions, suggesting that there might have been an order to file them.
Meanwhile, CJP Isa achieved a great deal as he took oath of the office – so much so that even his predecessor Justice Umar Ata Bandial could not accomplish during his entire tenure.
The top judge summoned a full court meeting and formed a full court on the very first day of this tenure.
Similarly, a full court was constituted to hear the petitions challenging the Supreme Court (Practice and Procedure) Act, 2023. CJP Isa also created the history by placing the suggestion in the full court about the live streaming of its proceedings. Perhaps CJP Isa is the first institution head, who himself offered to devolve his discretionary powers.
On CJP Isa's desire, it was decided that he would form benches in consultation with the two senior-most SC judges.
During the full court hearing, CJP Isa openly criticised the "misuse" of public interest jurisdiction under Article 184 (3) of the Constitution.
The most interesting part is that while heading the full court, Justice Isa questioned former CJP Iftikhar Muhammad Chaudhry's judgment in the Reko Diq case, wherein the country faced a $6.5 billion penalty.
The top judge along with senior puisne judge Justice Sardar Tariq Masood also held a meeting with the representatives of the Pakistan Bar Council (PBC) and Supreme Court Bar Association (SCBA) to discuss the apex court's disposal rate.
After consulting with both the lawyers' bodies, CJP Isa decided to issue a monthly proposed cause list. It has been learnt that CJP Isa had decided to implement the case management policy proposed by Justice Syed Mansoor Ali Shah and Justice Munib Akhtar.
Last week, the top judge also held a meeting with all senior law officers to seek suggestions for improving the efficiency and working of the Supreme Court.
CJP Isa has appointed first female apex court registrar. Lawyers are also appreciating him for timely confirmation about their filing and adjournment of applications in the apex court.
Long wait for freedom: Afghan refugees in limbo

ISLAMABAD:

Abdullah was a well-known public figure in Afghanistan, a journalist and university lecturer respected by his readers and students.
In Pakistan, however, he is laying low — worried about being caught in a deportation dragnet and after two years still waiting to be evacuated to the West.
He fled Afghanistan when the Taliban returned to power in August 2021 on the advice of US officials and Reporters Without Borders (RSF), fearing retribution from the new authorities who, as a militant group, had a history of targeting journalists.
The 30-year-old crossed into Pakistan along with an estimated 600,000 other Afghans, with tens of thousands promised asylum in third countries.
But more than 345,000 Afghans have returned to their country or been deported since Pakistan in October ordered undocumented migrants or those who have overstayed their visas to leave.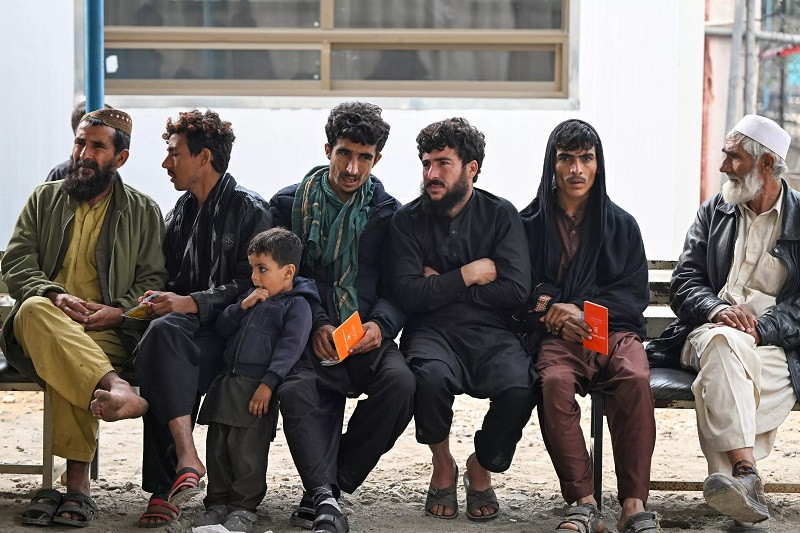 Afghan refugees waiting for their turn at the United Nations High Commissioner for Refugees (UNHCR) Centre in Nowshera. PHOTO: AFP
"For fear of the police, I haven't left this room for 15 days," said Abdullah, using a pseudonym for security reasons.
"If I could have led a normal life in Kabul, I would have become a street vendor or shopkeeper. I would have preferred that to my current situation."
Rights groups have said many Afghans have been left in limbo — their visas expired because of delays in Pakistan's registration system. Thousands are trapped in an interminable relocation process established by Western nations, which has significantly slowed.
Abdullah has a valid visa, but said armed police have twice raided his home.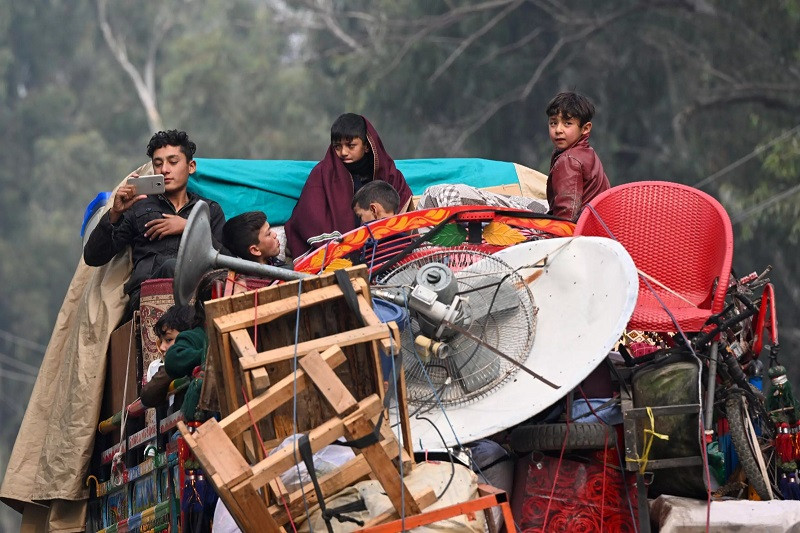 More than 345,000 Afghans have returned to their country or been deported since Pakistan in October ordered undocumented migrants or those who have overstayed their visas to leave. PHOTO: AFP
"In Kabul, I was a journalist and university teacher. Here I've lost my identity," he told AFP from an apartment in Islamabad.
Since fleeing Afghanistan he has exchanged only two or three e-mails with US officials.
RSF has arranged an interview for him at the French embassy in Islamabad.
Ahmed, a former British army interpreter in Afghanistan, was approved for evacuation two years ago yet remains stuck in an Islamabad hotel room paid for by the UK's diplomatic mission.
"I have been here more than 700 days," the 32-year-old said bitterly.
"I don't know the reason why the UK Government is doing injustice with me, why I have been stuck here. I need a life, I need education and I want to build my new home," said Ahmed, also using a pseudonym.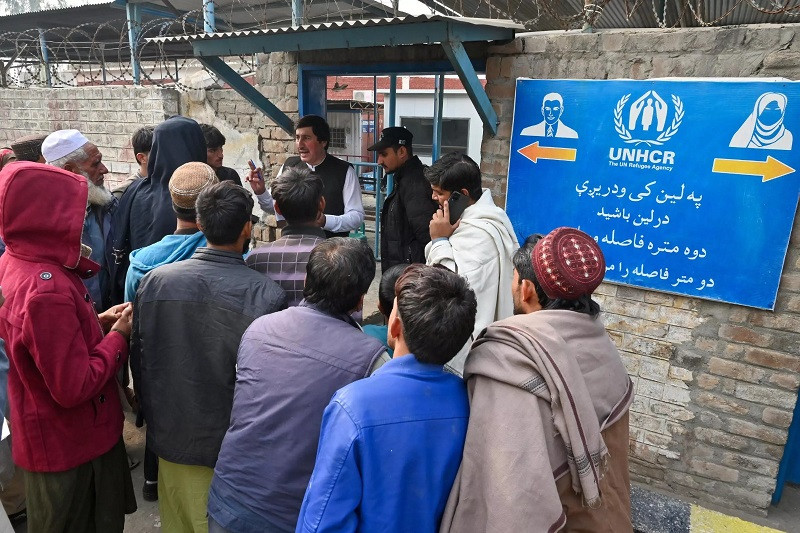 Many Afghan refugees, migrants and asylum seekers feel forgotten by the world, which has turned its attention to other crises, such as the conflicts in Ukraine and Gaza. PHOTO: AFP
His Pakistan visa expired over a year ago, and he fears being deported to Afghanistan, even though Islamabad has pledged not to kick out people in his situation.
"When I text my caseworker, he's telling me: 'Be patient, be patient, be patient'," he told AFP.
"The worst word is 'Be patient'," said Ahmed, who is also supported by Sulha Alliance — an association campaigning for Afghan interpreters who worked with the British army.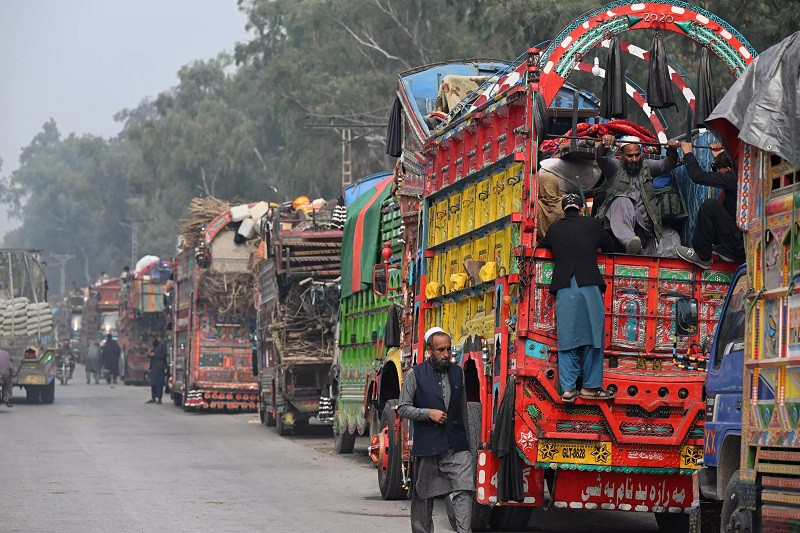 Trucks carrying Afghan refugees in Nowshera, Pakistan. PHOTO: AFP
Many Afghan refugees, migrants and asylum seekers feel forgotten by the world, which has turned its attention to other crises, such as the conflicts in Ukraine and Gaza.
While Britain has welcomed 21,500 Afghans as part of its resettlement programmes for former employees and people at risk, 70 percent of them arrived when Kabul was evacuated by the chaotic airlift that coincided with the Taliban takeover.
Only 175 people have been resettled in the first six months of 2023, according to the Migration Observatory, which analyses UK Home Office statistics.
The United States has taken in 90,000 Afghans since August 2021 — again, the majority from the evacuation of Kabul.
Precise data on Afghans in Pakistan awaiting resettlement abroad is not available, but British media have reported that more than 3,000 Afghans are in Islamabad awaiting evacuation, while the German foreign ministry said 1,500 Afghans approved for asylum are still in Pakistan or Iran.
About 20,000 people recommended for asylum by US officials, NGOs and American media outlets are waiting in Pakistan for their cases to be examined, according to Refugees International.
Despite assurances from the government that legitimate cases will not be deported, there are exceptions.
Last month, seven members of one family waiting to be reunited with a relative in Spain were deported, according to the Spanish Commission for Aid to Refugees.
Read also: Afghans driven from Pakistan rebuilding lives from 'zero'
Women's rights advocate Afsaneh, who arrived in March 2022 when the Taliban authorities began rounding up activists, lamented the "state of uncertainty".
The 38-year-old's children were not allowed into the school system and the visa for one of them has not been extended.
"It's near to two years… but still my case is not processed," said Afsaneh, whose name has also been changed by AFP.
"It's delayed by Pakistan and by the embassies, who are not taking serious action about those who are facing threats and risks," she said.
Afsaneh has applied to Germany, Spain and Canada for asylum, but only the latter has kept in touch.
The crackdown by Pakistan authorities does seem to have pushed some Western nations to speed up procedures.
At the end of October, Britain resumed evacuation flights that had been interrupted for several months.
"If they (the international community) want to support the Afghan people, they should prove it in action," pleads Munisa Mubariz, 33, a women's rights activist who hopes to leave for Canada soon.
"They should implement their commitment and their plan and their promises to these refugees."
'Some forces' pull back leaders with progressive vision: Zardari
Pakistan Peoples Party (PPP) Co-Chairman Asif Ali Zardari on Thursday asserted that 'some forces' hinder the progress of leaders with a vision for advancing the country. He however expressed his confidence in the people of Pakistan, emphasising that he does not succumb to fear in the face of such forces.
Addressing a rally in Quetta to mark the party's 56th foundation day, he said that Balochistan was the heart of Pakistan, a term usually referred to Lahore, lamenting that Islamabad and other provinces fail to recognise it as such.
Zardari affirmed his party's commitment to rectifying this perception while acknowledging the significance of winning hearts of the people of Balochistan to achieve this goal.
He stated that the PPP would empower the people of Balochistan, ensuring their ownership of the province's resources, including gas, petrol, and minerals. He underlined that the rights to these resources belong solely to the people of Balochistan, with no claim by others.
The former president highlighted the challenges faced by Balochistan and emphasised the need to address the grief prevalent in the province.
He pledged that the PPP would make Balochistan the master of its own destiny, ensuring that all resources, whether gas, petrol, or minerals, benefit the local population. Zardari promised equitable distribution of water resources across all provinces.
Turning his attention to his son Bilawal Bhutto-Zardari, the veteran politician commended former foreign minister for elevating Pakistan's dignity at a young age. He called for support for Bilawal, envisioning him as a leader of the youth, guiding the nation towards prosperity.
Zardari concluded by asserting the need to groom Bilawal as a leader for today and tomorrow, saying that he would try to transfer his 'wisdom' to his son.
Bilawal fires broadside at PML-N
Speaking on the occasion, Bilawal took aim at his political opponents, asserting that the Pakistan Muslim League-Nawaz (PML-N) had earned the moniker "mehangai [inflation] league", calling the former coalition partners a showbaaz (braggers) of Pakistani politics.
Bilawal said that 70% of the country's population comprises youth, highlighting his own youthful identity. In an apparent reference to former prime minister Imran Khan, who is considered popular among the youth, the former foreign minister said that he would represent the youth himself, not any khiladi (player).
Bilawal credited his father Asif Ali Zardari for burying the politics of hatred and revenge, marking the beginning of a new era.
He said that his party would bring a new "charter of economy" if brought to power, criticising the PML-N-led government in failing to curb inflation despite holding the finance ministry.
Urging the youth to reject divisive politics, Bilawal expressed regret that Islamabad failed to recognise the significance of Balochistan in Pakistan.
He called for a new vision and politics in Pakistan, signalling the PPP's intention to initiate a fresh style of politics to empower the people in facing economic challenges.
FBR rolls back its decision to freeze PIA`s bank accounts
The Federal Board of Revenue (FBR) rolled back its decision to freeze Pakistan International Airlines' (PIA) bank accounts on Thursday. However, it clarified that the reversal did not impede its pursuit of recovery proceedings, signaling a precarious financial situation for the national carrier.
The PIA has repeatedly found itself entangled in a financial crisis, exacerbated by the FBR's action of freezing 28 of its accounts just a day before. The Pakistan State Oil (PSO) had also issued a stern warning, threatening to suspend oil supplies to the airline if outstanding dues remained unsettled.
These developments unfolded against a visit from the European Union's Aviation Safety Agency (EASA) team, tasked with assessing flight safety concerns in Pakistan.
Notably, the EASA had previously restricted PIA from operating flights to Europe after a plane crash in Karachi in May 2020 and subsequent revelations by former aviation minister Ghulam Sarwar Khan about questionable qualifications of Pakistani pilots.
FBR's deputy commissioner for Inland Revenue conveyed, "This office has been directed to withdraw the notice mentioned above and to de-attach the bank accounts of the subject taxpayer with immediate effect."
Despite this, the board emphasized that removing the attachment did not preclude the pursuit of "recovery proceedings" under Section 14(3) of the Federal Excise Act, 2005, pertaining to unpaid or erroneously refunded duty.
Read PIA switches to plan B to maintain flight operation
PIA spokesperson Abdullah Khan confirmed the FBR's directive to unfreeze accounts nationwide, highlighting ongoing communication between the national carrier and FBR's large tax unit to address the underlying issues.
The financial challenges for PIA have escalated with billions in losses, prompting the government to announce privatization plans and outsourcing airport operations. Last month, the airline faced a severe setback when PSO halted fuel supplies because of unpaid dues, resulting in the cancellation of over 500 flights. Although operations resumed, the government has intensified decisions regarding PIA's future.
Furthermore, the Cabinet's Economic Coordination Committee (ECC) declined approval for an emergency supplementary grant of Rs7.3 billion per a request from the Aviation Ministry.
Reports from Bloomberg indicate that PIA's liabilities amount to a staggering Rs743 billion (approximately $2.5 billion), surpassing its total assets by five times. With only 19 out of 34 aircraft operational, and losses reaching Rs86 billion last year, the estimate for this year stands at a monumental Rs153 billion. Privatization or grounding the airline appears increasingly inevitable, with the government contemplating the sale of at least 51% shares along with management control.
Recent directives include the cancellation of scheduled off days for PIA employees, with the chief executive urging senior officials to expedite tasks related to the airline's divestment process. As turbulence continues to envelop PIA, the airline's fate remains precarious, teetering on the edge of financial instability and the government's ongoing reformative measures.