RNA recovered from extinct animal in world first

STOCKHOLM:

Scientists have for the first time recovered RNA from an extinct species, the Tasmanian tiger, raising hope for the resurrection of animals once thought lost forever, Stockholm University researchers told AFP.
"RNA has never been extracted and sequenced from an extinct species before," said Love Dalen, a Stockholm University professor of evolutionary genomics who co-led the project.
"The ability to recover RNA from extinct species constitutes a small step (toward) maybe being able to resurrect extinct species in the future," he said.
Dalen and his team were able to sequence RNA molecules from a 130-year-old Tasmanian tiger specimen preserved at room temperature in Sweden's Museum of Natural History.
With this they were able to reconstruct skin and skeletal muscle RNA.
RNA is a molecule that is used to convey information from the genome to the rest of the cell about what it should do.
Read also: 'Bizarre' long-legged bird-like dinosaur has scientists enthralled
"If you're going to resurrect an extinct animal, then you need to know where the genes are and what they do, and in what tissues they are regulated," Dalen said, explaining the need for knowledge about both DNA and RNA.
The last known living Tasmanian tiger or thylacine, a carnivorous marsupial, died in captivity in 1936 at the Beaumaris Zoo in Tasmania.
After European colonisation of Australia, the animal was declared a pest and in 1888 a bounty was offered for each full-grown animal killed.
Scientists have focused their de-extinction efforts on the Tasmanian tiger as its natural habitat in Tasmania is largely preserved.
Daniela Kalthoff, in charge of the mammal collection at the Museum of Natural History, said the idea of possibly resurrecting the Tasmanian tiger was an "exciting idea".
"This is a fantastic animal and I would love to see it live again," she said, demonstrating the black-and-brown striped skin the researchers used in their study.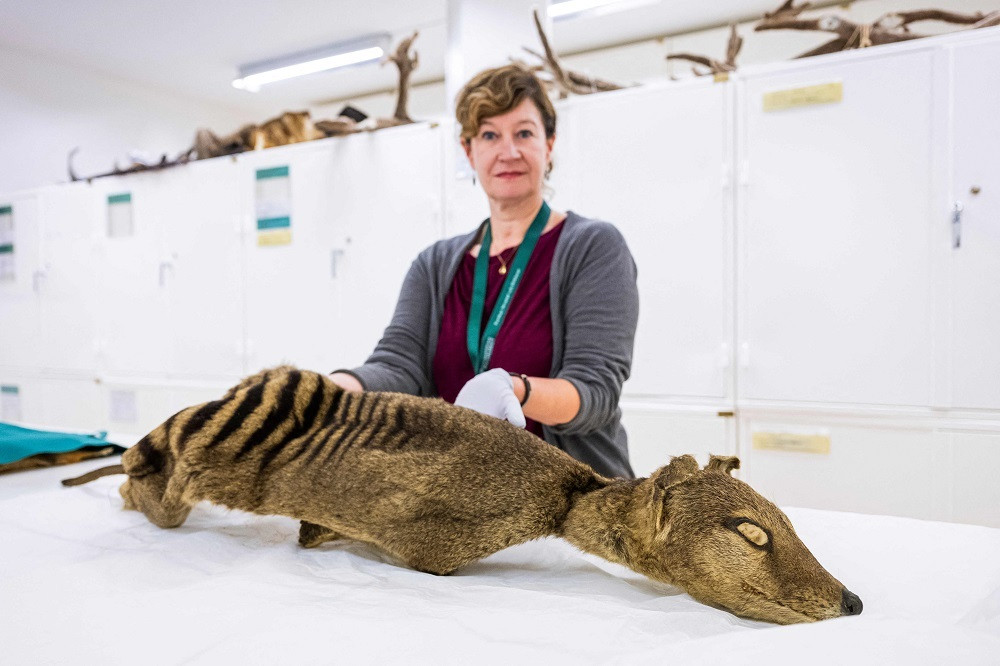 A dry specimen of a Tasmanian tiger is pictured at the Museum of Natural History in Stockholm, on September 26, 2023. PHOTO: AFP
Their findings also have implications for studying pandemic RNA viruses.
"Many of the pandemics that have happened in the past have been caused by RNA viruses, most recently the coronavirus but also … the Spanish flu," Dalen explained.
"We could actually go and look for these viruses in wild animal remains stored in dry museum collections. That might actually help us understand the nature of pandemics and where pandemics come from," he said.
The study opens the door to using museum collections in this new way.
"There are millions and millions of dried skins and dried tissue from insects, mammals and birds and so on in museum collections around the world, and one could actually now go and recover RNA from all these specimens," Dalen said.
PM Sunak cancels meeting with Greek PM over Parthenon sculptures

LONDON:

Greek Prime Minister Kyriakos Mitsotakis accused his British counterpart Rishi Sunak of cancelling a scheduled meeting in London on Tuesday in a diplomatic row over the status of the Parthenon Sculptures.
Greece has repeatedly asked the British Museum to permanently return the 2,500-year-old sculptures that British diplomat Lord Elgin removed from the Parthenon temple in the early 19th century when he was ambassador to the Ottoman Empire.
"I express my annoyance that the British Prime Minister cancelled our planned meeting just hours before it was due to take place," Mitsotakis said in a statement.
"Greece's positions on the issue of the Parthenon Sculptures are well known. I had hoped to have the opportunity to discuss them with my British counterpart. Anyone who believes in the rightness and justice of his positions is never afraid of confronting arguments," he said.
The Greek government has been in discussions with British Museum chair George Osborne on a possible loan deal for the sculptures, which have been a source of dispute between the two countries for centuries.
Mitsotakis complained in an interview with the BBC on Sunday that talks over a possible return of the sculptures to Athens were not advancing quickly enough.
He said that the continued presence of the sculptures in the British Museum was like cutting the "Mona Lisa in half" and it was not a question of ownership but "reunification".
A British government official, who asked not to be named, said the row over the marbles meant it was not suitable for the meeting to go ahead.
Earlier, a spokesperson for Sunak said there were no plans to return the sculptures.
Asked about Mitsotakis' statement, Sunak's office said Britain's relationship with Greece was "hugely important" and the two countries needed to work together on global challenges like tackling illegal migration.
Deputy British Prime Minister Oliver Dowden was available to meet Mitsotakis to discuss these issues instead, Sunak's office said.
The British government has always ruled out giving up ownership of the marbles, which include about half of the 160-metre (525-ft) frieze that adorned the Parthenon, and says they were legally acquired.
A law prevents the British museum from removing objects from the collection apart from in certain circumstances, but the legislation does not prohibit a loan.
A meeting between Mitsotakis and British opposition leader Keir Starmer went ahead on Monday as planned. The Financial Times last week reported that Starmer would not block a "mutually acceptable" loan deal for the sculptures.
Labour declined to comment.
Deal reached to extend Israel-Hamas truce in Gaza by two days

JERUSALEM/
GAZA:

Mediator Qatar said on Monday a deal had been reached to extend a truce between Israeli and Hamas forces in Gaza by two days, continuing a pause in seven weeks of warfare that has killed thousands and laid waste to the Palestinian enclave.
"An agreement has been reached to extend the humanitarian truce for an additional two days in the Gaza Strip," a Qatari foreign ministry spokesperson said in a post on social media platform X.
There was no immediate comment from Israel, but a White House official confirmed agreement had been reached.
Hamas also said it had agreed a two-day extension to the truce with Qatar and Egypt, who have been facilitating indirect negotiations between the two sides. There was no immediate comment from Israel.
"An agreement has been reached with the brothers in Qatar and Egypt to extend the temporary humanitarian truce by two more days, with the same conditions as in the previous truce," a Hamas official said in a phone call with Reuters.
Before the statements, the head of Egypt's State Information Service, Diaa Rashwan, had said an extension agreement was close and would include the release of 20 Israeli hostages from among those seized by Hamas during its Oct. 7 assault on southern Israel. In exchange 60 Palestinian prisoners held in Israeli jails would be freed, he said.
The initial truce was due to end on early Tuesday morning.
On Sunday, Hamas freed 17 people, including a 4-year-old Israeli-American girl, bringing the total number the militant group has released since Friday to 58, including foreigners. Israel freed 39 teenage Palestinian prisoners on Sunday, taking the total number of Palestinians freed under the truce to 117.
Alon Ben David, a senior defence correspondent for Israeli Channel 13 described the conditions of the captives recently released by Hamas saying the hostages were "treated well by Hamas and they were not subjected to torture or ill-treatment." pic.twitter.com/rsb2kjRZaZ

— Clash Report (@clashreport) November 27, 2023
An Israeli government spokesperson said on Monday that the total number of hostages still held in Gaza was now 184, including 14 foreigners and 80 Israelis with dual nationality.
Once the truce ends, Netanyahu said at the weekend, "we will return with full force to achieve our goals: the elimination of Hamas; ensuring that Gaza does not return to what it was; and of course the release of all our hostages."
Brief respite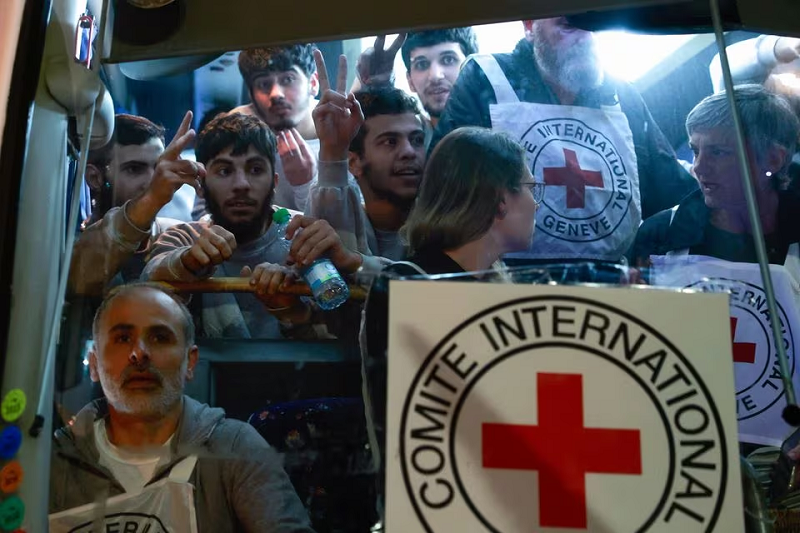 Released Palestinian prisoners leave the Israeli military prison, Ofer, in Ramallah in the Israeli-occupied West Bank November 26, 2023. PHOTO: REUTERS
Palestinians in Gaza said on Monday they were praying for an extension of the truce. Some were visiting homes reduced to rubble by weeks of intensive Israeli bombardment, while others queued for flour and other essential aid being delivered by the United Nations' relief agency UNRWA.
The al-Sultan family, among hundreds of thousands of people displaced from their homes in the north of the Gaza Strip, snatched a few hours of sorely needed relaxation by the sea.
"We used these four days (of truce) and came to the beach in Deir Al-Balah to allow our children to have some fun," their mother, Hazem Al Sultan, said. "We are anticipating the end of these four days, and we don't know what will happen to us next."
Palestinians gave the freed prisoners a jubilant reception in Ramallah, according to Palestinian news agency WAFA.
Omar Abdullah Al Hajj, 17, released on Sunday, told Reuters he'd been kept in the dark about what was happening in the outside world.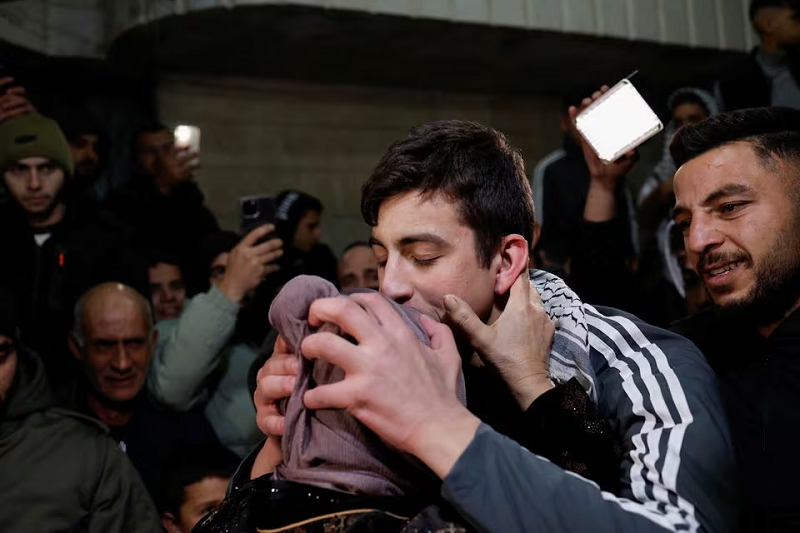 Released Palestinian prisoner Khalil Zamareh is received by his family near Hebron in the Israeli-occupied West Bank, November 27, 2023. PHOTO: REUTERS
"We were 11 people crammed into a single room where usually there are six. There was never enough food and I was never told how long I was going to stay," he said.
"I can't believe I'm free now but my joy is incomplete because we still have our brothers who remain in prison," said Al Hajj, whom Israel's Justice Ministry accused of belonging to the Islamic Jihad group and posing a security threat which it did not specify.
The truce agreed last week is the first halt in fighting in the seven weeks since Hamas attacked Israel, killing 1,200 people and taking about 240 hostages back into Gaza.
In response to that attack, Israel has bombarded the enclave and mounted a ground offensive in the north. Some 14,800 Palestinians have been killed, Gaza health authorities say, and hundreds of thousands displaced.
Diplomatic efforts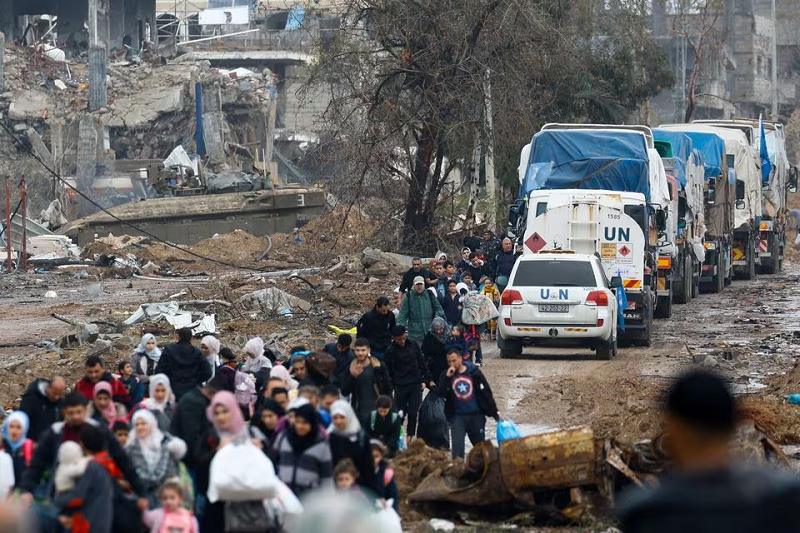 Palestinians fleeing north Gaza move southward as trucks carrying aid and fuel head towards north Gaza, near Gaza City, November 27, 2023. PHOTO: REUTERS
Qatar, Egypt, the United States, the European Union and Spain were all working to extend the ceasefire, the Palestinian Authority's foreign minister, Riyad al-Maliki, said during a conference in Barcelona devoted to the crisis.
Al-Maliki, whose Authority runs the occupied West Bank, told the Forum for the Union of the Mediterranean that the international community must pressure Israel to extend the truce indefinitely. The death toll would double if war resumes on Tuesday, he added.
The European Union's top diplomat, Josep Borrell, told the same conference the current truce was an important first step but that far more would be needed to alleviate the situation.
Borrell also urged Israel not to "recolonise Gaza", saying that the creation of a Palestinian state in the West Bank, East Jerusalem and Gaza was the best guarantee of Israel's peace and security.
Spanish Foreign Minister Jose Manuel Albares said Hamas could no longer rule Gaza after hostilities end since it did not have "an agenda for peace".
Indian diplomat flees NY Gurdwara over assassination plot

ISLAMABAD:

A senior Indian diplomat faced confrontation from pro-Khalistan Sikhs at a Gurdwara in New York, leading to his abrupt departure from the place of worship.
The activists questioned the diplomat, Taranjit Sandhu, about his alleged role in a failed Indian state plot to assassinate Sikh leader Gurpatwant Singh Pannun, a prominent figure associated with Sikhs For Justice (SFJ) and the global Khalistan Referendum campaign.
Pro-Khalistan Sikhs, led by Himmat Singh at Hicksville Gurdwara in New York, confronted Ambassador Taranjit Sandhu over his alleged involvement in the failed assassination plot against Gurpatwant Singh Pannun.
The activists also accused Sandhu of India's role in the assassination of Hardeep Singh Nijjar, the President of Surrey Gurdwara and the coordinator for the Canadian Chapter of the Khalistan Referendum.
The questioning in public agitated the diplomat, prompting him to abruptly leave the Gurdwara without providing any answers to the raised questions. Diplomat Sandhu hastily departed the scene, avoiding further engagement with the pro-Khalistan Sikhs.
"I only wanted answers from ambassador Sandhu as to why India is using violence to stop the global Khalistan Referendum voting," stated Himmat Singh who heads the East Coast Coordination Committee.
"American constitution gives US Citizens the right to peacefully question anyone irrespective of their affiliation or position in the government," stated Gurpatwant Singh Pannun, SFJ General Counsel who was the target of India's assassination plot foiled by US intelligence.
"Despite India's attempt to assassinate me, Khalistan Referendum Voting will continue and the American Phase is going to start from January 28, 2024 in San Francisco, California," stated Pannun.
Read also: US thwarts plot to kill Sikh separatist, issues warning to India -FT
The confrontation follows the recent revelation of a thwarted Indian conspiracy to assassinate Gurpatwant Singh Pannun on American soil.
The US authorities issued a warning to the Indian government over its alleged involvement in the plot according to multiple people familiar with the case who spoke to the Financial Times (FT).
FT revealed the intelligence people familiar with the case said the Indian government was behind the scheme targeting Pannun, who has been spearheading the Khalistan Referendum campaign.
The FT said that one person familiar with the situation said the US protest was issued after Prime Minister Narendra Modi made a high-profile state visit to Washington in June.
According to FT US federal prosecutors have filed a sealed indictment, separate from the diplomatic warning, against at least one alleged perpetrator of the plot in a New York district court.
The department is considering whether to unseal the indictment and make the allegations public or await the completion of Canada's investigation into Hardeep Singh Nijjar's murder, a Canadian Sikh separatist linked to the case.
In September, Canada's Prime Minister Justin Trudeau said there was "credible intelligence" linking New Delhi to Nijjar's fatal shooting.