Punjab cabinet greenlights 4-month budget

LAHORE:

In the 31st meeting of the Punjab Cabinet held today at the Chief Minister's Office, Chief Minister Mohsin Naqvi presided over a pivotal decision as the government approved a budget for the forthcoming four months spanning November 2023 to February 2024. The approved budget stands at a substantial Rs2076.2 billion, which includes an allocation of Rs351 billion for development expenditure.
During the session, a significant allocation of Rs50 billion was earmarked to provide relief to the province's residents. Moreover, substantial funds were allocated to pivotal sectors, with the health sector receiving Rs208 billion and the education sector securing Rs222 billion. An additional Rs10 billion were designated to advance the agricultural sector.
The Cabinet also allocated Rs1 billion 80 crore for the National Health Support Programme and Rs5 billion for Punjab textbooks. In a proactive measure to address climate change challenges, Rs7 billion 30 crore were allocated for necessary initiatives.
The finance secretary presented a comprehensive overview of the upcoming four-month budget, highlighting the Punjab government's robust financial standing and surplus resources. Notably, the budget maintains a surplus, signalling a healthy fiscal position.
A significant milestone was achieved with the Cabinet's approval of implementing a minimum wage of Rs32,000 for workers, effective from July 1, 2023. The meeting also underscored the importance of stringent anti-smog measures, with a particular focus on areas like Sheikhupura, Sahiwal, Gujranwala, Hafizabad, Lahore, and Kasur. Naqvi emphasised a zero-tolerance approach towards violations of these measures and called for the rigorous enforcement of regulations on smoke-emitting vehicles and brick kilns, directing commissioners and deputy commissioners to ensure compliance.
Also read K-P unveils Rs529b four-month budget
Stringent measures were advised for ongoing construction projects, including the regular sprinkling of water and a strict prohibition on crop residue burning. The Punjab Price Control for Essential Commodities Ordinance 2023 also received Cabinet approval.
Published in The Express Tribune, October 31st, 2023.
Like Business on Facebook, follow @TribuneBiz on Twitter to stay informed and join in the conversation.
'Domestic debt restructuring will be painful'

ISLAMABAD:

As the government maintains silence about its next move after declaring its debt "unsustainable," former central bank governor Shahid Kardar stated on Monday that Pakistan would need to be in the International Monetary Fund (IMF) to qualify for debt restructuring, and the process would be very painful.
Banks may need to take a hit on their principal loans, the central bank may need to relax prudent regulations to lower capital requirements, and high taxes might have to be imposed on cash withdrawals to prevent a run on the banks, according to Kardar.
He delivered a presentation on the prospects of debt relief during the third Pakistan Prosperity Forum organised by the Policy Research Institute of Market Economy (PRIME).
"Pakistan would have to be in the IMF programme to qualify for the debt restructuring," said Kardar in response to a question.
The Ministry of Finance's spokesperson did not respond to questions even after three days regarding whether the government has approached commercial banks for debt restructuring.
The servicing of external and domestic debts appears increasingly unsustainable, with Pakistan's gross public debt now equal to 667% of revenues compared to the average of 214% for more than 20 comparators, according to Kardar. Kardar also pointed out that wasteful expenditures on low-priority and poorly designed projects have made the debt unsustainable. Prospects for recovery depend on progress in restoring debts to manageable levels.
"Debt restructuring is complex, there are no short-cut solutions, and the government would also face issues like foreign currency swap arrangements, deposits with the SBP, bonds with a large number of holders and covered by New York Laws," said Kardar.
The former governor said that Pakistan may also not qualify for the G-20 Common Framework for Debt Treatment, meant only for heavily indebted countries. Kardar stated that being lower-middle-income, Pakistan may also not get relief under the G-20 framework. He mentioned that bilateral creditors seem reluctant to suspend debt servicing payments due to difficult financial conditions, fearing credit rating downgrades leading to a loss of access to capital markets.
Domestic debt restructuring
Although the Ministry of Finance has not responded to a question on the future course of action, Kardar highlighted the prospects and challenges of domestic debt restructuring.
The former governor said that if Pakistan seeks the write-down of external debt, foreign lenders would also ask in return for similar adjustments in domestic debt. He predicted that banks, being the largest lenders to a bankrupt borrower, will have to bear the burden of some pain.
Read: FM warns of unsustainable debt
Pakistan's total public debt has already increased to Rs75 trillion or equal to three-fourths of its economy, with interest payments consuming the entire net federal income.
Kardar said that the "reduction or liquidation of domestic debt will require a gradual approach, involving a combination of significantly negative real interest rates, a moratorium and suspension of interest payments for some years, longer maturities, and some write-down of its face value."
He said that a substantial reduction in the face value of the banks' lending to the government would hit the capital base of banks, requiring loans to them at concessional rates. A short-term relaxation of the SBP's prudential regulations on capital adequacy might be needed for domestic debt restructuring. The former governor suggested that, to prevent large cash withdrawals and a run on banks by depositors, the government might have to impose a hefty withholding tax. This would need to be supplemented by the government guaranteeing all deposits for a two to three-year period.
He said that one option could be a higher tax rate on bank incomes, but he stated that it was not a preferred option. Kardar also mentioned that there was not much space for external debt restructuring, as 48% of the debt is owed to multilaterals and is mostly at highly concessional rates. He added that China, which holds 31% of bilateral debt, was already rolling over repayments of $8 billion but was reluctant to accept losses on its lending portfolio.
The former central bank governor found many similarities between Pakistan and Sri Lanka, another country facing a severe debt crisis.
He said that, like Pakistan, Sri Lanka also granted generous tax exemptions and booked a primary budget surplus in only three years since 1951. Sri Lanka, like Pakistan, financed its unsustainable fiscal deficits through foreign and domestic borrowings, resulting in its public debt jumping to 128% of GDP and interest payments being 72% of revenues.
For this fiscal year, the IMF has estimated Pakistan's interest payments cost at 92% of the FBR's revenues.
Published in The Express Tribune, November 28th, 2023.
Like Business on Facebook, follow @TribuneBiz on Twitter to stay informed and join in the conversation.
PSX crosses 60,000 points milestone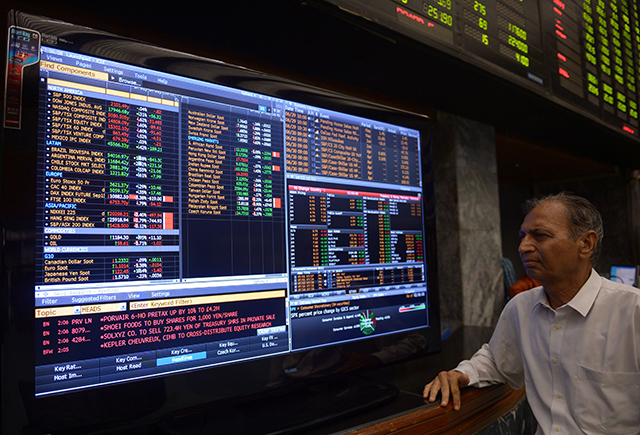 Segregation of client assets is critical as brokers have been penalised for using client money illegally. PHOTO: AFP
---

KARACHI:

The Pakistan Stock Exchange (PSX) smoothly crossed the psychological barrier of 60,000 points during the early trading hours of Tuesday. 
The gains came due to rich individuals and institutional investors making significant new investments in expectation of deep cuts in interest rates and the availability of stocks at low prices.
The PSX benchmark KSE-100 Index hit a new all-time high level of 60,745 points, rising by 1.56% or 934 points before mid-day from Monday's close at 59,811 points. Penny stocks were the volume leader in the rally including textile, technology, food, bank and steel stocks.
Speaking to The Express Tribune, Arif Habib Limited Head of Research Tahir Abbas said: "The high expectation for a deep 7% cut in the key policy rate (interest rate) by the State Bank of Pakistan over the one-year agreed investors to take new possessions".
"The central bank is expected to cut its key policy rate to 15% by December 2024 from record high 22% at present…ahead of a potential deceleration in inflation reading next year," he added
Abbas mentioned that the interest rate cut expectations have made rich individuals and institutional investors relocate their investments to the stock market from fixed-income instruments these days.
Topline Securities CEO Muhammad Sohail said in a comment on X (formerly Twitter) that the PSX is breaking records and the development is "still not surprising."
The market has gained 50% in only five months to over 60,000 points from 40,000 points. "This is the fastest 50% rise in a few months after 2004," he wrote.
Read PSX hits fresh record, nears 60k milestone
"When you have an unbelievably low valuation, a price-to-earnings ratio of 3-4%, such recovery is not at all surprising," Sohail further commented.
Abbas further said the listed companies have booked record high growth in profit of 46% in the first nine months ending September 2023 and added that "accordingly, dividend payments by them rose robustly by 42% in the same period. This is another factor that has attracted new investment at PSX".
The market is expecting foreign currency inflows worth around $1.5-2 billion from multilateral creditors like the World Bank and Asian Development Bank soon after the IMF executive board approves the release of its second tranche of $700 million to Pakistan in December 2023.
This is another factor for the record-buying spree at PSX.
He anticipated the market reaching 75,000-80,000 points by the end of December 2024 considering all goes well including political stability in the country, economic growth, and global commodity prices remaining stable.
"The next six months seem stable at least", he maintained.
Completion of key projects increases water storage

LAHORE:

The completion of eight ongoing water and hydropower projects by Water and Power Development Authority (WAPDA) is set to significantly enhance Pakistan's water storage capacity and hydel power generation. The carry-over water capacity in the country will increase from 30 to 45 days, with an additional 9.7 MAF water storage.
During a visit to WAPDA House, a delegation from PAF Air War College Karachi, led by Air Commodore Raja Imran Asghar, received a comprehensive briefing. The delegation comprised officers from Pakistan and allied nations.
Read: Water projects presented to Turkish consultants
The delegation learned about the climate change threats and water security challenges faced by Pakistan. WAPDA's ongoing projects, such as Diamer Basha Dam, Mohmand Dam, and others, were highlighted as crucial for the water, food, and energy security of the country.
Published in The Express Tribune, November 28th, 2023.
Like Business on Facebook, follow @TribuneBiz on Twitter to stay informed and join in the conversation.