Petrol price slashed by Rs8, diesel by Rs11 per litre
The government has reduced the prices of petrol by Rs8 and diesel by Rs11 per lite with effect from October 1.
"In the wake of variations in international prices of petroleum products and the improvement in the exchange rate, the Government of Pakistan has decided to revise the consumer prices of petroleum products," a statement issued late on Saturday by the finance division read.
After the decrease, petrol will be sold for Rs323.38 per litre, down from Rs331.38 per lire while high speed diesel will be available for Rs318.18 per litre, down from R329.18 per litre.
Also read: Petrol, diesel witness massive price hikes
On September 14, the caretaker government increased the price of petrol by Rs26.02 per litre while that of high-speed diesel (HSD) by Rs17.34 per litre after announcing a similar hike at the start of the month.
However, today's decrease in prices of petrol and diesel is expected to provide a sigh of relief to the citizens who are grappling with ongoing economic challenges, including soaring inflation, rupee depreciation against the dollar, inflated utility bills, and escalating prices of essential commodities.
Textile industry unveils $50b export plan

ISLAMABAD:

The textile industry has submitted an ambitious plan to the government for achieving a $50 billion export target as it comes up with a set of recommendations for removing barriers and providing incentives to extend the outreach in international markets.
The industry has proposed the setting up of 1,000 garment plants on a fast track to create exportable surplus and diversify the export basket. Each plant will consist of 500 stitching machines with an investment of $5 million, produce garments to make exports of $20 million per annum and generate 1,000 jobs.
In a presentation given to the Export Advisory Council for Textiles, the industry proposed a "no-cost-no-commitment" incentive package, featuring proposals such as free office spaces for international brands and retailers to encourage their physical presence in Pakistan.
It pointed out that the cost of first six months would be covered through upfront financing from the Export Development Fund along with a rebate of 0.1% of the sourcing value for firms acquiring merchandise worth over $50 million from Pakistan.
It was highlighted that the US fashion industry was shifting from a strategy called "China plus Vietnam plus many" to a new system named "Asia plus rest of the world". Finding new sources for textile products other than China is a top priority of the US fashion firms.
Some firms were of the view that "Made in China" would gradually become "Managed by China" as Chinese manufacturers were looking at the possibility of outsourcing production. This presents opportunities to Pakistan as well as it can directly supply goods to international firms and also cater to the needs of Chinese companies looking to outsource production.
Textile companies are expected to increasingly source clothing made from recycled or other sustainable fibres. As many as 60% of firms plan to sustainably increase the sourcing of apparel made from sustainable or recycled textile materials over the next five years.
Demand for cotton and other sustainable fabrics is likely to rise compared to the less sustainable and biodegradable manmade fibre. High sourcing costs and low profit margins are the top challenges to sourcing clothing made from recycled or other sustainable fibres.
There are growing calls for policy support for sourcing such clothing, such as preferential tariff rates and guidance on sustainability and recycling standards.
Read: Pakistan, China forge textile ties
Meanwhile, Pakistan's textile industry has urged the government to announce a separate power tariff category for exporters, excluding cross-subsidies, stranded costs and other inefficiencies.
It called for ensuring adequate supply of re-gasified liquefied natural gas (RLNG)/ locally produced gas at regionally competitive prices and transition to zero emissions for exporting industries.
Net zero greenhouse gas emissions are required across the value chain to continue exporting to western markets beyond 2030.
In addition, traceability across the textile and apparel value chain is increasingly sought by importers. This necessitates a mandatory and centralised track and trace system. The system should give priority to upstream sectors like cotton and ginning factories to ensure full compliance along with a fully operational National Compliance Centre to monitor environmental and social compliance.
The textile industry has sought exemption from sales tax for export-sector inputs to expedite processes and become competitive in global markets. It also called on the Federal Board of Revenue to process all FASTER refunds within the promised 72-hour time frame.
It demanded the refund of all pending dues in order to create a favourable and liquid business environment.
It floated the idea of setting up free commercial zones with simplified procedures to facilitate exports, reduce turnaround time and centralise export-related services. It asked for simplifying and digitalising all import and export procedures to enhance efficiency.
The industry advocated the need for tax incentives and financing schemes like those provided by regional economies, which will result in some competitive advantage in relation to competitors like Vietnam, Bangladesh, India and Cambodia.
It emphasised that varieties of exportable surplus should be increased and textile and apparel exports diversified beyond cotton-based products.
Published in The Express Tribune, December 9th, 2023.
Like Business on Facebook, follow @TribuneBiz on Twitter to stay informed and join in the conversation.
Urea shortage hits farmers hard

LAHORE:

Pakistan Kissan Ittehad (PKI) President Khalid Mahmood Khokhar has said that urea shortage is being faced by farmers as its consumption is estimated at 6.7 million tons per annum following an increase in plantation area and growing use of the commodity in cereal and cotton crops.
Talking to media on Friday, Khokhar mentioned that Pakistan required an additional 200,000 tons of urea as a buffer stock to keep prices stable.
"Unfortunately, during 2023, the domestic production estimate might hardly touch 6.4 million tons versus demand for 6.7 million tons, thus, the farming community is experiencing a shortfall of around 500,000 tons (consumption deficit of 300,000 tons and buffer stock of 200,000 tons)," he said.
Drawing the attention of authorities, Khokhar claimed that full production capacity of the fertiliser industry was not being utilised, resulting in urea shortfall.
He called for finding a workable solution to avoid the recurrence of urea shortage in future to safeguard the farming community from middlemen's exploitation.
Read: Rising cultivaton costs hit farmers hard, says SAB chief
"At present, the industry is selling urea at different retail prices, ranging from Rs3,410 to Rs3,795 per bag, due to variable gas charges imposed on different urea manufacturers by the government," he revealed, adding that the situation encouraged and provided an opportunity to middlemen to exploit farmers by charging around Rs1,000 per bag over and above the prescribed maximum retail prices of the manufacturers.
"In a year, middlemen have pocketed more than Rs100 billion as 'black money' from farmers," he claimed.
Talking about the current situation, the PKI president added that historically urea consumption during December had oscillated between 850,000 and 900,000 tons whereas total availability during the month would not be more than 650,000 tons. This clearly indicates a shortfall of 250,000 tons, which provides an opportunity for black marketing and exploitation of farmers.
"If we look at the demand-supply imbalance, the unavailability/ low pressure of gas for urea manufacturing plants has resulted in production loss of around 300,000 tons, which is one of the prime reasons for the shortfall," he said.
Also, despite the ECC's approval for import of 200,000 tons of urea, nothing has transpired yet.
The PKI president said that the situation could have been managed, had required gas been provided to urea plants round the year. Secondly, timely execution of import decisions would have further minimised the challenges.
Published in The Express Tribune, December 9th, 2023.
Like Business on Facebook, follow @TribuneBiz on Twitter to stay informed and join in the conversation.
IAC maps path to $100 billion exports

ISLAMABAD:

The Industrial Advisory Council (IAC) on Thursday discussed a roadmap focusing on removing cross-subsidies from power tariffs for industrial consumers, duty cuts, and gas price rationalisation aimed at achieving an ambitious target of $100 billion in exports. The roadmap also stresses expediting bureaucratic processes and reducing red tape to boost Pakistan's exports. It urges simplifying judicial procedures, eliminating prolonged delays where cases linger for 10-20 years, and calls for establishing Commercial Courts to decide business and economy-related cases, providing swift and efficient legal action to create stability, encourage reform, attract investment, and promote industrialisation.
The first meeting of the IAC was held on Thursday to kickstart "Vision Pakistan: Road to $100 billion Exports."
The inaugural meeting of the IAC was held under the visionary leadership of Dr Gohar Ejaz, the Federal Minister for Industries and Production. This meeting is a crucial step towards realising Ejaz's ambitious "Vision Pakistan: Road to $100 billion Exports."
The gathering symbolised a collaborative effort to harness the vast potential of Pakistan's industrial landscape and aligns with the national objective of achieving $100 billion in exports.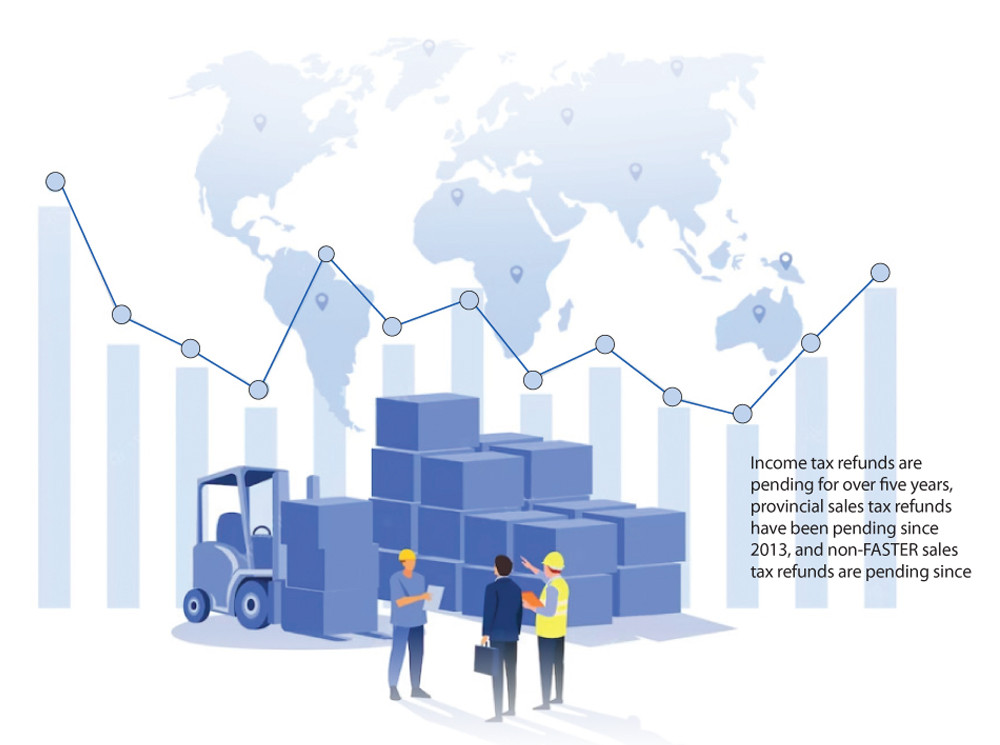 design: mohsin alam
According to the roadmap discussed during the meeting, it was noted that cross-subsidies in electricity and gas tariffs are used to finance the power sector's inefficiencies and the government's own social obligations.
The roadmap stresses removing the cross-subsidy from power tariffs for industrial consumers.
With the operationalisation of CBAM in the EU starting in 2026, products with high emissions content will no longer be exportable to the EU; other Western markets will also follow suit. Power sector reforms must focus on fostering clean and competitive energy markets, reveals the roadmap, stressing on allowing wheeling of clean energy through B2B contracts with a wheeling charge of 1-1.5 cents/kWh.
It also focuses on increasing the cap on solar net-metering for industrial consumers from 1MW up to 5MW.
Following gas price rationalisation, significant investment must be made in gas exploration to reduce growing reliance on imported LNG and supplement depleting supplies of indigenous gas, reveals a roadmap, adding that a fast-track gas exploration programme must be launched immediately.
There is an abundance of policies and frameworks in Pakistan; a lack of implementation and continuity is the main barrier to industrial and economic growth.
Fiscal Policy and Tax Reforms
The roadmap stresses fair distribution of the tax burden across all sectors of the economy and separation between policy making and tax administration. It further said that tax profits instead of turnover; the tax structure should incentivise growth, foster business success, and tax rates should be regionally competitive to attract investment.
During the meeting, it was emphasised to rationalise import duties for export-led growth, reverse anti-diversification biases in export incentives and incentivise exports of broader range goods and services.
Read: Industrialists call for cost controls, policy reforms
Despite comprising almost 50% of Pakistan's population, female labour force participation is only 23%, concentrated in certain sectors and roles which means Pakistan starts off with a 50% economic handicap compared to other countries.
Countries with higher levels of industrialisation have a much higher female labour force participation (Bangladesh – 43%, India—49%, Vietnam—62%).
Regulatory and Business Environment
PIDE estimates the overall cost of regulatory sludge at 1.5% of GDP.
The roadmap further stresses reducing costs associated with liquidating non-viable firms and strengthening insolvency procedures and streamlining business licensing & other procedures for entrepreneurs.
It also focuses on digital Connectivity & Skill Development and invests in infrastructure to enhance digital connectivity—5G, P2P, P2M, M2M, M2B digital payments, etc. It stressed on aligning skills and capacity-building programmes aligned with modern industry requirements and simplifying and expediting bureaucratic processes and reduce red tape.
It also urges to facilitate firm growth through fiscal/tax incentives and access to credit and significant investment in R&D, innovation and invention.
It has urged to incentivise production of exportable surpluses across all sectors of the economy. International companies making FDI should be incentivised towards export-oriented activities through policies such as regressive taxation based on higher shares of products exported.
It suggests that the Planning Commission should be replaced by a Policy and Reforms Commission. Policy decisions across ministries should be coordinated at the Policy and Reforms Commission to prevent isolated policy decisions with contradictory objectives and adverse unintended consequences across the economy.
In violation of Rule 39F of the Sales Tax Rules 2006 regarding the issuance of FASTER sales tax refunds within 72 hours, FBR only issues partial refunds once a month after prolonged and persistent delays. It defers 30% of claims for manual processing that takes up to 3 years.
Published in The Express Tribune, December 8th, 2023.
Like Business on Facebook, follow @TribuneBiz on Twitter to stay informed and join in the conversation.