Pakistani runners make waves at Berlin Marathon
The Berlin Marathon this year witnessed a record number of Pakistani athletes participating, marking a significant presence in one of the renowned World Major Marathons.
Leading the pack among Pakistani male runners were Muhammad Sajjad, who completed the marathon in an impressive 2 hours and 37 minutes, and Amin Mukatay, not far behind, finishing in 2 hours and 46 minutes.
In the women's category, Sara Lodhi stood out with her remarkable time of 3 hours and 17 minutes, closely followed by Hira Diwan, who clocked in at 3 hours and 30 minutes.
A noteworthy achievement came from Dr Rabia Naeem, who became the first Pakistani woman to earn a coveted six-star Abbott medal by successfully completing all the World Major Marathons.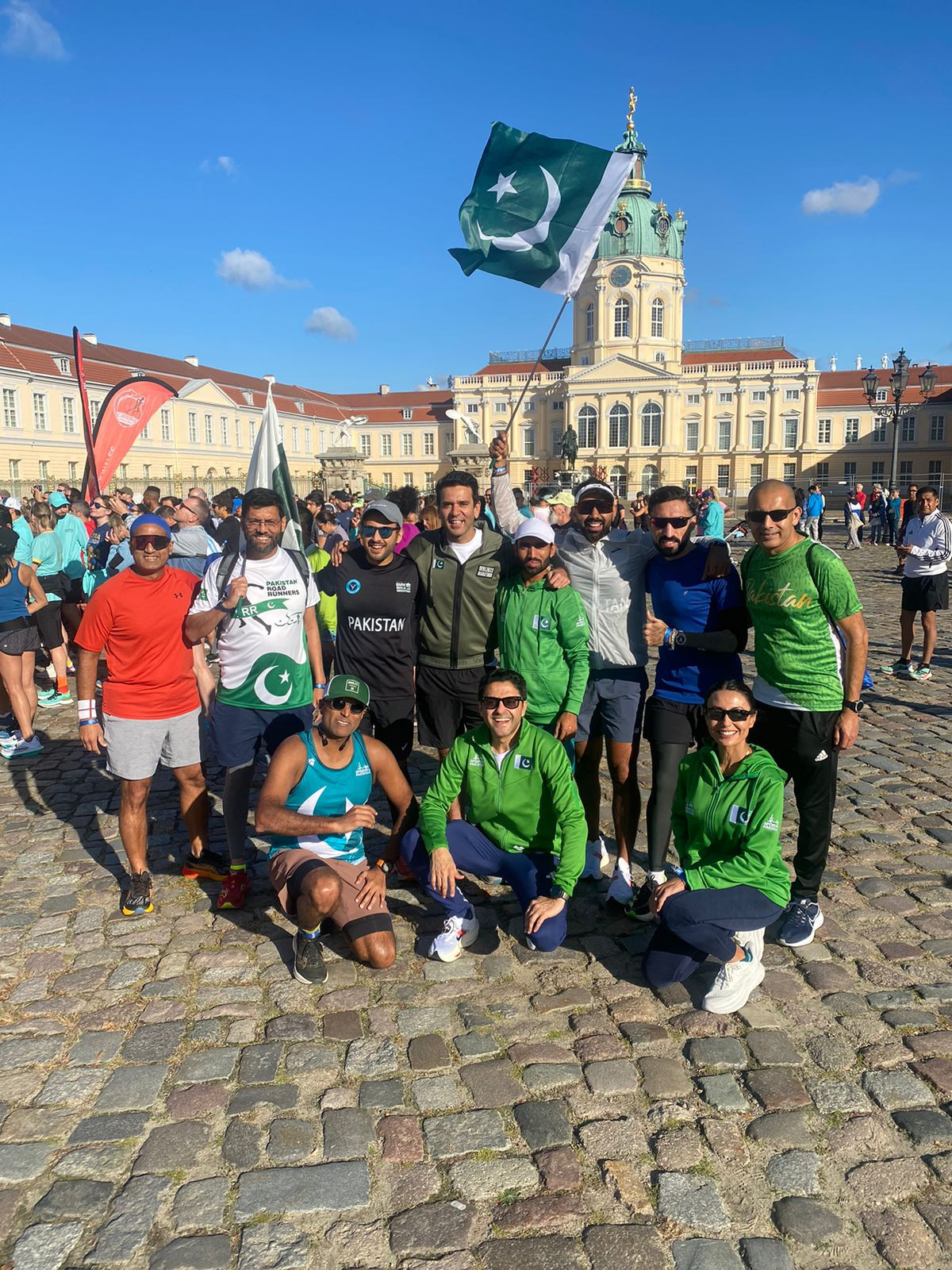 Even beyond the competitive runners, it was heartening to see diverse participants from Pakistan taking part in this prestigious event. Among them, Express News anchorperson Rehman Azhar, participating in his first World Major Marathon, achieved a personal milestone.
Read also: Assefa smashes marathon record
The Pakistani contingent comprised runners from both Karachi and Islamabad, and several notable performances were showcased by individuals such as Sadiq Shah, Faisal Shafi, Bilal Ehsan, Yawar Siddique, Ammar Mumtaz, Muhammad Junaid, Salman Khan, Prem Kumar, Adnan Gandhi, Ali Khurshid, Shoaib Nizami, Ayaz Abdullah, Imran Aleem, Irfan Aleem, Rehan Adamjee, Jamal Khan, Danish Raza, Hassan Madni, Adeel Paperwala, Anis Kasmani, Yasir Suleman, Abdul Samee, Shah Faisal Khan, Azmat Khan, Babar Ali, Dr Ahmer Zubair, Sheharyar Salam, Muhammad Fahim Hassan, Zain Anwar, Jahanzeb, Fauzi Ghareb, Ahmed Ilyas, Ibad Lari, Yasir Suleman, and Miqdad Mohammad.
The female athletes also delivered commendable performances, with names like Sana Malik, Anum Jahangir, Uzma Abid, Kaukab Sarwar, Zahra Hoodbhoy, Nadia Rehman, Nada Anwar, Zahra Currimbhoy, Aisha Qamar, and Rohela Khan shining in the competition.
This strong representation of Pakistani talent at the Berlin Marathon reflects the growing enthusiasm and dedication of athletes from the nation on the global stage.
British Gymnastics bans weighing young athletes

LONDON:

British Gymnastics has introduced new safeguarding rules that will prevent coaches from weighing athletes to stamp out methods it said are "on the fringe of abuse".
The rules are part of a series of policies that the governing body is introducing following the 2022 Whyte Review, which found there was "systemic" physical and emotional abuse within the sport.
British Gymnastics has said it intends to go beyond the recommendations of that report to stamp out "harmful practices".
Under the new rules, no gymnasts aged 10 or under can be weighed. Those above that age can only be weighed with the consent of both the gymnast and if they are under the age of 18, a parent or guardian.
If athletes are weighed, it must be done by a sports science or medical practitioner, with a "scientifically valid rationale" for it, including measuring growth or designing strength and conditioning exercises.
British Gymnastics said the policy had been introduced "to prevent inappropriate practices and prevent potential areas of concern around weighing, due to some of the related psychological distress and risks of the development of mental health problems such as eating disorders/disordered eating, anxiety, and depression".
"Inappropriate or excessive weighing of gymnasts is an example of poor practice which may be on the fringe of abuse, and if/or repeated could amount to abuse," it added.
The Whyte Review focused on 2008 to 2020 and received more than 400 submissions of those, more than 40 percent described physically abusive behavior towards gymnasts from coaches.
In a statement, British Gymnastics chief executive Sarah Powell said: "Above all else, we care about gymnasts as people, and these new policies make clear that what matters most in gymnastics is the welfare of those involved.
"While practices have moved on a long way, we know there has been poor practice in these areas and so by providing clarity for gymnasts, parents and carers, coaches, clubs, volunteers, and officials through the statements set out in these policies it will ensure everyone understands what is OK and what is not OK and help prevent that happening in the future."
Iftikhar Ahmed joins Multan Sultans, Rossouw returns to Quetta Gladiators
Pakistan all-rounder Iftikhar Ahmed will don the Multan Sultans' jersey in the ninth edition of Pakistan Super League (PSL).
In a trade, Iftikhar has moved to Multan Sultans, whereas Rilee Rossouw has returned to his previous franchise, Quetta Gladiators. 
🔥🚨 Box-office Trade Alert 🚨🔥

🔁Iftikhar Ahmed joins Multan Sultans

🔁Rilee Rossouw joins Quetta Gladiators#HBLPSLDraft #HBLPSL9 @TeamQuetta @MultanSultans @IftiMania @Rileerr pic.twitter.com/VHobXp3LEu

— PakistanSuperLeague (@thePSLt20) November 30, 2023
The trade deal with Quetta Gladiators also sees Multan Sultans get the first pick in the platinum round one in exchange for Rilee Rossouw and the first Silver category pick.
Iftikhar has evolved into a formidable all-rounder for his power-hitting and foxy off-spin. He brings an experience of 229 T20 matches in which he has scored 4,476 runs. He also has a century in the format to go with 30 half-centuries. Since the start of his career in October 2010, the muscular batter has been smashing a boundary every 6.75 balls. He recently reached the 50-wicket landmark and his economy stands at 7.31. 
Iftikhar Ahmed: "I am delighted to become a Sultan. It is an honour for me to represent the people of Multan as their passion for this game is second to none. Multan Sultans have evolved into a strong team and their record in the last three seasons speak for itself. Now, it is my ambition to help them bag the prestigious HBL PSL trophy," Iftikhar said.
Captain Muhammad Rizwan: "I am very excited to welcome Iftikhar Ahmed. He brings outstanding all-round skills, which we need to be a champion team. 
"It was not only his on-field skills that made us finalise this trade, but he is also a brilliant team player who uplifts dressing rooms with his presence. We are eager to put together a set of players whose skills are in sync with our positive, bold and aggressive brand of cricket."
Leicester slip-up allows Ipswich to close on Championship lead

LONDON:

Leicester's lead at the top of the Championship was cut to a single point after they conceded a stoppage-time equaliser to draw 1-1 at Sheffield Wednesday, while Ipswich beat Millwall 3-1.
Top was taking on bottom at Hillsborough, but there was an unexpected sting in the tale as Jeff Hendrick's 93rd-minute goal secured Wednesday just their seventh point in 18 games.
Abdul Fatawu had put Leicester in front midway through the first half.
But the Foxes have now won just one of their last four games as Hendrick fired home from Callum Paterson's header.
Ipswich had no such trouble as goals from Conor Chaplin, Massimo Luongo and Nathan Broadhead put them 3-0 up before half-time at Portman Road.
Leeds climbed back up to third and within seven points of the top two despite conceding inside the first minute against Swansea.
Joel Piroe quickly levelled against his former club before goals from Georginio Rutter and Dan James sealed a 3-1 win for Daniel Farke's men.
Kyle Walker-Peters scored the only goal as a 1-0 win over Bristol City was enough to move Southampton up to fourth.
Blackburn are just two points outside the playoffs after beating Wayne Rooney's Birmingham 4-2.
Former Manchester United and England captain Rooney has just one win in seven games in charge of the Blues.
Huddersfield moved six points clear of the relegation zone thanks to a 2-1 win at Sunderland.