NGO offers transgender people foreign scholarships

LAHORE:

While educational opportunities have been few and far between for gender minorities in Pakistan, a local NGO has stepped in to create an international platform for the development of the country's transgender persons. The Gender Guardian (TGG), a non-governmental organisation working to train and educate transgender persons in Pakistan, has partnered with various foreign NGOs to allow transgender citizens the opportunity to participate in a month-long training program in four different countries.
Transwoman Sania Abbasi, who is a makeup artist and has been associated with TGG as a teacher for the past several months, is among the many aspirants of the training scholarship. If selected for the coveted programme, Ms Abbasi says it will bring her immense pride to be one of Pakistan's first transgender persons sent abroad for training in social work and welfare. "This is a wonderful opportunity for us to be able to represent our country on an international platform and I have been working tirelessly towards achieving my goals. I can't wait to work alongside international NGOs. I want to learn from them and also share my personal experiences with the world."
According to The Gender Guardian (TGG) Head Asif Shehzad, his organisation is committed to providing equal opportunities to transgender people through the provision of free vocational training and formal education. "We have taught and trained dozens of transgender people in various skills such as driving, cooking, makeup, sewing and etc over the last couple of years. However, through this scholarship the selected participants will be able to use share their skills and talent with the world and for the first time, have access to international cultural exchange and training," said Shehzad. Speaking further about the scholarship programme, Shehzad also informed that The Gender Guardian has been working towards compiling a digital database of transgender persons registered with TGG as well as other people who donate to the organisation. "So far, we have partnered with NGOs working in Malaysia, Thailand, Vietnam and Cambodia. Using our database, we will select candidates every six months to be sent to these four countries for a month-long training, while people from the same four countries will also have the option to come and train in Pakistan. Our selected candidates will be working alongside their host country's NGOs and represent Pakistan on an international level," he explained.
Sania Abbasi, believes this scholarship will allow the people of the world to see the skills and talent of Pakistan's transgender person, who often tend to be stereotyped as people limited to sex work. "As a gender minority, we have little no resources for pursuing higher education or going abroad, because of which we have very limited opportunities for work. However, this scholarship opportunity for transgender people to showcase their abilities and break the stereotypes associated with them," she asserted.
Published in The Express Tribune, June 28th, 2020.
Imran urges CJP Isa's attention towards PTI's 'victimization'

ISLAMABAD:

Pakistan Tehreek-e-Insaf (PTI) chief Imran Khan wrote to Chief Justice of Pakistan (CJP) Justice Qazi Faez Isa on Thursday, seeking affirmative action against the political victimization of his party, and abductions, and disappearances of its workers.
In a seven-page document, Imran emphasized the need to assert Article 184(3) of the Constitution of Pakistan, which safeguards the 'right to liberty, to associate, assemble, and speak' on account of their political affiliation.
'Set up commission'
The PTI chief urged in his letter that a commission be established to further investigate the disappearances of PTI journalists and political workers.
"These disappearances or abductions, quite apart from the arbitrary arrests, have spread fear through society and are a grotesque affront to the claim that Pakistan is a country ruled by a constitution and a set of laws," the letter noted.
"Today, the power to prosecute and arrest is being used in a blatant attempt to engineer and skew the political landscape of the country," Imran wrote.
Lifting media ban
Adding more, he said that all political parties, along with the PTI, should be allowed "coverage without any restriction or discrimination".
Read Imran names temporary successor
It is noteworthy to mention that the Pakistan Media Regulatory Authority (PEMRA) has banned the former prime minister's speeches and live broadcasts.
In a six-page document, PEMRA noted that, "Therefore, the competent authority, i.e., Chairman PEMRA, hereby prohibits the broadcast or rebroadcast of the speech(s) or press talks (recorded or live) of Mr Imran Khan on all satellite TV channels with immediate effect."
May 9 riots
Referring to the May 9 riots, Imran argued that a large number of women arrested in Lahore were a "tragic indictment of law enforcement". He said that these women were imprisoned for six months, with further re-arrests when bail was already granted in one case,
The PTI chief particularly highlighted Punjab, Khyber-Paktunkhwa, and Islamabad authorities for their 'maltreatment'.
His letter further maintained that any worker affiliated with the PTI is "being targeted through the registration of multiple and successive criminal cases so as to ensure continued imprisonment".
Imran said party workers were being re-arrested, as he demanded the conduct of a fair trial against them.
"…the apex court cannot be unaware of the phenomena of the disappearances of individuals affiliated with the PTI or those connected with the government led by PTI between august 2018 and April 2022. These persons have re appeared and made press conferences that are clearly tutored".
"Without the intervention of the apex court in halting the widespread arrests and abductions that are presently underway, there is no possibility of a fair general election being conducted on February 8, 2024, Imran concluded.
Long wait for freedom: Afghan refugees in limbo

ISLAMABAD:

Abdullah was a well-known public figure in Afghanistan, a journalist and university lecturer respected by his readers and students.
In Pakistan, however, he is laying low — worried about being caught in a deportation dragnet and after two years still waiting to be evacuated to the West.
He fled Afghanistan when the Taliban returned to power in August 2021 on the advice of US officials and Reporters Without Borders (RSF), fearing retribution from the new authorities who, as a militant group, had a history of targeting journalists.
The 30-year-old crossed into Pakistan along with an estimated 600,000 other Afghans, with tens of thousands promised asylum in third countries.
But more than 345,000 Afghans have returned to their country or been deported since Pakistan in October ordered undocumented migrants or those who have overstayed their visas to leave.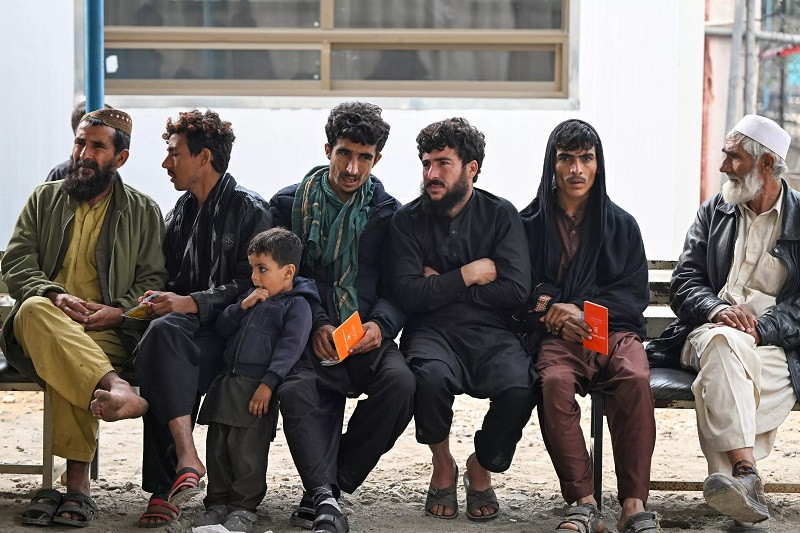 Afghan refugees waiting for their turn at the United Nations High Commissioner for Refugees (UNHCR) Centre in Nowshera. PHOTO: AFP
"For fear of the police, I haven't left this room for 15 days," said Abdullah, using a pseudonym for security reasons.
"If I could have led a normal life in Kabul, I would have become a street vendor or shopkeeper. I would have preferred that to my current situation."
Rights groups have said many Afghans have been left in limbo — their visas expired because of delays in Pakistan's registration system. Thousands are trapped in an interminable relocation process established by Western nations, which has significantly slowed.
Abdullah has a valid visa, but said armed police have twice raided his home.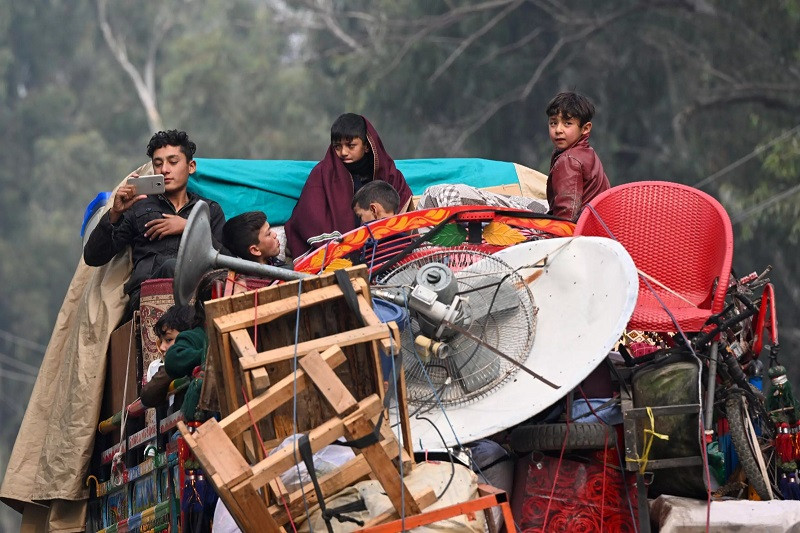 More than 345,000 Afghans have returned to their country or been deported since Pakistan in October ordered undocumented migrants or those who have overstayed their visas to leave. PHOTO: AFP
"In Kabul, I was a journalist and university teacher. Here I've lost my identity," he told AFP from an apartment in Islamabad.
Since fleeing Afghanistan he has exchanged only two or three e-mails with US officials.
RSF has arranged an interview for him at the French embassy in Islamabad.
Ahmed, a former British army interpreter in Afghanistan, was approved for evacuation two years ago yet remains stuck in an Islamabad hotel room paid for by the UK's diplomatic mission.
"I have been here more than 700 days," the 32-year-old said bitterly.
"I don't know the reason why the UK Government is doing injustice with me, why I have been stuck here. I need a life, I need education and I want to build my new home," said Ahmed, also using a pseudonym.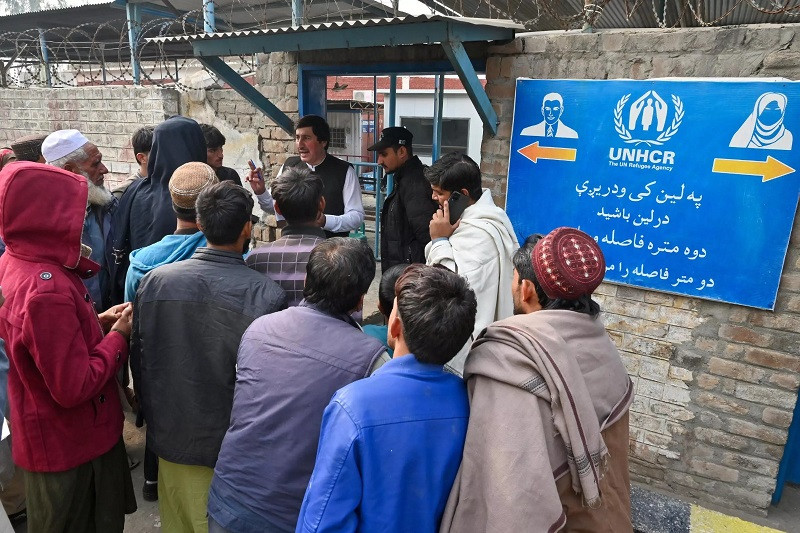 Many Afghan refugees, migrants and asylum seekers feel forgotten by the world, which has turned its attention to other crises, such as the conflicts in Ukraine and Gaza. PHOTO: AFP
His Pakistan visa expired over a year ago, and he fears being deported to Afghanistan, even though Islamabad has pledged not to kick out people in his situation.
"When I text my caseworker, he's telling me: 'Be patient, be patient, be patient'," he told AFP.
"The worst word is 'Be patient'," said Ahmed, who is also supported by Sulha Alliance — an association campaigning for Afghan interpreters who worked with the British army.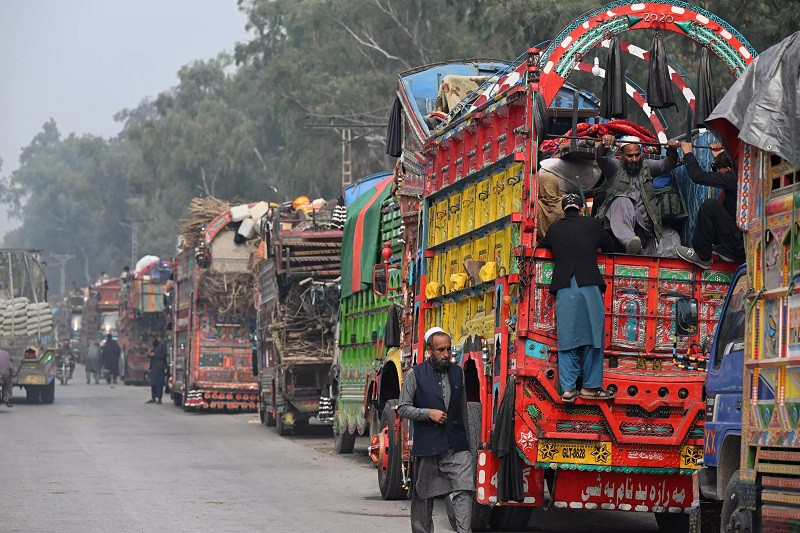 Trucks carrying Afghan refugees in Nowshera, Pakistan. PHOTO: AFP
Many Afghan refugees, migrants and asylum seekers feel forgotten by the world, which has turned its attention to other crises, such as the conflicts in Ukraine and Gaza.
While Britain has welcomed 21,500 Afghans as part of its resettlement programmes for former employees and people at risk, 70 percent of them arrived when Kabul was evacuated by the chaotic airlift that coincided with the Taliban takeover.
Only 175 people have been resettled in the first six months of 2023, according to the Migration Observatory, which analyses UK Home Office statistics.
The United States has taken in 90,000 Afghans since August 2021 — again, the majority from the evacuation of Kabul.
Precise data on Afghans in Pakistan awaiting resettlement abroad is not available, but British media have reported that more than 3,000 Afghans are in Islamabad awaiting evacuation, while the German foreign ministry said 1,500 Afghans approved for asylum are still in Pakistan or Iran.
About 20,000 people recommended for asylum by US officials, NGOs and American media outlets are waiting in Pakistan for their cases to be examined, according to Refugees International.
Despite assurances from the government that legitimate cases will not be deported, there are exceptions.
Last month, seven members of one family waiting to be reunited with a relative in Spain were deported, according to the Spanish Commission for Aid to Refugees.
Read also: Afghans driven from Pakistan rebuilding lives from 'zero'
Women's rights advocate Afsaneh, who arrived in March 2022 when the Taliban authorities began rounding up activists, lamented the "state of uncertainty".
The 38-year-old's children were not allowed into the school system and the visa for one of them has not been extended.
"It's near to two years… but still my case is not processed," said Afsaneh, whose name has also been changed by AFP.
"It's delayed by Pakistan and by the embassies, who are not taking serious action about those who are facing threats and risks," she said.
Afsaneh has applied to Germany, Spain and Canada for asylum, but only the latter has kept in touch.
The crackdown by Pakistan authorities does seem to have pushed some Western nations to speed up procedures.
At the end of October, Britain resumed evacuation flights that had been interrupted for several months.
"If they (the international community) want to support the Afghan people, they should prove it in action," pleads Munisa Mubariz, 33, a women's rights activist who hopes to leave for Canada soon.
"They should implement their commitment and their plan and their promises to these refugees."
'Some forces' pull back leaders with progressive vision: Zardari
Pakistan Peoples Party (PPP) Co-Chairman Asif Ali Zardari on Thursday asserted that 'some forces' hinder the progress of leaders with a vision for advancing the country. He however expressed his confidence in the people of Pakistan, emphasising that he does not succumb to fear in the face of such forces.
Addressing a rally in Quetta to mark the party's 56th foundation day, he said that Balochistan was the heart of Pakistan, a term usually referred to Lahore, lamenting that Islamabad and other provinces fail to recognise it as such.
Zardari affirmed his party's commitment to rectifying this perception while acknowledging the significance of winning hearts of the people of Balochistan to achieve this goal.
He stated that the PPP would empower the people of Balochistan, ensuring their ownership of the province's resources, including gas, petrol, and minerals. He underlined that the rights to these resources belong solely to the people of Balochistan, with no claim by others.
The former president highlighted the challenges faced by Balochistan and emphasised the need to address the grief prevalent in the province.
He pledged that the PPP would make Balochistan the master of its own destiny, ensuring that all resources, whether gas, petrol, or minerals, benefit the local population. Zardari promised equitable distribution of water resources across all provinces.
Turning his attention to his son Bilawal Bhutto-Zardari, the veteran politician commended former foreign minister for elevating Pakistan's dignity at a young age. He called for support for Bilawal, envisioning him as a leader of the youth, guiding the nation towards prosperity.
Zardari concluded by asserting the need to groom Bilawal as a leader for today and tomorrow, saying that he would try to transfer his 'wisdom' to his son.
Bilawal fires broadside at PML-N
Speaking on the occasion, Bilawal took aim at his political opponents, asserting that the Pakistan Muslim League-Nawaz (PML-N) had earned the moniker "mehangai [inflation] league", calling the former coalition partners a showbaaz (braggers) of Pakistani politics.
Bilawal said that 70% of the country's population comprises youth, highlighting his own youthful identity. In an apparent reference to former prime minister Imran Khan, who is considered popular among the youth, the former foreign minister said that he would represent the youth himself, not any khiladi (player).
Bilawal credited his father Asif Ali Zardari for burying the politics of hatred and revenge, marking the beginning of a new era.
He said that his party would bring a new "charter of economy" if brought to power, criticising the PML-N-led government in failing to curb inflation despite holding the finance ministry.
Urging the youth to reject divisive politics, Bilawal expressed regret that Islamabad failed to recognise the significance of Balochistan in Pakistan.
He called for a new vision and politics in Pakistan, signalling the PPP's intention to initiate a fresh style of politics to empower the people in facing economic challenges.