Muslim's in Modi's divided India
PUBLISHED
September 03, 2023


KARACHI:

In the aftermath of last month's violent events in northern Haryana state, where mobs set fire to Muslim-owned shops, a mosque, and tragically killed its imam, the streets remain eerily deserted, with tensions in the region still running high.
Home to one of the world's largest Muslim populations, in India, the world's largest democracy, constitutional promises stand at odds with the stark realities of India's Muslim minority. For decades, they've borne the weight of systematic discrimination, bias, and violence, but under the leadership of Prime Minister Narendra Modi and the ruling Bharatiya Janata Party (BJP), which has actively pursued a Hindu nationalist agenda since their election to power in 2014, the specter of anti-Muslim sentiment looms larger than ever.
What deeply concerns the community is the normalisation of hatred against them by members of the ruling party and their allies.
In the wake of Modi's sweeping reelection four years ago, a slew of contentious policies has taken center stage, policies critics claim blatantly disregard the rights of millions of Muslims, threatening to disenfranchise a significant segment of the population. During BJP's tenure, violence against Muslims has become all too routine, igniting fervent protests within India's borders, and sparking international condemnation.
But later this month, in New Delhi, India's capital, several world leaders are expected to assemble for the G20 summit. At the gathering, which will be India's first, Modi will be eager to showcase the economic transformation he has overseen, positioning his nation as an increasingly influential global player. Simultaneously, emphasizing his commitment to democratic principles. However, a contrasting narrative is beginning to emerge, defining India in a more somber light.
Accusations of systematic oppression, marginalisation, and the fomenting of hatred against India's 220-million Muslim minority have gained traction over the years, and Prime Minister Modi has only made matters worse. This evolving situation has also raised concerns about the state of India's democratic health.
Hate rallies against Muslims have become a common sight across the country. Large throngs of people have taken to the streets, channeling their sentiments of anger and hate against Muslims, demanding the removal of what they refer to as "termites" and "traitors," derogatory terms commonly used for members of the Muslim community in India. During these events, hardline Hindu rightwing groups, more emboldened under Modi, have been seen displaying signs that presented Muslims with a stark choice between "Pakistan or Qabristan" (Pakistan or the graveyard).
Rights groups that have documented India's trajectory believe that sectarian violence targeting the Muslim minority, who make up about 14% of the population, have become increasingly frequent. But none of this comes as a surprise. Not too long ago, Modi himself faced criticism for failing to take responsibility for quelling the 2002 riots in the western state of Gujarat, which claimed over 1,000 lives while he served as the state's chief minister.
A recent BBC documentary accused him of stoking tensions leading up to the tragic events in Gujarat. In its damning revelations, Jack Straw, who was the UK's foreign secretary at the time of the violence, said that Modi had 'played a pretty active part in pulling back the police and in tacitly encouraging the Hindu extremists'. As expected, the documentary drew the ire of the Hindu nationalist government, and the London-based broadcaster was subjected to a tax evasion inquiry by Indian authorities. In the years that followed the Gujarat massacre, members of Modi's BJP have become more emboldened, and they continue to fan the flames of hatred and intercommunal tensions.
The demands for proclaiming India as a Hindu state are also growing increasingly vocal and conspicuous. A recent example of this trend took place in Maharashtra, where Devendra Fadnavis, the deputy chief minister, organized a rally near the site where a Hindu mob famously demolished the historic Babri mosque in 1992. This rally coincided with the BJP government's plans to construct a new Hindu temple on the same site ahead of the 2024 general elections. In a fervent declaration to a cheering crowd of far-right Hindu nationalists at the rally, Fadnavis proclaimed that India is already a Hindu rashtra (state).
In another equally concerning development in the northern state of Uttarakhand, a provincial minister in the Modi government made a declaration that the government would not tolerate what they referred to as "land jihad" – a dangerous dog-whistle, implying that Muslim immigrants are purchasing land with the intent to displace the Hindu majority. Such rhetoric is yielding troubling consequences. Shortly after these speeches, during celebrations marking the birth of Lord Rama, multiple attacks occurred across the country. The most notable incident involved approximately 1,000 Hindu rioters setting fire to a century-old Muslim religious school in the northern state of Bihar, resulting in the destruction of the school's library.
The surge of hostility targeting Muslims is often ignited with the incendiary songs broadcasted by Hindu far-right mobs, inciting violence. The culmination of this hostility has left several Muslim neighborhoods resembling a war-torn landscape, strewn with shattered glass, charred vehicles, and scorched mosques.
On April 10 this year, in Khargone city, Madhya Pradesh state, a Hindu festival commemorating the birth anniversary of Lord Ram descended into chaos as Hindu mobs, armed with swords and clubs, paraded through Muslim neighborhoods and mosques. Videos captured hundreds of them dancing and chanting in unison, amplifying songs through loudspeakers that advocated violence against Muslims.
Soon after, altercations erupted between groups of Hindus and Muslims, as reported by the police. When the violence eventually subsided, it was evident that the Muslim community bore a disproportionately heavy brunt. Their businesses and residences fell victim to looting and arson. Mosques suffered desecration and fire damage. Overnight, numerous families found themselves displaced by the turmoil.
A similar pattern emerged during an incident outside New Delhi, the capital of India. Hindu far-right mobs compelled 3,000 impoverished Muslims to flee out of fear. Shops, shacks owned or operated by Muslims, and their residences in two extensive slum areas were padlocked. According to Reuters, clashes in Haryana state's Nuh and Gurugram districts also resulted in the tragic loss of seven lives.
Meanwhile, Modi himself praised an extremely Islamophobic film at a rally leading up to local elections this month.
Although numerous civil society groups have been vocal advocates for a pluralistic India and the safeguarding of Muslim rights, the Supreme Court has emerged as the most influential institution in monitoring the actions of the BJP. Nevertheless, even within the highest echelons of the judiciary, a prevailing sense of exasperation and powerlessness is palpable. In a recent court hearing, Justice K.M. Joseph openly criticized local BJP authorities for their failure to prosecute instances of hate speech at a rally.
"The state is impotent; the state is powerless. It does not act in time. Why do we have a state at all if it is remaining silent?" noted Justice K.M. Joseph.
Yet, as India approaches an upcoming election next year, with Modi poised to secure a third term, apprehensions are mounting that these episodes of violence may continue to escalate, exacerbating societal divisions along religious lines.
Interestingly, even as the Indian prime minister remains notably silent in response to the events that disproportionately affect Muslims, Modi is anticipated to assert that he is an indispensable global leader with a pivotal role in securing world peace. All of this unfolds at a moment when minority communities across the nation are seeking a place of safety and peace.
To discuss the situation in India, we interviewed Kenneth Roth, former executive director of Human Rights Watch. Roth is currently a visiting professor at Princeton's School of Public and International Affairs.
ET: Can you provide an overview of the concept of "mainstreaming hate" and how it applies to the situation of religious minorities in India under Narendra Modi?
KR: Modi's BJP runs its election campaign by promoting Hindu majoritarianism. The flip side of that emphasis is the targeting of religious minorities. BJP leaders have made remarks about forced conversions, illegal cow slaughter, inter-faith marriages, and even terrorism—all of which can incite violence against minority Muslim, Sikh, and Christian communities.
India and Pakistan have a long history of distrust, but it is extraordinary that in both countries, the response to legitimate criticism of the government is to allege a lack of patriotism and senselessly urge critics to move to the other country.
The recent attacks on Christians in Pakistan, as well as the targeting of Shia and Ahmadiyya groups, demonstrate that both countries need to do a lot more to embrace the idea of pluralism and equal rights for all citizens. Just as the Modi government uses "Hindu nationalism" as an excuse to crack down on religious minorities, the Pakistani government has been far too tolerant of charges of "blasphemy" to justify vigilante violence against religious minorities.
ET: What specific policies of the Modi government have contributed to the alleged mainstreaming of hate against Muslims and other religious minorities?
KR: The Modi government has adopted discriminatory laws and policies, with authorities often displaying bias in prosecuting incidents of communal violence. Courts have even reprimanded the police for making arrests without evidence.
During my time with Human Rights Watch, we opposed the Citizenship Amendment Act brought by the Modi administration. This act fast-tracks asylum claims for non-Muslim irregular immigrants from neighboring Muslim-majority countries such as Afghanistan, Bangladesh, and Pakistan. While religious minorities in those countries may indeed need protection, the deliberate exclusion of Muslims seeking refuge is unjust. I would especially encourage Indian authorities, as well as those in Pakistan, to respect the rights of Rohingya Muslim refugees, who are among the world's most persecuted minorities. They were forced to flee crimes against humanity and acts of genocide committed by the Myanmar military.
It was heartening to witness millions of Indians participating in protests against this law, expressing concern that it might be used to target Indian Muslims. These protests demonstrate that the BJP's Hindu majoritarian campaign is not widely accepted in a country rooted in secularism. However, it is disappointing that Indian authorities continue to prosecute students and activists for leading these protests. Such actions fall far short of the conduct expected in a democracy.
Similarly, I am disheartened by the Indian government's clampdown on journalists and human rights activists in Kashmir, including through the use of draconian counterterrorism laws.
ET: How has the social and political climate in India evolved in recent years, and how has this impacted the perception of religious minorities?
KR: Populist leaders around the world have used divisive language about religion or race to promote themselves. Such official hatred is dangerous for human rights. As a democracy with a diverse population of various ethnicities and faiths, India should show leadership in promoting rights. Modi has done the opposite.
ET: The "Love Jihad" rhetoric has gained attention, alleging forced conversions. How has this narrative impacted the treatment of religious minorities and contributed to the mainstreaming of hate?
KR: Some BJP politicians, as well as others from affiliated groups, promote a baseless theory that Muslim men lure Hindu women into marriages to convert them to Islam. Instead of countering these claims, states have adopted laws that are ostensibly designed to stop forced religious conversions but are, in fact, used to persecute young Muslim men. Christian priests and churches have also been attacked over allegations of induced conversion to Christianity. Additionally, Hindu groups have interfered with the religious freedom of Dalit or Adivasi communities who might choose to become Christians.
These suggestions undermine the right of Indian women to choose their partners in an informed and consensual manner. It disparagingly treats them as children who can be deceived, rather than adults who can make up their own minds. Such claims are often driven by Hindu extremist leaders who allege that Hindu women in Pakistan and Bangladesh are being forced to convert as well. All states have the responsibility to uphold freedom of religion and belief for every citizen, including women.
Q- Social media platforms have played a role in spreading hate speech. How has the government's approach to regulating these platforms influenced the narrative against religious minorities?
KR: The Indian government has regularly shut down the internet, ostensibly to maintain order and prevent the spread of communal hate, although in fact, often just to curtail dissent. The better approach would be for the Indian government to ensure access to credible information. An open internet, where lies and hatred can quickly be refuted, is the best way to counteract rumors. Social media companies also have the responsibility to weed out incitement to violence, yet these highly profitable companies continue to underinvest in monitoring the use of their platforms.
ET: Various instances of mob violence, like the cow protection vigilante attacks, have targeted religious minorities. How have these incidents contributed to the perception of hate being mainstreamed?
KR: Indian authorities should credibly investigate and prosecute all those responsible for violence. There should be no exemption for supporters of the ruling BJP. Bias in the criminal justice system undermines the rule of law.
Q- The role of education in shaping perceptions is significant. How have changes in school curriculum or educational policies influenced the narrative around religious minorities?
KR: All education around the world, including in faith-based institutions, should be rooted in the promotion of universal human rights. We should resist governmental efforts to infiltrate agendas of hate, exclusion, and discrimination into school curricula.
ET: The Indian government's response to communal violence and hate crimes has been scrutinized. Could you discuss how this response has shaped the atmosphere for religious minorities in India?
KR: Religious minorities inevitably suffer when a government builds its political platform around hatred and exclusion. The essence of a democracy is that minorities should enjoy the same rights as the majority. A political platform based on prioritizing the asserted majority is an invitation to violating the rights of minorities.
ET: While intolerance in India appears to be rising, on the global stage, leaders of established democracies seem to have developed a tendency to ignore such violations in India. What are your thoughts on this? Is India's position in the geopolitical sphere forcing developed countries to ignore ongoing violations of minority rights?
KR: During my nearly three decades leading Human Rights Watch, we regularly called on all governments to speak frankly about human rights to each other. No government has a perfect record. Every government has a responsibility to encourage others to do better.
In recent times, many democratic governments have given a pass to the Modi administration as it and its supporters attack minorities and restrict basic freedoms within the media and civil society. The unstated rationale is often that the Indian government is needed as an ally to oppose the Chinese government's threats to the global human rights system and to its neighbors, including Taiwan.
That is a misguided rationale. To begin with, given India's longstanding border dispute with China, the Indian government hardly needs others to turn a blind eye to its anti-democratic behavior to be persuaded to stand up to Beijing. More importantly, democracy will lose if the global contest between democracy and autocracy is pursued by building alliances at the expense of democratic principles. Such short-term "pragmatism" is misguided and counterproductive.
ET: What steps can the Indian government and civil society take to counteract the mainstreaming of hate and promote religious pluralism and coexistence?
KR: India has a strong tradition of an independent and vibrant civil society. That is an essential part of any strong democracy. It is important for the Indian government to protect the space for civil society instead of cracking down on criticism in the name of defending the Modi administration.
Similarly, in Pakistan, I am deeply troubled by the extraordinary efforts being made to sideline Imran Khan and his party. The establishment seems to be throwing every conceivable charge at Khan in the hope that something might stick and thus that it will not face a candidate with considerable political support in the next election.
Kenneth Roth can be contacted on Twitter: @KenRoth
All trapped Indian workers rescued from Himalayan tunnel

INDIA:

Indian rescuers on Tuesday pulled out all 41 construction workers trapped for 17 days inside a collapsed tunnel in the Himalayas, hours after drilling through the debris of rock, concrete and earth to reach them.
The evacuation of the men – low-wage workers from some of India's poorest states – began more than six hours after rescuers broke through the debris in the tunnel in Uttarakhand state, which caved in on Nov. 12.
They were pulled out on wheeled stretchers through a 90 cm (3 feet) wide steel pipe, with the entire process being completed in about an hour.
"Their condition is first-class and absolutely fine … just like yours or mine. There is no tension about their health," said Wakil Hassan, a rescue team leader.
The first to be evacuated, a short man wearing a dark grey winter jacket and a yellow hard-hat, was garlanded with marigold flowers and welcomed in traditional Indian style inside the tunnel by state chief minister Pushkar Singh Dhami and federal deputy highways minister V.K. Singh.
Read also: After machines fail, 'rat miners' to help rescue 41 men stuck in Indian tunnel
Some walked out smiling and were hugged by Dhami, while others made gestures of thanks with clasped hands or sought blessings by touching his feet. All were garlanded and also presented with a white fabric stole by Dhami and Singh.
"I want to say to the friends who were trapped in the tunnel that your courage and patience is inspiring everyone," Prime Minister Narendra Modi posted on social media platform X.
"It is a matter of great satisfaction that after a long wait these friends of ours will now meet their loved ones. The patience and courage that all these families have shown in this challenging time cannot be appreciated enough."
Federal road transport and highways minister Nitin Gadkari thanked rescue workers and said in a post on X that a "safety audit of the tunnel will also be done now".
Rescue clinched by 'rat miners'
Ambulances that had lined up with lights flashing at the mouth of the tunnel transported the workers to a hospital about 30 km (18 miles) away.
Local residents gathered outside the tunnel set off firecrackers, distributed sweets and shouted slogans hailing Mother India.
The 41 men have been getting food, water, light, oxygen and medicines through a pipe, but efforts to dig a tunnel to rescue them with high-powered drilling machines were frustrated by a series of snags.
Government agencies managing the unprecedented crisis had on Monday turned to "rat miners" to drill through the rocks and gravel by hand from inside the evacuation pipe pushed through the debris after machinery failed.
Read: Rescuers drill to send more food to trapped workers in Indian tunnel
The miners are experts at a primitive, hazardous and controversial method used mostly to get at coal deposits through narrow passages, and get their name because they resemble burrowing rats.
The miners, brought from central India, worked through Monday night and finally broke through the estimated 60-metres of rocks, earth and metal on Tuesday afternoon.
The tunnel is part of the $1.5 billion Char Dham highway, one of Prime Minister Narendra Modi's most ambitious projects, aimed at connecting four Hindu pilgrimage sites through an 890- km network of roads.
Authorities have not said what caused the cave-in but the region is prone to landslides, earthquakes and floods.
Israel, Hamas hold fire for 5th day, more hostages to be released

JERUSALEM/
GAZA:

Israeli forces and Hamas fighters largely held their fire on Tuesday following the extension of a four-day ceasefire in Gaza by at least two extra days to allow for the release of more hostages.
With both sides expressing hope of further extensions, mediator Qatar hosted the spy chiefs from Israel's Mossad and the United States' CIA at a meeting to "build on progress", a source briefed on the visits told Reuters.
A US official confirmed that CIA Director William Burns was in Doha "for meetings on the Israel-Hamas conflict including discussions on hostages", without elaborating.
The truce, which began on Friday, has brought the first respite to the Hamas-ruled Gaza Strip in seven weeks, during which Israel had bombed swathes of the territory into a desolate moonscape.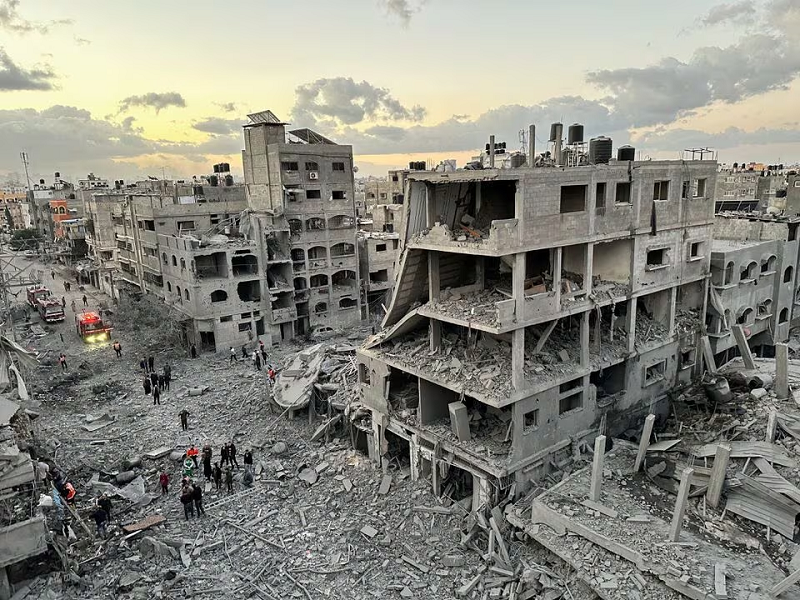 Palestinians walk at the site of Israeli strikes on houses, in Jabalia refugee camp in the northern Gaza Strip November, 21, 2023. PHOTO: REUTERS
Although conditions on the ground in Gaza remained largely peaceful on Tuesday, Israel's military said three explosive devices had been detonated near its troops in two different locations in the northern Gaza Strip, "violating the framework of the operational pause".
In one of the locations, gunmen opened fire on the soldiers who returned fire and that "a number of soldiers were lightly injured". No further details were immediately available.
Earlier, a single column of black smoke could be seen rising above the obliterated wasteland of the northern Gaza war zone from across the fence in Israel, but for a fifth day there was no sign of jets in the sky or rumble of explosions.
Both sides also reported some Israeli tank fire in the Sheikh Radwan district of Gaza City in the morning, but there were no reports of casualties. Israel said its troops had been approached and fired a warning shot.
On alert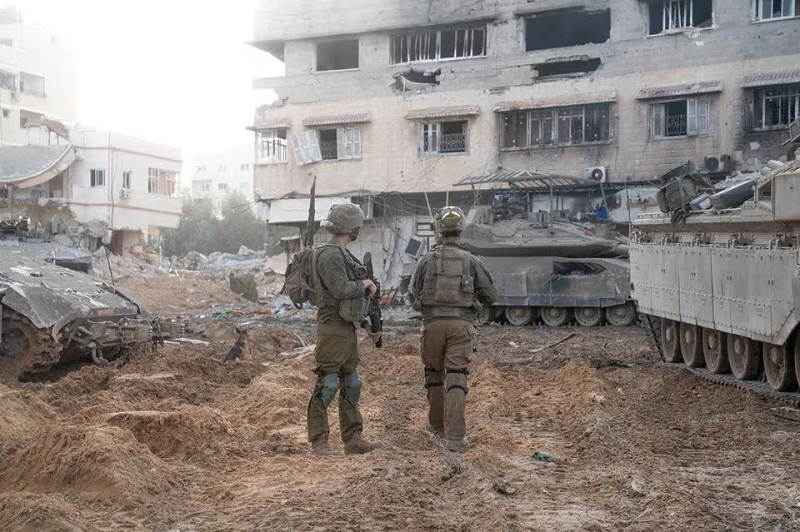 Israeli soldiers operate in the Gaza Strip during a temporary truce between Israel and Hamas. PHOTO: REUTERS
Lieutenant-General Herzi Halevi, chief of Israel's armed forces, told a press briefing that the military remained on alert in Gaza and was prepared to continue fighting.
"We are using the days of pause within the framework to learn, to bolster our readiness and to approve future operational plans," he said.
Since the truce started on Friday, Hamas has released 69 hostages – 50 Israeli women and children, including some toddlers, as well as 19 foreigners, mainly Thai farmworkers.
In return, Israel has released 150 security detainees from its jails, all women and teenagers.
Israel has said the truce could be prolonged as long as Hamas continues to release at least 10 Israeli hostages per day. But with fewer women and children left in captivity, keeping the guns quiet beyond Wednesday could require negotiating to free at least some Israeli men for the first time.
"We hope the occupation (Israel) abides (by the agreement) in the next two days because we are seeking a new agreement, besides women and children, whereby other categories that we have that we can swap," Hamas official Khalil Al-Hayya told Al Jazeera late on Monday.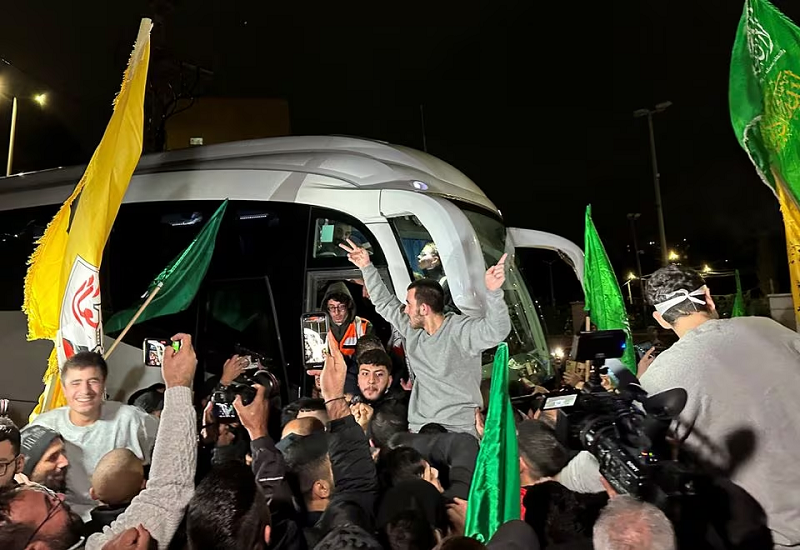 A released Palestinian prisoner reacts after leaving the Israeli military prison, Ofer, near Ramallah in the Israeli-occupied West Bank November 28, 2023. PHOTO: REUTERS
Qatar's foreign ministry said it was now trying to secure a further extension based on Hamas releasing more hostages.
Israel has vowed to annihilate Hamas after its gunmen burst across the border fence and went on a rampage, killing around 1,200 people and seizing 240 captives.
Since then, Gaza health authorities deemed reliable by the United Nations say more than 15,000 people have been confirmed killed in Israel's bombardment, around 40% of them children, with many more dead feared to be lost under rubble.
More than two-thirds of Gaza's 2.3 million people have lost their homes, with thousands of families sleeping rough in makeshift shelters with only the belongings they could carry.
Drone footage on Tuesday showed hundreds of Gaza residents queuing for water, petrol and natural gas.
Burying the dead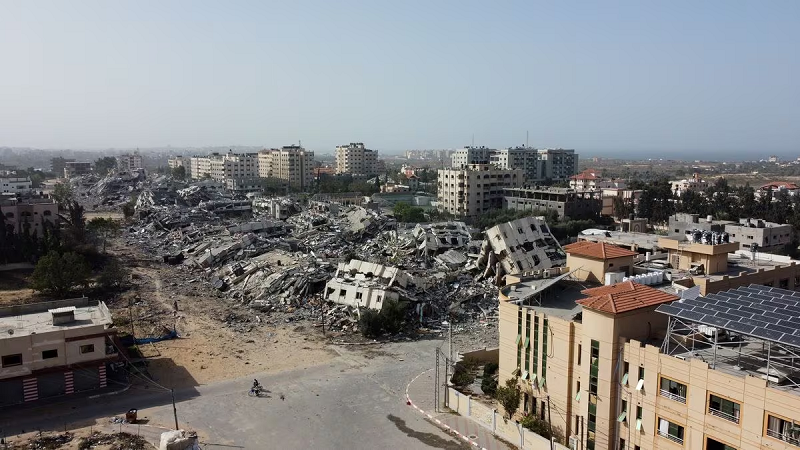 Residential buildings, destroyed in Israeli strikes during the conflict, lie in ruin in southern Gaza City November 26, 2023. PHOTO: REUTERS
Many are using the truce to return to abandoned or destroyed homes, like Abu Shamaleh, who was picking through the rubble of his flattened home in Khan Younis, looking for anything recoverable in the masonry.
He said 37 family members had been killed and that there was no machinery to excavate the body of a cousin still buried in the ruins.
"The truce is the time to lift the rubble and search for all the missing people and bury them. We honour the dead by burying them. What use is the truce if the bodies remain under the rubble?" he said.
Among Israeli hostages yet to be freed was 10-month-old baby Kfir Bibas, along with his brother Ariel, 4, and their parents Yarden and Shiri, bundled from a kibbutz by gunmen on Oct 7.
Yarden's sister told reporters relatives had learned the family would not be in the group to go free on Tuesday. Israeli officials said they believed the family was being held by a group other than Hamas.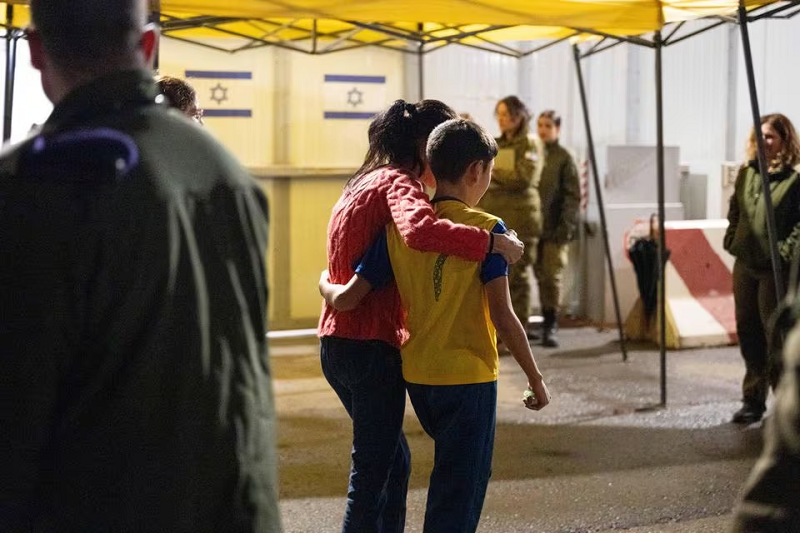 Eitan Yahalomi, 12, walks with his mother at the Kerem Shalom border crossing, after being released from Gaza. PHOTO: REUTERS
"Kfir… is a child who still doesn't even know how to say 'Mommy'," Jimmy Miller, a cousin, told Channel 12 TV. "We in the family are not managing to function… The family hasn't slept for a long, long time already – 51 days."
When the war resumes, Israel has made clear it intends to press on with its assault from the northern half of Gaza into the south. US. officials said they have told their ally to be more careful protecting civilians as its forces press on.
Israel's siege has led to the collapse of Gaza's health care system, especially in the north where no hospitals remain functioning. The World Health Organization said more Gazans could soon be dying of disease than from bombing.
There were already a very high number of cases of infants suffering from diarrhoea, said WHO spokesperson Margaret Harris: "No medicines, no vaccination activities, no access to safe water and hygiene and no food."
Indian rescuers reach 41 men trapped in tunnel

INDIA:

Indian rescuers broke through rocks and debris on Tuesday to reach 41 construction workers trapped in a collapsed tunnel in the Himalayas for 17 days.
The process of pulling out the 41 labourers, one at a time on wheeled stretchers through a narrow pipe 90 cm (3 feet) wide, was due to begin soon, officials said.
Three teams, each of four rescuers, would first enter the area where the men are trapped to prepare them to be pulled, said Syed Ata Hasnain, a member of the National Disaster Management Authority that is overseeing rescue efforts.
"We have been involved in this for more than 400 hours and are taking all safety precautions until the end," he told reporters in New Delhi, adding it would take three to five minutes to remove each of the 41 trapped labourers.
The men, low-wage workers from India's poorest state, have been stuck in the 4.5 km (3 mile) tunnel in Uttarakhand state, in northern India, since it collapsed on Nov. 12.
They have been getting food, water, light, oxygen and medicines through a pipe but efforts to dig a tunnel to rescue them with high-powered drilling machines were frustrated by a series of snags.
Read also: After machines fail, 'rat miners' to help rescue 41 men stuck in Indian tunnel
Government agencies managing the unprecedented crisis turned on Monday to "rat miners" to drill through the rocks and gravel by hand from inside a 90 cm (3 feet) wide evacuation pipe pushed through the debris after machinery failed.
The miners are experts at a primitive, hazardous and controversial method used mostly to get at coal deposits through narrow passages, and get their name because they resemble burrowing rats.
The miners, brought from central India, worked through Monday night and finally broke through the estimated 60-metres of rocks, earth and metal on Tuesday afternoon.
"Work of laying pipes in the tunnel to take out workers has been completed," Uttarakhand state chief minister Pushkar Singh Dhami said on the X social media platform, thanking the Hindu deity, Baba Baukh Nag Ji, as well as the millions of Indian who prayed for the men and the tireless rescuers.
"Soon, all the labourer brothers will be taken out."
Ambitious project
Dozens of rescue workers with ropes, ladders and stretchers entered the tunnel and 41 ambulances were lined up outside to take the 41 men to a hospital about 30 km away.
Helicopters were on standby there to fly workers to a larger hospital in the city of Rishikesh in case any of them needed specialist attention.
A makeshift medical facility with 10 beds and oxygen cylinders was also set up inside the tunnel for those who might need emergency care on site, officials said.
Some rescue workers in hard hats made victory signs and posed for pictures. Others carried marigold garlands to welcome the workers out in traditional Indian style.
Relatives of the trapped men, who have been camping near the site, were taken inside the tunnel with luggage, ready to accompany the men to hospital.
"As he comes out, my heart will revive again," the father of a trapped worker, who give his name as just Chaudhary, said of his son, Manjeet Chaudhary.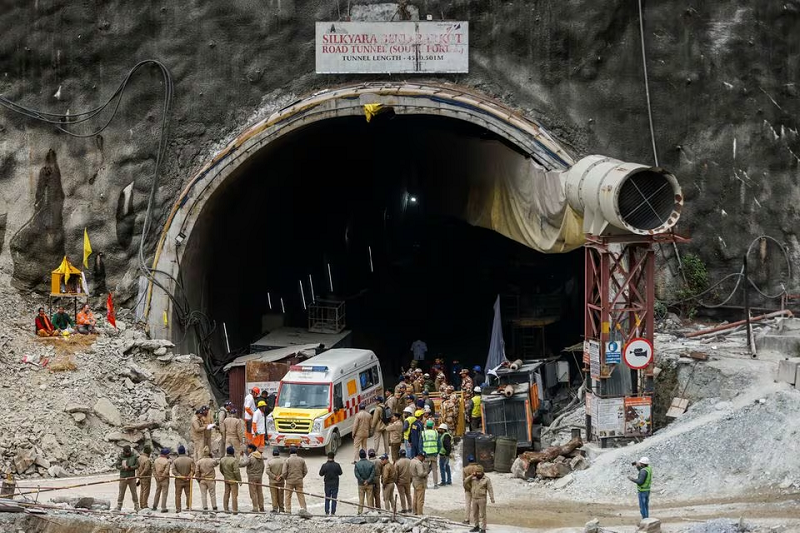 An ambulance goes inside a tunnel where rescue operations are underway to rescue trapped workers in Uttarakhand, India, November 28, 2023. PHOTO: REUTERS
Villagers also gathered outside the tunnel, some singing Hindu devotional songs and raising slogans in praise of the Hindu god Lord Ram on hearing news of the breakthrough.
Others gathered on nearly slopes hoping to catch a glimpse of the men as they are brought out.
The men have been getting cooked food since a lifeline pipe was pushed through last week, including flat breads, lentils and vegetable curry.
More than a dozen doctors, including psychiatrists, have been at the site, talking to the men through the pipe and monitoring their health.
They were advised to do light yoga exercises, walk around in the space they have been confined to, and keep speaking to each other.
Read: Rescuers drill to send more food to trapped workers in Indian tunnel
The tunnel is part of the $1.5 billion Char Dham highway, one of Prime Minister Narendra Modi's most ambitious projects, aimed at connecting four Hindu pilgrimage sites through an 890- km network of roads.
Authorities have not said what caused the cave-in but the region is prone to landslides, earthquakes and floods.
The tunnel did not have an emergency exit and was built through a geological fault, a member of a panel of experts investigating the disaster has told Reuters.
The Char Dham project has faced criticism from environmental experts and some work was halted after hundreds of houses were damaged by subsidence along the route.
The government has said it employed environmentally sound techniques to make geologically unstable stretches safer.
It also ordered the National Highways Authority of India (NHAI) to audit 29 tunnels being built across India.