LPG prices increased significantly

ISLAMABAD:

The Oil and Gas Regulatory Authority (Ogra) has announced a significant increase in prices of liquefied petroleum gas (LPG) effective from October 1, 2023.
The new pricing structure, in accordance with the federal government's policy guidelines, indicates a notable surge in LPG rates, which will impact both producers and consumers.
As per the latest determination, the LPG producer price has gone up to Rs219,686.69 per ton for October 2023 as compared to Rs198,826.33 per ton in September. The price has soared by Rs20,860.36 per ton, or 8.7%, translating into an increase of Rs246.15 in the rate of an 11.8kg cylinder. Likewise, the LPG consumer price has also recorded a sharp uptick. From the rate of Rs240,126.33 per ton in September, the price tag for consumers has climbed to Rs260,986.69 per ton for October.
This surge, amounting to Rs20,860.36 per ton, or 8.7%, will lead to an increase of Rs246.15 in the price of 11.8kg cylinder. The primary force behind the notable price hike is the correlation between LPG producer prices and the Saudi Aramco contract price as well as the US dollar exchange rate, said Ogra in a statement. In comparison with the previous month, the Saudi Aramco contract price has risen by 9.53% and the average dollar exchange rate has gone up by 1.15%, resulting in a surge of Rs246.15 in the price of 11.8kg cylinder.
Published in The Express Tribune, October 1st, 2023.
Like Business on Facebook, follow @TribuneBiz on Twitter to stay informed and join in the conversation.
Pakistan's economy stuck in 'low-growth trap': WB

ISLAMABAD:

Martin Raiser, the World Bank's Regional Vice-President for South Asia, has warned that Pakistan's economy is stuck in a "low-growth trap" with poor human development outcomes and increasing poverty.
Raiser reaffirmed the bank's commitment to support the people of Pakistan in his address during a ceremony in Islamabad.
In his address, Raiser delivered a stark assessment of the nation's economic landscape.
"Pakistan's economy is stuck in a low-growth trap with poor human development outcomes and increasing poverty. Economic conditions leave Pakistan highly vulnerable to climate shocks, with insufficient public resources to finance development and climate adaptation," warned Raiser.
"It is now time for Pakistan to decide whether to maintain the patterns of the past or take difficult but crucial steps towards a brighter future."
Raiser's remarks underscore the urgency of the significant policy initiatives he unveiled during his visit. These initiatives, encapsulated in a series of policy notes, highlighted the critical policy shifts required for fostering a more productive, sustainable, resilient, and healthier Pakistan.
The policy notes—focusing on child stunting, fiscal sustainability, private sector growth, energy, learning poverty, agriculture, and climate change—are the culmination of several months of outreach and engagements conducted across the country under the "Reforms for a Brighter Future – Time to Decide" banner.
They are intended to help inform the public policy dialogue in the context of the upcoming elections.
Read also: WB wants Sukkur Barrage modernisation work in time
The policy notes advocated that Pakistan needs to address its acute human capital crisis—including the high prevalence of stunting and learning poverty—by adopting a coordinated and coherent cross-sectoral approach to basic services involving both provincial and federal governments.
They suggested that Pakistan should improve the quality of public spending and take serious measures to expand the revenue base, ensuring that the better off pay their share.
They also stated that the country should pursue business regulatory and trade reforms and reduce the presence of the state in the economy to increase productivity, competitiveness, and exports.
He said that Pakistan should remove distortions that undermine the performance of the agricultural and energy sectors, including through subsidy reform and privatisation of electricity distribution companies.
Highlighting Pakistan's acute human capital crisis he said: "Almost 40% of children in Pakistan suffer from stunted growth, more than 78% of Pakistan's children cannot read and understand a simple text by the age of 10. These are stark indicators of a silent human capital crisis that needs priority attention," said Martin Raiser.
"With additional spending on water and sanitation of around 1% of GDP per year and better coordination at the local level, stunting could be halved over a decade with significant positive impacts on growth and incomes. This is just one example of the huge economic benefits a coherent and decisive reform strategy could have".
During his visit, Raiser will meet government officials at the federal and provincial levels, and representatives from the private sector and academia.
He will also visit the Dasu and Tarbela hydropower projects, as well as project sites in Sindh and Punjab.
Little prospect of Russia oil deal

ISLAMABAD:

Russia is reluctant to strike a long-term commercial oil export agreement with Pakistan at a price cap of $60 per barrel, say officials.
The European Union and the United States had agreed in December 2022 to slap a price cap of $60 per barrel on Russian crude supplies in a bid to put pressure on Moscow and choke revenue flows over its war in Ukraine. The cap was also aimed at ensuring continuous supplies and avoiding potential shortage of the fuel across world markets.
Washington has given its concurrence for Pakistan's oil deal with Russia while remaining within the price ceiling. However, Moscow has rejected the price cap.
Pakistan's government had decided in October to negotiate a long-term oil supply pact with Russia within the price cap. It wants Russia to set free-on-board price at $60 per barrel. Free on board means the actual price charged at port.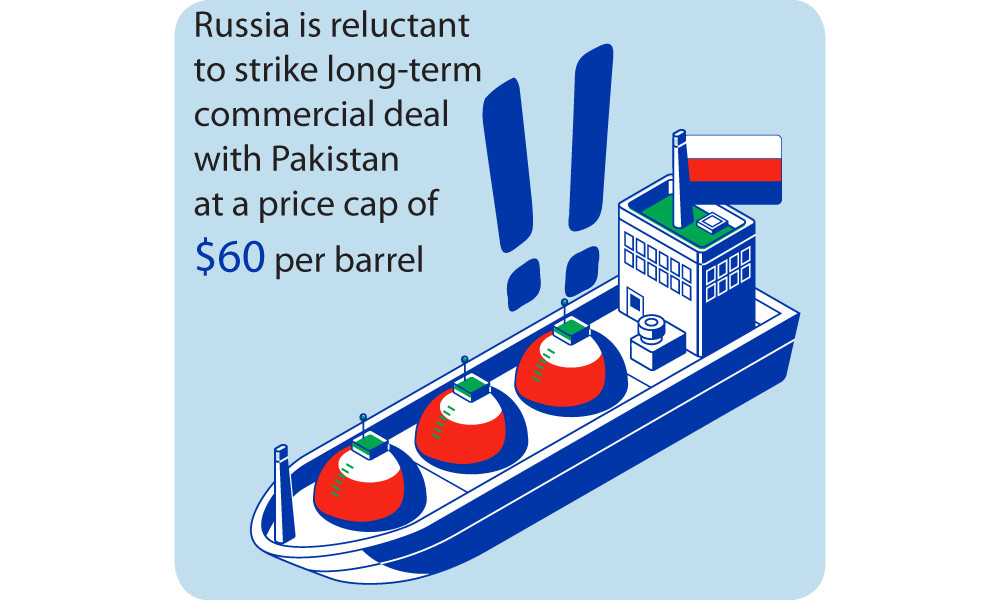 design: Ibrahim Yahya
However, Pakistan shelved plans for a government-to-government contract and instead allowed Pakistan Refinery Limited (PRL) to clinch a crude purchase agreement on a commercial basis.
Following that, PRL struck a long-term contract with plans to bring first cargo in December this year.
PRL had been nominated as a procuring entity as per commitments made in the Pakistan-Russia Inter-governmental Commission meeting in January 2023.
PRL will purchase crude oil from Russia according to commercial terms, as agreed from time to time, without violating the international commitments of Pakistan and the international framework governing such transactions.
The refinery has already imported 100,000 tons of Russian Urals crude and processed it successfully. It also made a profit on that transaction. The oil was loaded at a Russian port and offloaded at an Oman port on two small shuttle vessels for onward delivery at Karachi port.
Though PRL, on sidelines of the Russian Energy Forum in October this year, inked a long-term agreement with its Russian counterpart for crude oil supply at mutually agreed specifications, during commercial negotiations, the Russian side did not show its willingness to enter into long-term contracts at the price cap.
In a bid to break deadlock, a Russian delegation is set to arrive on Tuesday (today) to meet key Pakistani officials.
Sources pointed out that Pakistan could not agree on an agreement that would be in breach of the price cap, which could invite US sanctions.
Read: PRL clinches long-term oil supply deal with Russia
Earlier, Russia shipped one crude oil cargo of 100,000 tons that took one month to reach Pakistan. Freight cost was also borne by the Russian side.
However, "if Russia does not pay freight charges on future cargoes, a deal may be unlikely," an official remarked.
Experts say Pakistan can benefit from Russia crude oil if it makes regular imports.
The above crude cargo was brought on a trial basis, which PRL processed at a cost cheaper by $7 per barrel.
Russian crude is said to produce 32% high-speed diesel (HSD) and 50% furnace oil as compared to the Arabian Light crude that produces 45% HSD and 25% furnace oil.
Initially, PRL blended 50% Russian oil with the same quantity of Arabian Light being imported from the Gulf market. Later, it mixed 35% Russian crude with 65% Arabian oil that produced a low quantity of furnace oil.
So far, Pakistan has been relying on the Middle East market for its oil requirement but the import of Russian oil has opened a new avenue, which will diversify markets.
Meanwhile, PRL has awarded a contract to contractors for kicking off work on doubling its production capacity from the current 50,000 barrels per day (bpd) to 100,000 bpd. With the expansion of the refinery, there will be potential for significant imports from Russia as well.
Published in The Express Tribune, November 28th, 2023.
Like Business on Facebook, follow @TribuneBiz on Twitter to stay informed and join in the conversation.
Foreign companies repatriate record $272.5m in October

KARACHI:

Foreign companies operating in different sectors of Pakistan's economy have continued to freely repatriate profits to their headquarters abroad, totalling a 39-month high profit of $272.5 million in a single month, October 2023.
October marks the second consecutive month in which they have continued to send profits with no restrictions from the government and the central bank, sending a strong signal to global investors to initiate new investment projects in Pakistan.
Cumulatively in the first four months (Jul-Oct) of the current fiscal year 2023-24, multinational companies (MNCs) have dispatched $485.4 million. This is significantly higher than the total repatriation of $331 million in the previous fiscal year 2022-23, according to the data released by the State Bank of Pakistan (SBP) on Monday.
The central bank's data suggests the total repatriation in the fourth month was seven times (or 581%) higher compared to $71.3 million dispatched in the same fourth month of the last year.
Overseas Investors of Chamber of Commerce and Industry (OICCI) President, Amir Paracha, acknowledged the resumption of profit repatriation by foreign companies from Pakistan in the wake of improvements in the supply of US dollars in the country in recent times.
He said the government's support to foreign companies in resuming sending profits to their headquarters abroad would support the country in attracting new foreign investment.
The resumption of repatriation has taken place as the Securities and Exchange Commission of Pakistan (SECP) is making efforts to attract investments in the agriculture, mining, and IT and telecom sectors, mainly from Middle Eastern countries.
Read: Ease restrictions on profit repatriation: OICCI
Pakistan has been attracting foreign investment mainly in financial, power, oil and gas, and telecommunication sectors. While these four sectors remain top dispatchers of profit from the country.
Multinational companies (MNCs) faced challenges in repatriating profits in the past one-and-a-half years.
The multinational companies have repatriated an average profit of $1.6 billion a year in the past 10 years. They notably sent a high of $2.3 billion in profit alone in 2018.
The latest central bank repatriation data suggests the MNCs have sent the monthly earned profit in addition to the profit withheld in the country in months of low foreign exchange reserves in Pakistan.
Pakistan has never officially announced or unannounced a ban on the repatriation of profits by MNCs in the past two-and-a-half decades. However, the recent depletion in foreign exchange reserves to a critically low level of less than a month has led concerned authorities to delay the dispatch to avoid default on foreign debt repayment.
Profit repatriation had remained low in the previous one-and-a-half years, ranging from $2 million to $60 million a month.
Published in The Express Tribune, November 28th, 2023.
Like Business on Facebook, follow @TribuneBiz on Twitter to stay informed and join in the conversation.