Israel retaliates after Hamas attacks, deaths pass 1,100

WASHINGTON:

Israel, reeling from the deadliest attack on its territory in half a century, formally declared war on Hamas on Sunday as the conflict's death toll passed 1,100 casualties after the Palestinian fighters launched a massive surprise assault from Gaza.
The conflict, which is being considered as the biggest escalation in decades prompted Israeli Prime Minister Benjamin Netanyahu to send a warning of a "long and difficult" war ahead as he dispatched thousands of Israeli forces to combat remaining Hamas fighters in the south while the air force once more bombed targets in the Gaza Strip.
The latest conflict's has claimed 700 lives on the Israeli side, according to Reuters, while Gaza saw the death toll exceeding 400 count, including 20 children, with thousands more wounded on each side
Tens of thousands of Israeli forces were deployed on Sunday to battle holdout Hamas fighters in the south, where the bodies of civilians had been found strewn on roads and in town centres.
"The enemy is still on the ground," military spokesman Daniel Hagari told journalists as a second night fell after the attack, adding Israel was reinforcing its military strength near the Gaza Strip.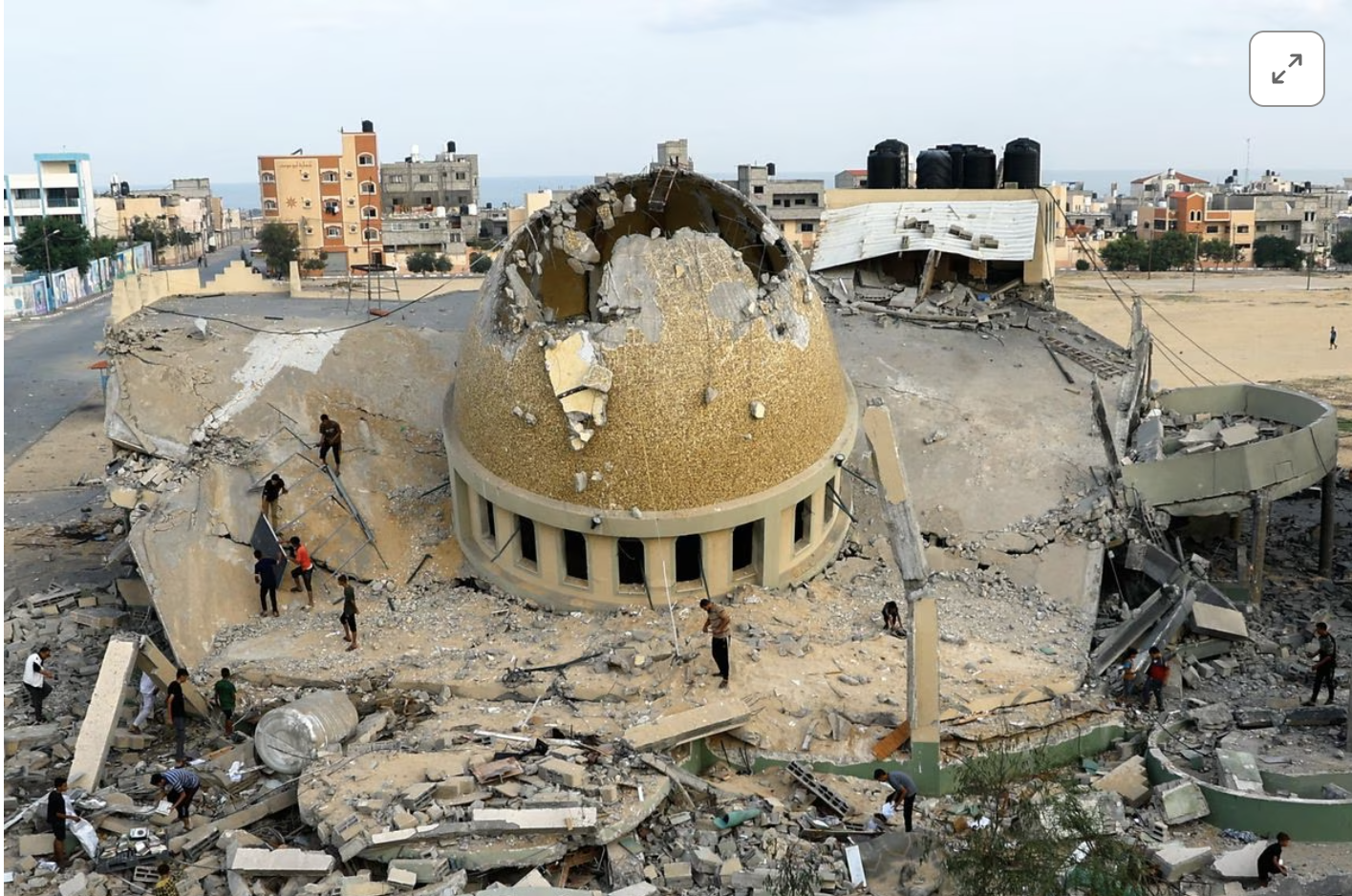 Palestinian inspect a mosque destroyed in Israeli strikes in Khan Younis, in the southern Gaza Strip, October 8, 2023. PHOTO: REUTERS
Gun battles raged as the Israeli army sought to secure desert regions near the coastal enclave, rescue Israeli hostages and evacuate all areas near Gaza.
"We'll reach each and every community until we kill every terrorist in Israel," vowed Hagari, a day after hundreds of Hamas fighters launched their shock offensive and surged into Israel using vehicles, boats and even motorised paragliders.
There was widespread shock and dismay in Israel after at least 100 citizens were captured by Hamas and abducted into Gaza, with images circulating on social media of bloodied hostages, and distraught relatives pleading for the state to rescue them.
Yifat Zailer, 37, said she was horrified to see online video footage from Gaza that showed her female cousin and the woman's children, aged nine months and three years.
Read More: Iran's Raisi backs Palestinian self-defence, warns Israel
"That's the only confirmation we have," she told AFP, her voicing breaking with emotion, and adding there was no information on her cousin's husband and her elderly parents.
"After the army took control of the kibbutz, they weren't at home," she said. "We assume they were kidnapped … We want to know what their condition is, we want them to return safe. They're innocent civilians."
Israel, Hezbollah exchange artillery, rocket fire
Israel and Lebanon's powerful armed group Hezbollah exchanged artillery and rocket fire on Sunday following the deadliest attack in years by Palestinian gunmen on Israel.
On Saturday, a multi-pronged attack by Palestinian gunmen on Israeli towns left around 500 Israelis dead, with more than 300 Palestinians killed in Israel's retaliatory bombardment.
The scale of the attack prompted fears that a wider conflict could break out between Israel and other factions opposed to it in the region, including Lebanon's Hezbollah, an armed party backed by Iran that has previously clashed with Israel.
Hezbollah on Sunday said it had launched guided rockets and artillery onto three posts in the Shebaa Farms "in solidarity" with the Palestinian people.
"Our history, our guns and our rockets are with you," said senior Hezbollah official Hashem Safieddine at an event in the Hezbollah stronghold of Dahieh on Beirut's outskirts in solidarity with the Palestinian fighters.
The Lebanese army said shells and rockets had been launched from southern Lebanon onto "occupied Lebanese territory," without saying who was responsible, and that returning Israeli fire had left several people wounded.
Tehran's main regional ally, Lebanon's Hezbollah, fought a war with Israel in 2006 and said its "guns and rockets" stand with Hamas. "We recommend Hezbollah not to come into this and I don't think they will," Israel's army spokesperson said.
In southern Israel, Hamas gunmen were still fighting Israeli security forces 24 hours after a surprise, multi-pronged assault of rocket barrages and bands of gunmen who overran army bases and invaded border towns.
"My two little girls, they're only babies. They're not even five years old and three years old," said Yoni Asher who had seen video of gunmen seizing his wife and two small daughters after she took them to visit her mother, he said.
Israel's military, which faces questions over its failure to prevent the attack, said it had regained control of most infiltration points along security barriers, killed hundreds of attackers and taken dozens more prisoners.
"We're going to be attacking Hamas severely and this is going to be a long, long haul," an Israeli military spokesperson told a briefing with reporters.
The military said it had deployed tens of thousands of soldiers around Gaza, a narrow strip that is home to 2.3 million Palestinians, and was starting to evacuate all Israelis living around the frontier of the territory.
"This is my fifth war. The war should stop. I don't want to keep feeling this," said Qassab al-Attar, a Palestinian wheelchair user in Gaza whose brothers carried him to shelter when Israeli forces shelled their house.
The attack by Hamas launched at dawn on Saturday represented the biggest and deadliest incursion into Israel since Egypt and Syria launched a sudden assault in an effort to reclaim lost territory in the Yom Kippur war 50 years ago.
US will always have Israel's back: Biden
US President Joe Biden said on Saturday said the United States will always have Israel's back and warned no enemy of Israel should exploit the attacks.
The conflict could undermine US-backed moves towards normalising relations between Israel and Saudi Arabia – a security realignment that could threaten Palestinian hopes of self determination and hem in Hamas' main backer, Iran.
Meanwhile, on Sunday, US President Joe Biden spoke with Israeli Prime Minister Benjamin Netanyahu on Sunday.
US Secretary of State Antony Blinken earlier said Washington would announce new assistance for Israel on Sunday after Hamas fighters rampaged through Israeli towns, with the country suffering its bloodiest day in decades on Saturday.
Israel battered Palestinians with air strikes in Gaza on Sunday. Hundreds have been reportedly killed on both sides.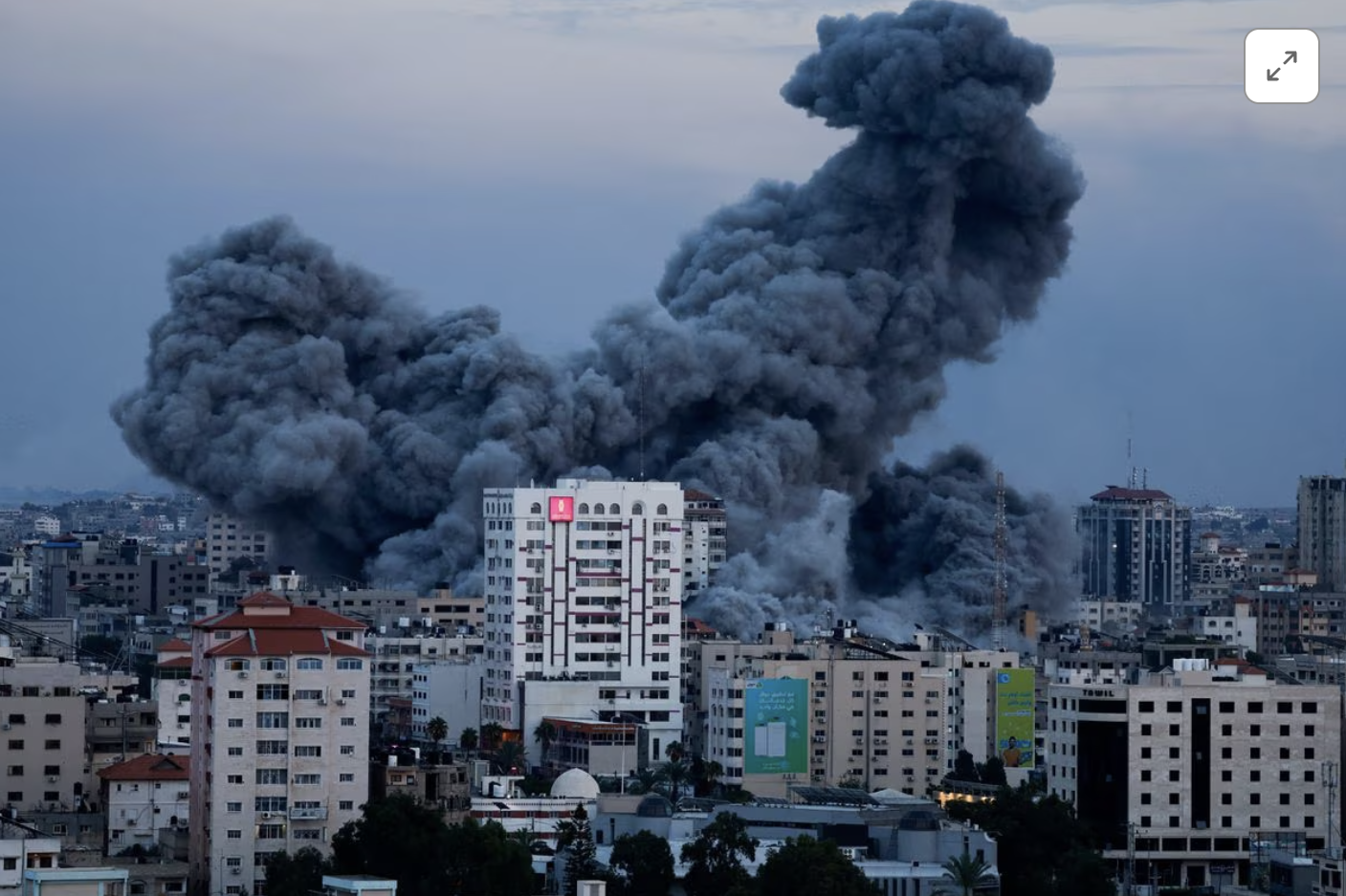 Smoke and flames billow after Israeli forces struck a high-rise tower in Gaza City, October 7, 2023. PHOTO: REUTERS
Hostages
The debris from Saturday's attack still lay around southern Israeli towns and border communities on Sunday morning and Israelis were reeling from the sight of bloodied bodies lying on suburban streets, in cars and in their homes.
Palestinian fighters escaped back into Gaza with dozens of hostages, including both soldiers and civilians.
About 30 missing Israelis attending a dance party that was targeted during Saturday's attack emerged from hiding on Sunday, Israeli media reported.
The capture of so many Israelis, some filmed being pulled through security checkpoints or driven, bleeding, into Gaza, adds another layer of complication for Netanyahu after previous episodes when hostages were exchanged for many Palestinian prisoners.
Hamas fired more rocket salvoes into Israel on Sunday, with air raid sirens sounding across the south, and the Israeli military said it would combine an evacuation of border areas with a search for more gunmen.
Israeli air strikes on Gaza began soon after the Hamas attack and continued overnight and into Sunday, destroying the group's offices and training camps, but also houses and other buildings.
In Khan Younis, in southern Gaza, people searched through the remains of a mosque early on Sunday. "We ended the night prayers and suddenly the mosque was bombed. They terrorised the children, the elderly and women," said resident Ramez Hneideq.
Read Israel blitzes Gaza after Hamas surprise
Escalation
The escalation comes against a backdrop of surging violence between Israel and Palestinian militants in the Israeli-occupied West Bank, where a Palestinian authority exercises limited self-rule, opposed by Hamas that wants Israel destroyed.
Conditions in the West Bank have worsened under Netanyahu's hard-right government with more Israeli raids and assaults by Jewish settlers on Palestinian villages, and the Palestinian Authority called for an emergency Arab League meeting.
Peacemaking has been stalled for years and Israeli politics have been convulsed this year by internal wrangles over Netanyahu's plans to overhaul the judiciary.
Hamas leader Ismail Haniyeh said the assault that began in Gaza would spread to the West Bank and Jerusalem. Gazans have lived under an Israeli-led blockade for 16 years, since Hamas seized control of the territory in 2007.
"How many times have we warned you that the Palestinian people have been living in refugee camps for 75 years, and you refuse to recognise the rights of our people?"
Western countries, led by the United States, denounced the attack. President Joe Biden issued a blunt warning to Iran and other countries: "This is not a moment for any party hostile to Israel to exploit these attacks.
Across the Middle East, there were demonstrations in support of Hamas, while Iran and Hezbollah praised the attack.
That Israel was caught completely off guard was lamented as one of the worst intelligence failures in its history, a shock to a nation that boasts of its intensive infiltration and monitoring of militants.
The main Tel Aviv Stock Exchange indexes fell 6% on Sunday (.TA35), (.TA125) and investors expected the violence to prompt a move into gold and other safe-haven assets.
UN agency says humanitarian access needed to get food to Gaza
The United Nations World Food Programme (WFP) called on Sunday for the creation of humanitarian corridors to bring food into Gaza as Israeli air strikes pounded the Palestinian enclave following deadly Hamas attacks.
"As the conflict intensifies, civilians, including vulnerable children and families, face mounting challenges in accessing essential food supplies," the Rome-based WFP said.
"WFP urges safe and unimpeded humanitarian access to affected areas, calling on all parties to uphold the principles of humanitarian law … including ensuring access to food."
The U.N. agency provides direct food assistance to some 350,000 Palestinians monthly, while also offering aid to nearly 1 million Palestinians in cooperation with other humanitarian partners via cash transfers.
WFP said it was ready to set up pre-positioned food stocks for people who had been displaced or were in shelters.
"While most shops in the affected areas in Palestine currently maintain one month of food stocks, these risk being depleted swiftly as people buy up food in fear of a prolonged conflict," it said.
Israeli aircraft battered Gaza on Sunday after Israel suffered its bloodiest attack in decades, when Hamas fighters rampaged through Israeli towns killing 600 and abducting dozens more.
The Israeli military said it had deployed tens of thousands of soldiers around Gaza, a narrow strip that is home to 2.3 million Palestinians, amid widespread speculation of an imminent, large-scale Israeli incursion into the territory.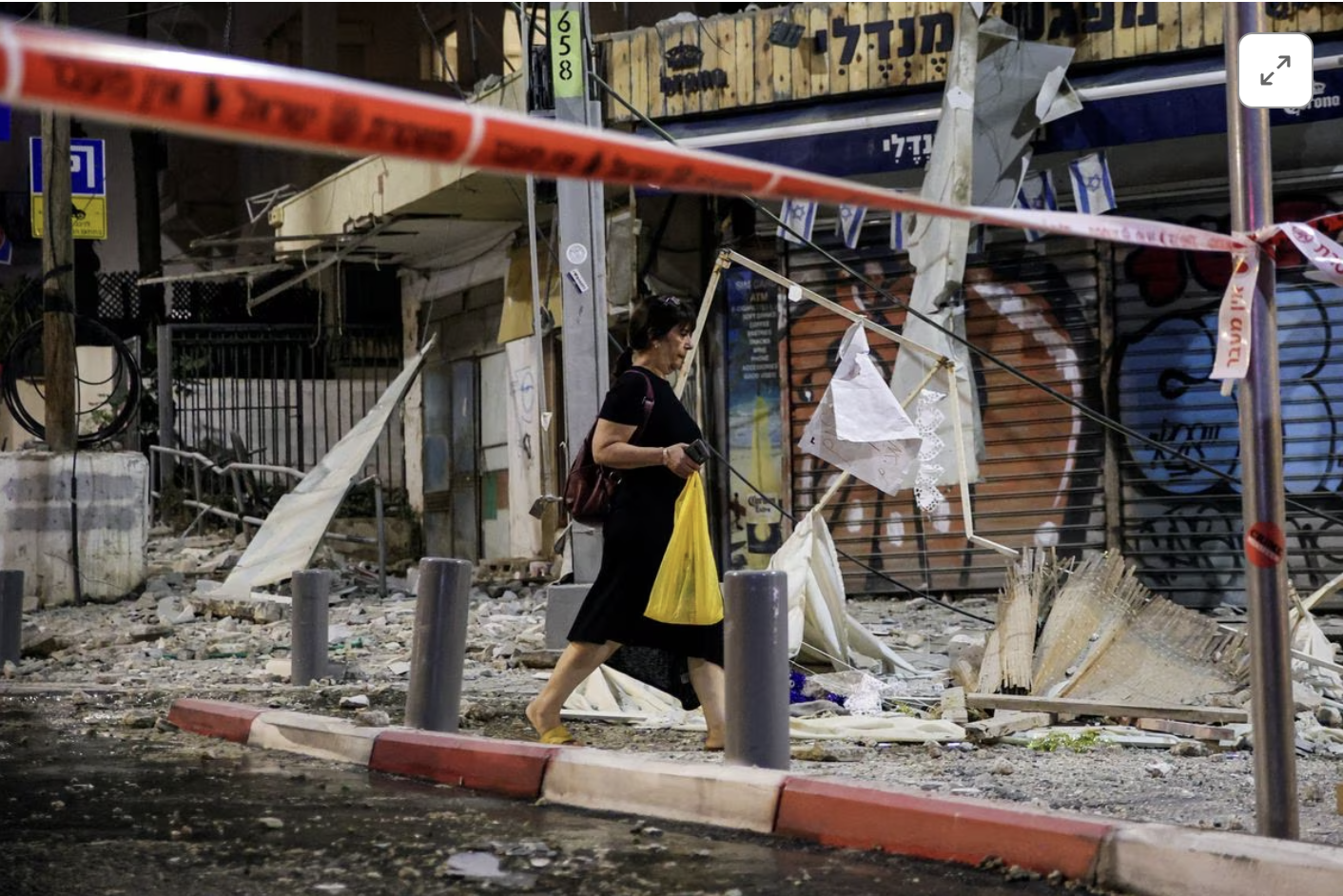 A woman walks past the site where a rocket launched from the Gaza Strip landed in Tel Aviv, Israel October 7, 2023. PHOTO: REUTERS
Pakistan deeply concerned
Meanwhile, Pakistan's Caretaker Foreign Minister Jalil Abbas Jilani on Sunday said that Pakistan is deeply concerned by the escalating hostility in the Middle East and the loss of innocent lives.
Israel battered Gaza on Sunday, a day after suffering its bloodiest attack in decades when Hamas fighters rampaged through Israeli towns, killing hundreds and abducting an unknown number of others.
Overnight, Israeli air strikes had hit housing blocks, tunnels, a mosque and homes of Hamas officials in Gaza, killing more than 300 people, including 20 children.
"Pakistan is deeply concerned by the escalating hostility in the Middle East and the loss of innocent lives. We stand in solidarity with Palestinians and call for an immediate end to the violence and oppression by Israeli occupation forces," Jilani wrote on his X account.
of Palestine must be established on the basis of pre-1967 borders and UN resolutions. The international community needs to intervene to bring an end to the conflict, protect civilians, and work towards a lasting peace in the Middle East.

— Jalil Abbas Jilani (@JalilJilani) October 8, 2023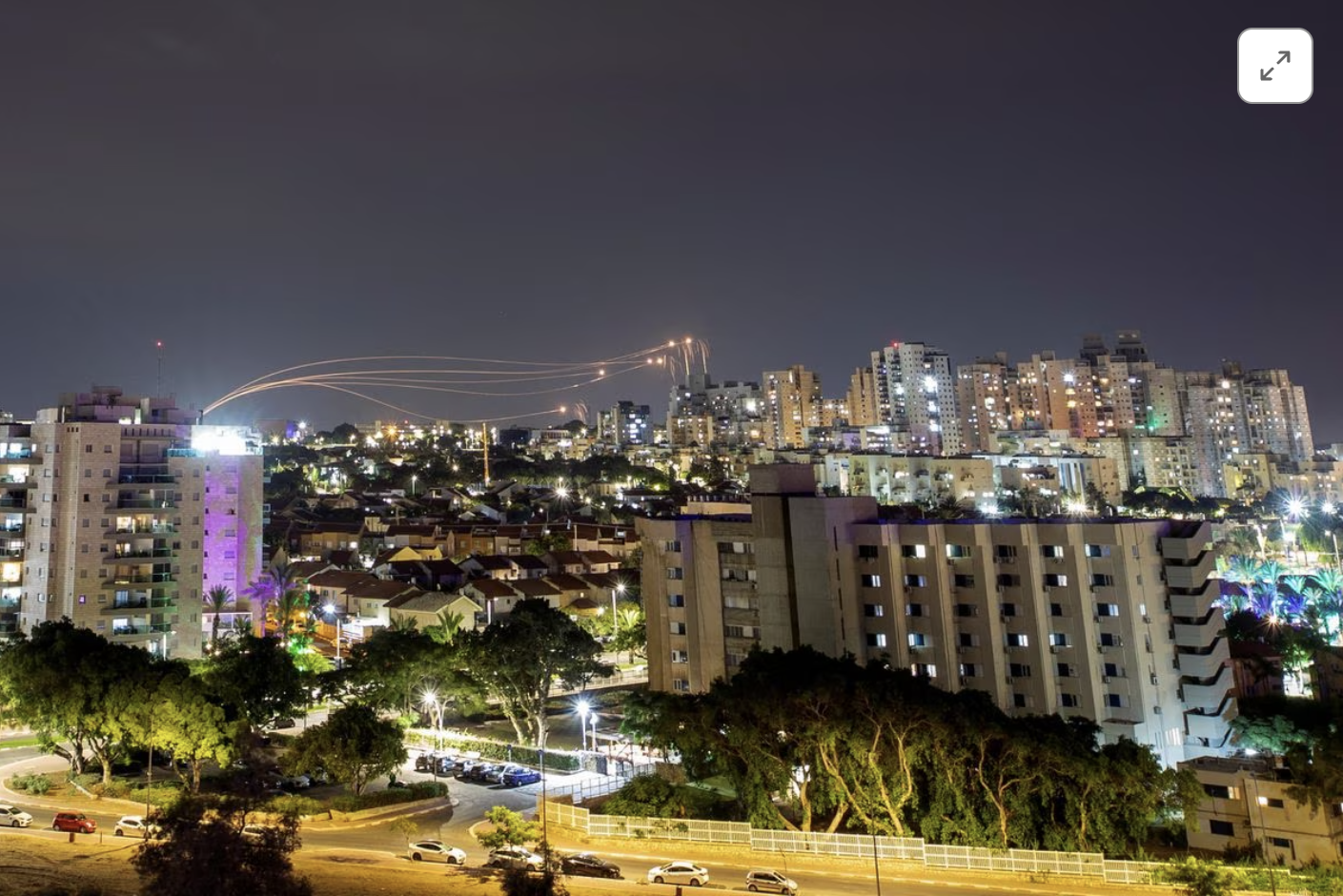 Israel's Iron Dome anti-missile system intercepts rockets launched from the Gaza Strip, as seen from Ashkelon in southern Israel October 8, 2023. PHOTO: REUTERS
President Dr Arif Alvi also called upon the international community to play its active role for a peaceful resolution of the Israel-Palestine dispute in accordance with the relevant UN resolutions and international law.
Progress towards peace cannot materialise without condemnation of usurpation & brutalisation of Palestinian rights & people by Israel. Continuous annexation of land, illegal settlements, disproportionate reactions & killings. The result is no hope & no progress towards peace.…

— Dr. Arif Alvi (@ArifAlvi) October 8, 2023
In a post on X, the president said progress towards peace could not materialise without condemnation of usurpation and brutalisation of Palestinian rights and people by Israel.
"Continuous annexation of land, illegal settlements, disproportionate reactions and killings. The result is no hope and no progress towards peace."
He said that the time had come to move forward in line with UN resolutions. "International community can play a big role today towards world peace."
A day earlier, the Foreign Office (FO) had called for exercising maximum restraint, urging the international community to come together for cessation of hostilities, protection of civilians and pursuit of a lasting peace in the region.
"We are closely monitoring the unfolding situation in the Middle East and the eruption of hostilities between the Israelis and Palestinians," the FO spokesperson said in a statement.
Mumtaz Zahra Baloch expressed concerns about the "human cost of escalating situation" in the region, saying that Pakistan's stance on the Israel-Palestine conflict has been consistent, advocating for a two-state solution as the key to enduring peace in the region.
Deal reached to extend Israel-Hamas truce in Gaza by two days

JERUSALEM/
GAZA:

Mediator Qatar said on Monday a deal had been reached to extend a truce between Israeli and Hamas forces in Gaza by two days, continuing a pause in seven weeks of warfare that has killed thousands and laid waste to the Palestinian enclave.
"An agreement has been reached to extend the humanitarian truce for an additional two days in the Gaza Strip," a Qatari foreign ministry spokesperson said in a post on social media platform X.
There was no immediate comment from Israel, but a White House official confirmed agreement had been reached.
Hamas also said it had agreed a two-day extension to the truce with Qatar and Egypt, who have been facilitating indirect negotiations between the two sides. There was no immediate comment from Israel.
"An agreement has been reached with the brothers in Qatar and Egypt to extend the temporary humanitarian truce by two more days, with the same conditions as in the previous truce," a Hamas official said in a phone call with Reuters.
Before the statements, the head of Egypt's State Information Service, Diaa Rashwan, had said an extension agreement was close and would include the release of 20 Israeli hostages from among those seized by Hamas during its Oct. 7 assault on southern Israel. In exchange 60 Palestinian prisoners held in Israeli jails would be freed, he said.
The initial truce was due to end on early Tuesday morning.
On Sunday, Hamas freed 17 people, including a 4-year-old Israeli-American girl, bringing the total number the militant group has released since Friday to 58, including foreigners. Israel freed 39 teenage Palestinian prisoners on Sunday, taking the total number of Palestinians freed under the truce to 117.
Alon Ben David, a senior defence correspondent for Israeli Channel 13 described the conditions of the captives recently released by Hamas saying the hostages were "treated well by Hamas and they were not subjected to torture or ill-treatment." pic.twitter.com/rsb2kjRZaZ

— Clash Report (@clashreport) November 27, 2023
An Israeli government spokesperson said on Monday that the total number of hostages still held in Gaza was now 184, including 14 foreigners and 80 Israelis with dual nationality.
Once the truce ends, Netanyahu said at the weekend, "we will return with full force to achieve our goals: the elimination of Hamas; ensuring that Gaza does not return to what it was; and of course the release of all our hostages."
Brief respite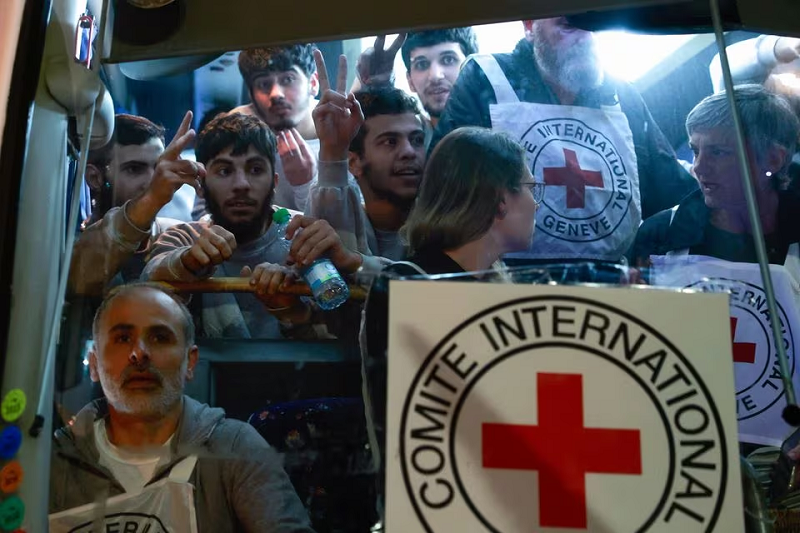 Released Palestinian prisoners leave the Israeli military prison, Ofer, in Ramallah in the Israeli-occupied West Bank November 26, 2023. PHOTO: REUTERS
Palestinians in Gaza said on Monday they were praying for an extension of the truce. Some were visiting homes reduced to rubble by weeks of intensive Israeli bombardment, while others queued for flour and other essential aid being delivered by the United Nations' relief agency UNRWA.
The al-Sultan family, among hundreds of thousands of people displaced from their homes in the north of the Gaza Strip, snatched a few hours of sorely needed relaxation by the sea.
"We used these four days (of truce) and came to the beach in Deir Al-Balah to allow our children to have some fun," their mother, Hazem Al Sultan, said. "We are anticipating the end of these four days, and we don't know what will happen to us next."
Palestinians gave the freed prisoners a jubilant reception in Ramallah, according to Palestinian news agency WAFA.
Omar Abdullah Al Hajj, 17, released on Sunday, told Reuters he'd been kept in the dark about what was happening in the outside world.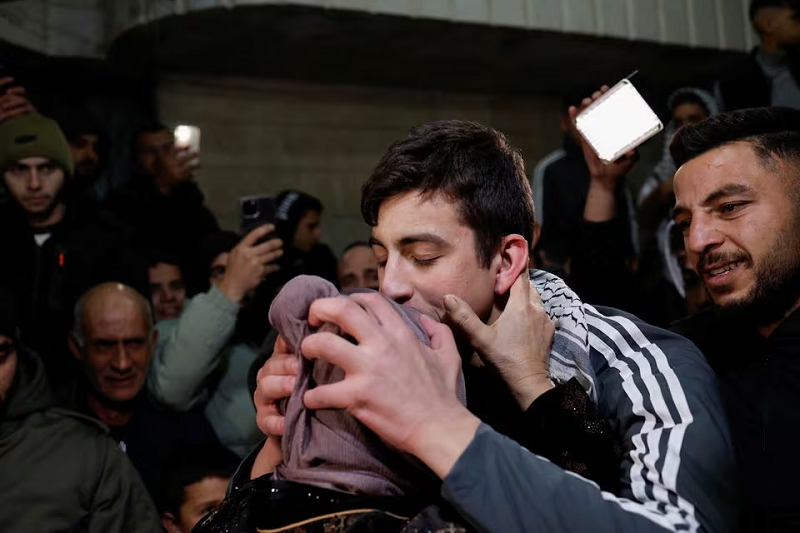 Released Palestinian prisoner Khalil Zamareh is received by his family near Hebron in the Israeli-occupied West Bank, November 27, 2023. PHOTO: REUTERS
"We were 11 people crammed into a single room where usually there are six. There was never enough food and I was never told how long I was going to stay," he said.
"I can't believe I'm free now but my joy is incomplete because we still have our brothers who remain in prison," said Al Hajj, whom Israel's Justice Ministry accused of belonging to the Islamic Jihad group and posing a security threat which it did not specify.
The truce agreed last week is the first halt in fighting in the seven weeks since Hamas attacked Israel, killing 1,200 people and taking about 240 hostages back into Gaza.
In response to that attack, Israel has bombarded the enclave and mounted a ground offensive in the north. Some 14,800 Palestinians have been killed, Gaza health authorities say, and hundreds of thousands displaced.
Diplomatic efforts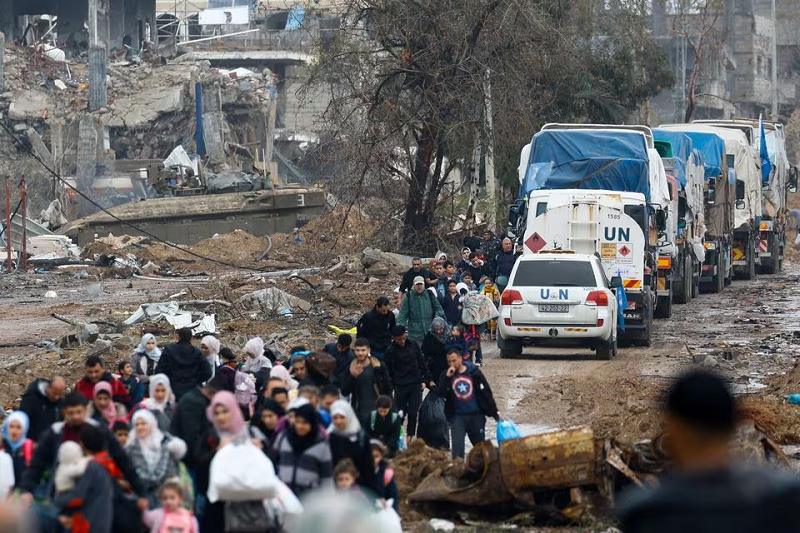 Palestinians fleeing north Gaza move southward as trucks carrying aid and fuel head towards north Gaza, near Gaza City, November 27, 2023. PHOTO: REUTERS
Qatar, Egypt, the United States, the European Union and Spain were all working to extend the ceasefire, the Palestinian Authority's foreign minister, Riyad al-Maliki, said during a conference in Barcelona devoted to the crisis.
Al-Maliki, whose Authority runs the occupied West Bank, told the Forum for the Union of the Mediterranean that the international community must pressure Israel to extend the truce indefinitely. The death toll would double if war resumes on Tuesday, he added.
The European Union's top diplomat, Josep Borrell, told the same conference the current truce was an important first step but that far more would be needed to alleviate the situation.
Borrell also urged Israel not to "recolonise Gaza", saying that the creation of a Palestinian state in the West Bank, East Jerusalem and Gaza was the best guarantee of Israel's peace and security.
Spanish Foreign Minister Jose Manuel Albares said Hamas could no longer rule Gaza after hostilities end since it did not have "an agenda for peace".
Indian diplomat flees NY Gurdwara over assassination plot

ISLAMABAD:

A senior Indian diplomat faced confrontation from pro-Khalistan Sikhs at a Gurdwara in New York, leading to his abrupt departure from the place of worship.
The activists questioned the diplomat, Taranjit Sandhu, about his alleged role in a failed Indian state plot to assassinate Sikh leader Gurpatwant Singh Pannun, a prominent figure associated with Sikhs For Justice (SFJ) and the global Khalistan Referendum campaign.
Pro-Khalistan Sikhs, led by Himmat Singh at Hicksville Gurdwara in New York, confronted Ambassador Taranjit Sandhu over his alleged involvement in the failed assassination plot against Gurpatwant Singh Pannun.
The activists also accused Sandhu of India's role in the assassination of Hardeep Singh Nijjar, the President of Surrey Gurdwara and the coordinator for the Canadian Chapter of the Khalistan Referendum.
The questioning in public agitated the diplomat, prompting him to abruptly leave the Gurdwara without providing any answers to the raised questions. Diplomat Sandhu hastily departed the scene, avoiding further engagement with the pro-Khalistan Sikhs.
"I only wanted answers from ambassador Sandhu as to why India is using violence to stop the global Khalistan Referendum voting," stated Himmat Singh who heads the East Coast Coordination Committee.
"American constitution gives US Citizens the right to peacefully question anyone irrespective of their affiliation or position in the government," stated Gurpatwant Singh Pannun, SFJ General Counsel who was the target of India's assassination plot foiled by US intelligence.
"Despite India's attempt to assassinate me, Khalistan Referendum Voting will continue and the American Phase is going to start from January 28, 2024 in San Francisco, California," stated Pannun.
Read also: US thwarts plot to kill Sikh separatist, issues warning to India -FT
The confrontation follows the recent revelation of a thwarted Indian conspiracy to assassinate Gurpatwant Singh Pannun on American soil.
The US authorities issued a warning to the Indian government over its alleged involvement in the plot according to multiple people familiar with the case who spoke to the Financial Times (FT).
FT revealed the intelligence people familiar with the case said the Indian government was behind the scheme targeting Pannun, who has been spearheading the Khalistan Referendum campaign.
The FT said that one person familiar with the situation said the US protest was issued after Prime Minister Narendra Modi made a high-profile state visit to Washington in June.
According to FT US federal prosecutors have filed a sealed indictment, separate from the diplomatic warning, against at least one alleged perpetrator of the plot in a New York district court.
The department is considering whether to unseal the indictment and make the allegations public or await the completion of Canada's investigation into Hardeep Singh Nijjar's murder, a Canadian Sikh separatist linked to the case.
In September, Canada's Prime Minister Justin Trudeau said there was "credible intelligence" linking New Delhi to Nijjar's fatal shooting.
Suspect arraigned in shooting of 3 Palestinian American students
The suspect in the shooting in Vermont of three college students of Palestinian descent over the weekend pleaded not guilty to three counts of attempted second-degree murder on Monday and was ordered by a judge to be held without bond.
The suspect, Jason J. Eaton, 48, appeared at an arraignment at the Chittenden County Criminal Court in Burlington via a remote video feed from the county jail, where he has been held since his arrest on Sunday.
Police say Eaton used a pistol to shoot the three victims on the street near the University of Vermont in Burlington on Saturday evening and then ran away.
The attack is also under investigation as a suspected hate-motivated crime. At the time of the attack, two of the men were wearing a keffiyeh, the traditional black-and-white checkered scarf commonly worn in Middle East, police said.
Dressed in an orange jumpsuit at the three-minute hearing, Eaton responded "yes, sir" when asked by the judge if he understood the charges against him.
Burlington police and the mayor's office will hold a news conference later on Monday to discuss the incident and arrest.
Read also: Three students of Palestinian descent shot in Vermont in suspected hate-crime
The shooting came amid a rise in anti-Islamic and antisemitic incidents reported around the United States since a bloody conflict between Israel and the Palestinian militant group Hamas erupted on Oct. 7.
All of the Vermont victims are 20 years old; two are US citizens and the third is a legal US resident, police said.
The victims were reported to have been speaking Arabic when attacked, according to the Institute for Middle East Understanding, a nonprofit pro-Palestinian advocacy organization. It also said the assailant opened fire on the three men after he began to shout at and harass them. Police say he fired four shots without saying a word.
"In this charged moment, no one can look at this incident and not suspect that it may have been a hate-motivated crime," Burlington Police Chief Jon Murad said in a statement earlier.
"That there is an indication that this shooting could have been motivated by hate is chilling, and this possibility is being prioritised" by police, Mayor Miro Weinberger said.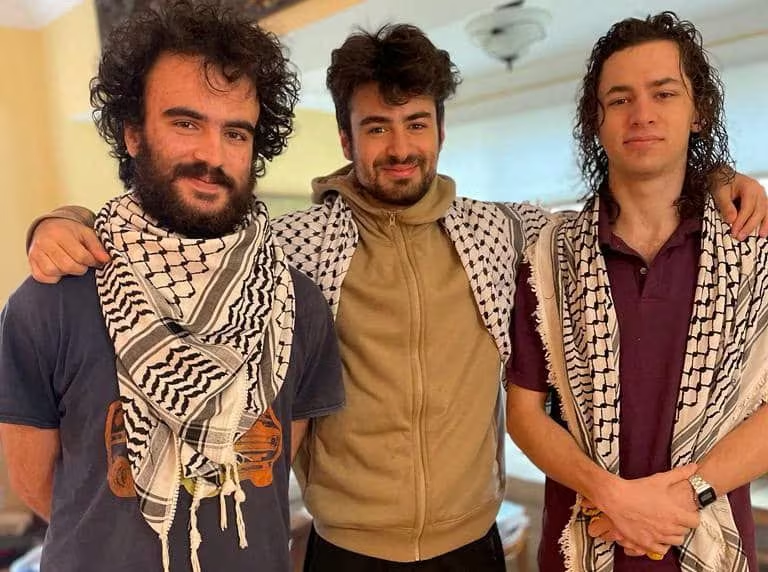 Hisham Awartani, Kinnan Abdel Hamid and Tahseen Ahmed, three college students of Palestinian descent who were shot near the University of Vermont in Burlington on November 25, 2023. PHOTO: REUTERS
'Elevated global threat environment'
The US Department of Justice is assisting local authorities in the investigation and trying to determine if it was a hate crime, US Attorney General Merrick Garland said on Monday.
"No person and no community in this country should have to live in fear of lethal violence," Garland said ahead of a separate meeting at the department's Southern District of New York office.
Garland cited the ongoing "elevated global threat environment" and the "sharp increase in the volume and frequency of threats against Jewish, Muslim and Arab communities across our country since October 7" for the understandable fear in communities across the country.
Read: Six-year-old Palestinian boy killed in horrific Illinois hate attack
Families of the victims issued a joint statement on Sunday urging authorities to investigate the shooting as a hate crime, as did the American-Arab Anti-Discrimination Committee (ADC), a US-based advocacy group.
"The surge in anti-Arab and anti-Palestinian sentiment we are experiencing is unprecedented, and this is another example of that hate turning violent," ADC National Executive Director Abed Ayoub said.
The families identified the victims as Hisham Awartani, a student at Brown University in Rhode Island; Kinnan Abdel Hamid, a student at Haverford College in Pennsylvania; and Tahseen Ahmed, who attends Trinity College in Connecticut. All three are graduates of the Ramallah Friends School, a private Quaker secondary school in the Israeli-occupied West Bank, the families said.
Two of the students were visiting the home of the third student's family in Burlington for the Thanksgiving holiday.
Police said all three remained under medical care on Sunday, two with gunshot wounds in their torsos and one shot in the lower extremities. "Two are stable, while one has sustained much more serious injuries," police said.