Israel pounds Gaza with fierce airstrikes

GAZA:

Israel said on Tuesday it had reclaimed control of the Gaza border, pounding the enclave with the fiercest air strikes in the 75-year history of its conflict with the Palestinians despite a Hamas threat to execute a captive for each home hit.
Nearly 700 Palestinians have since been killed in Israeli strikes, according to officials, while whole districts in Gaza have been flattened.
Air strikes wrought widespread destruction in the Jabalia refugee camp, where charred bodies were pulled from the rubble and relatives wailed in grief.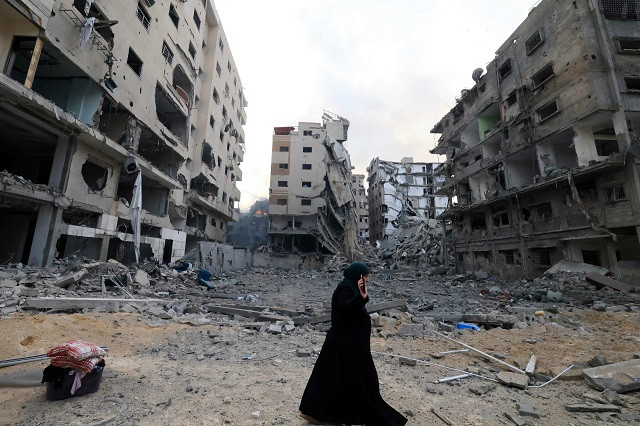 A Palestinian woman walks through a ravaged street following Israeli airstrikes on Gaza City. PHOTO AFP
The United Nations said 180,000 Palestinians had been made homeless, many huddling on streets or in schools. Smoke and flames rose into the morning sky, while bombardment of the roads often made it impossible for emergency crews to reach the scene of strikes.
At the morgue in Gaza's Khan Younis hospital, bodies were laid on the ground on stretchers with their names written on their bellies. Medics called for relatives to pick up bodies quickly because there was no more space for the dead.
There were heavy casualties in a former municipal building struck while being used as an emergency shelter for displaced families.
"There is an extraordinary number of martyrs, people are still under the rubble, some friends are either martyrs or wounded," said a Ala Abu Tair, 35, who had sought shelter there with his family after fleeing Abassan Al-Kabira near the border. "No place is safe in Gaza, as you see they hit everywhere."
Nowhere to hide
Three Palestinian journalists were killed when an Israeli missile hit a building while they were outside reporting. That brought the toll to six journalists killed in Gaza since Saturday.
At one point the Israeli military advised Gaza civilians to flee to Egypt, only to issue a quick clarification confirming that the crossing was closed and there was no way out.
Extensive destruction in Al-Rimal neighborhood, which is considered the most prestigious neighborhood in the Gaza Strip, after IAF strikes. pic.twitter.com/DEOe6JYe53

— Clash Report (@clashreport) October 10, 2023
Israel already imposed a "total siege" on the Gaza Strip on Monday, cutting off food, water and electricity supplies, and sparking fears that an already dire humanitarian situation will swiftly deteriorate.
Tel Aviv has been left reeling by Hamas's unprecedented ground, air and sea assault. The death toll rose to more than 900 in Israel, which has retaliated with a withering barrage of strikes on Gaza, raising the death toll in the besieged enclave to 687.
The Israeli army said Tuesday it had "more or less restored control" over the Gaza border after Saturday's mass breach by Palestinian fighters.
The Israeli Defence Force (IDF) claimed it had recovered the bodies of around 1,500 Hamas fighters inside Israel, confirming the scale of Saturday's assault. It said it had "nearly completed" the evacuation of Jewish communities around the border.
Fireballs lit up Gaza City before dawn on Tuesday as explosions sounded and sirens wailed.
Hamas said Monday that Israeli air strikes had killed four captives. It later said it could start killing them itself.
"Every targeting of our people without warning will be met with the execution of one of the civilian hostages," Hamas armed wing, the Ezzedine al-Qassam Brigades, said in a statement.
In a televised speech late Monday, Israeli Prime Minister Benjamin Netanyahu compared Hamas to the Islamic State group, also known as ISIS, and said Israel planned to deploy "unprecedented force".
"Hamas terrorists bound, burned and executed children. They are savages. Hamas is ISIS," Netanyahu said.
He also vowed to "strengthen other fronts in the north against Hezbollah", where fighters and Israeli forces exchanged fire for a second day.
Hamas launched more rockets as far as Tel Aviv and Jerusalem, where missile defence systems fired and air raid sirens blared.
Israel said it had called up 300,000 army reservists for its "Swords of Iron" campaign. Defence Minister Yoav Gallant said Israel would impose a "complete siege" on the long-blockaded enclave of 2.3 million people: "No electricity, no food, no water, no gas — it's all closed."
United Nations chief Antonio Guterres said he was "deeply distressed" by the siege announcement, and warned Gaza's already dire humanitarian situation will now "only deteriorate exponentially".
Palestinians in the coastal territory braced for what many feared would be a massive Israeli ground attack aiming to defeat Hamas and liberate the captives.
Hamas has called on fighters in the West Bank and in Arab and Islamic nations to join what it has dubbed "Operation Al-Aqsa Flood".
"The military operation is still continuing," Hossam Badran, a Hamas official, told AFP from Doha, adding that "there is currently no chance for negotiation on the issue of prisoners or anything else".
Israel, which has long prided itself on a high-tech military and intelligence edge, has been shaken to the core by the surprise Hamas strike, and now faces the threat of a multi-front war.
On Monday, the Israeli army said its soldiers had "killed a number of armed suspects" who had crossed the border from Lebanon and that Israeli helicopters were striking targets in the area.
The Palestinian group Islamic Jihad later claimed responsibility for the thwarted infiltration from Lebanon to Israel.
Lebanon's Hezbollah said Israeli strikes on south Lebanon killed three of its members, prompting the movement to retaliate against two Israeli barracks "using guided missiles and mortar shells that hit them directly".
It was the second day of an exchange of fire between Israel and Hezbollah, which on Sunday said its strikes were "in solidarity" with the Hamas attacks.
"We are deeply concerned about Hezbollah making the wrong decision and choosing to open a second front to this conflict," a senior US defence official said.
The United States' top general warned Iran not to get involved: "We want to send a pretty strong message. We do not want this to broaden and the idea is for Iran to get that message loud and clear," General Charles Q. Brown, the chairman of the Joint Chiefs of Staff, told reporters travelling with him to Brussels.
Washington, which moved its biggest aircraft carrier and other warships closer to Israel in a show of support, has said it has no plans to put US boots on the ground but is working with its ally Israel on hostage recovery efforts.
Hamas's attack penetrated the Gaza border fence — long deemed impregnable and guarded by surveillance cameras, drones, patrols and watchtowers.
Israel has blockaded Gaza since Hamas took control in 2007, leading to four previous wars with Israel.
Israeli strikes have levelled residential tower blocks, a large mosque and the territory's main bank building.
The UN Relief and Works Agency for Palestine Refugees said it was sheltering more than 137,000 people in schools across Gaza.
"The situation is unbearable," Amal al-Sarsawi, 37, said from a classroom with her terrified pupils.
In the West Bank, protesting Palestinians clashed with Israeli forces, leaving 15 Palestinians dead since Saturday.
The spiralling conflict has been felt globally, with oil prices surging on fears of tightening supplies.
US energy firm Chevron said it suspended operations at a natural gas platform off Israel's coast at the request of authorities.
Saudi Arabia's de facto ruler Crown Prince Mohammed bin Salman told Palestinian president Mahmud Abbas in a phone call that the Gulf kingdom was working to prevent the conflict from spreading across the region, state media said early Tuesday.
The European Commission said it was reviewing its development aid to the Palestinians, but clarified that no support had yet been suspended. Britain said it was undertaking a similar review.
The United States and European Union consider Hamas a terrorist group.
Analysts said the unprecedented nature of the Hamas assault could make any diplomatic efforts fruitless for now.
Turkish President Recep Tayyip Erdogan is among those trying, nonetheless. He held an urgent round of telephone diplomacy Monday.
Erdogan warned Israel against "indiscriminately" attacking civilians and also delivered measured criticism of Hamas, urging both sides to respect the "ethics" of war.
Hundreds still stranded, plants closed in India's Chennai

CHENNAI:

Volunteers waded through stagnant water to hand out food and supplies, and some manufacturing plants remained shut in India's southern tech-and-auto hub district of Chennai on Friday, four days after cyclone Michaung lashed the coast.
At least 14 people, most of them in Chennai and its state of Tamil Nadu, have died in the flooding, triggered by torrential rains that started on Monday.
The cyclone itself made landfall further north in Andhra Pradesh state on Tuesday afternoon.
Authorities said some low-lying areas of the state were still inundated and government officials and volunteers were taking supplies to people stuck in their homes in slums and other areas.
The larger Chennai area is home to the Indian units of several global firms including Hyundai Motor (005380.KS), Daimler and Taiwan's Foxconn (2317.TW) and Pegatron (4938.TW) which do contract manufacturing for Apple (AAPL.O).
Read more: Chennai flooded as heavy rains from cyclone Michaung batter south India
While many of them including Pegatron and Foxconn resumed operations within a day or two of the cyclone making landfall, some plants of the TVS group located in the worst-affected areas are yet to open, industry sources said.
Adani Krishnapatnam Port (APSE.NS) in Andhra Pradesh, said on Friday the cyclone had "very badly affected" its operations and it was declaring a force majeure period starting Dec. 3.
Force majeure is a notice used to describe events outside a company's control, such as a natural disaster, which usually releases it from contractual obligation without penalty.
State-run Madras Fertilizers (MDFT.NS) notified stock exchanges that its Chennai plant has been shut and is tentatively expected to resume operations within two to four weeks.
Infrastructure questioned
Information technology (IT) services providers told staff to work from home for the week, while schools and colleges closed. A few schools and colleges were converted into temporary shelters.
This week's floods in Chennai brought back memories of the extensive damage caused by floods eight years ago which killed around 290 people.
In Andhra Pradesh, the damage from the cyclone was relatively contained, with roads damaged and trees uprooted as big waves crashed into the coast.
Defence Minister Rajnath Singh visited Chennai on Thursday and announced New Delhi will release a second instalment of 4.5 billion rupees ($54 million) to Tamil Nadu to help manage the damage. The federal government has also approved a 5.6 billion-rupee project for flood management in Chennai, he said.
Chennai residents questioned the ability of the city's infrastructure to handle extreme weather.
"Not only has urbanisation itself caused a problem, but the nature of the urbanisation has preyed upon open spaces, holding areas like marshlands and flood plains," social activist Nityanand Jayaraman said.
Experts have, however, said better stormwater drainage systems would not have been able to prevent the flooding caused by very heavy and extremely heavy rains.
"This solution would have helped a lot in moderate and heavy rainfall, but not in very heavy and extremely heavy rains," Raj Bhagat P, a civil engineer and geo-analytics expert, said on Wednesday.
Gunman described as struggling academic with 'target list'
The gunman who killed three professors and wounded one at the University of Nevada, Las Vegas, was a financially struggling academic whose job applications were rejected by several higher-education institutions in Nevada, police said on Thursday.
Anthony James Polito, 67, also had mailed nearly two dozen suspicious letters to faculty at universities across the country and had prepared a "target list" of people at both UNLV and a North Carolina university where he once worked, police said.
Polito, facing eviction from his home in the Las Vegas suburb of Henderson, had a criminal record of computer trespass dating to 1992 in Virginia, but police said there were no advance signs of violence.
The Taurus 9mm handgun he used in the shooting was legally purchased in 2022, according to Sheriff Kevin McMahill of the Las Vegas Metropolitan Police Department. He said Polito, who police shot dead after the attacks, was believed to have acted alone.
The precise motive for the rampage remained to be determined, though officials said it appeared students were not the primary target.
All four people shot on Wednesday inside Beam Hall, the campus building that houses UNLV's business school, were faculty members.
Two of the dead were identified as professor Cha Jan "Jerry" Chang, 64, and assistant professor Patricia Navarro Velez, 39. The identity of the third slain professor was being withheld pending notification of family.
Read: Las Vegas campus shooting leaves 4 dead, including suspect
The surviving victim remained hospitalized, and his condition worsened on Thursday, McMahill said.
Letters and list 
Detectives learned Polito had visited a post office shortly before the shooting and mailed 22 letters with no return address to university personnel across the United States, and had a list of people he was seeking on the UNLV campus as well as faculty from his former employer, East Carolina University in Greenville, North Carolina.
His LinkedIn profile described Polito as a semi-retired associate professor of business who taught at East Carolina from 2001-2017.
Authorities intercepted the letters before any were delivered and found a suspicious white powdery substance in at least one of them, McMahill said at a news briefing on Thursday.
The letters' contents remained under investigation, the sheriff told reporters, warning that anyone in higher education who received such an envelope should exercise caution and contact authorities.
He said officials were working to notify the intended recipients and had contacted nearly everyone on the separate target list to make sure all were safe.
"None of the individuals listed on the target list became a victim," he told reporters.
He said detectives also had uncovered evidence that Polito was struggling financially, including an eviction notice taped to the entrance of his apartment. He said a document that appeared to be a will was found inside.
"We know he had applied numerous times for jobs with several Nevada higher-education institutions," McMahill added, but he did not say whether UNLV was one of them.
Police searching Polito's home also recovered ammunition similar to the 150 rounds he was carrying.
The UNLV campus will remain closed through Friday. The UNLV website said classes had been canceled through Dec. 10.
Israel says Reuters journalist Abdallah was killed in combat zone

JERUSALEM:

The Israeli military, responding on Friday to a Reuters investigation that determined its forces killed a Reuters journalist in southern Lebanon on Oct. 13, said the incident took place in an active combat zone and was under review.
Without directly addressing the death of visuals journalist Issam Abdallah, a military statement said Lebanese Hezbollah fighters had at the time attacked across the border and Israeli forces opened fire to prevent a suspected armed infiltration.
A Reuters special report published on Thursday found that an Israeli tank crew killed Abdallah and wounded six reporters by firing two shells in quick succession from Israel while the journalists were filming cross-border shelling.
Israel's statement on Friday said that on Oct. 13, Iranian-backed Hezbollah militants launched an attack on multiple targets within Israeli territory along the Lebanese border.
"One incident involved the firing of an anti-tank missile, which struck the border fence near the village Hanita. Following the launch of the anti-tank missile, concerns arose over the potential infiltration of terrorists into Israeli territory," the Israel Defence Forces (IDF) said in a statement.
Read: Israeli tank fire killed Reuters journalist Issam Abdallah in Lebanon
"In response, the IDF used artillery and tank fire to prevent the infiltration. The IDF is aware of the claim that journalists who were in the area were killed.
"The area is an active combat zone, where active fire takes place and being in this area is dangerous. The incident is currently under review," it said.
The strikes killed Abdullah, 37, and severely wounded Agence France-Presse (AFP) photographer Christina Assi, 28, just over a kilometre from the Israeli border near the Lebanese village of Alma al-Chaab.
Amnesty International said on Thursday that the Israeli strikes were likely to have been a direct attack on civilians and must be investigated as a war crime.
In a separate report Human Rights Watch (HRW) said the two Israeli strikes were "an apparently deliberate attack on civilians and thus a war crime" and said those responsible must be held to account. US Secretary of State Antony Blinken said on Thursday it was important that Israel's inquiry into the killing reach a conclusion and for the results to be seen.
"My understanding is that Israel has initiated such an investigation, and it will be important to see that investigation come to a conclusion, and to see the results of the investigation," Blinken said at a press conference.