Israel levels Gaza district as death toll reaches 3,785

GAZA:

Israel levelled a northern Gaza district on Friday after giving families a half-hour warning to escape, and hit an Orthodox Christian church where others had been sheltering, as it made clear that a command to invade Gaza was expected soon.
More than 3,785 Palestinians have been killed including more than 1,500 children, Palestinian officials say. The UN says more than a million have been made homeless.
Desperately needed international aid piled near Gaza, with Palestinians in dire need of food and water after relentless bombing by Israel, still reeling from the bloodiest attack in its history.
Israel has vowed to destroy Hamas after the group launched an attack from the Gaza Strip on October 7
In response, Israeli warplanes have levelled entire city blocks in Gaza in preparation for a ground invasion they say is coming soon.
The United Nations says more than one million of Gaza's 2.4 million people have been displaced and that the humanitarian situation is worsening by the day, with no green light yet to send in the trucks lined up at the border.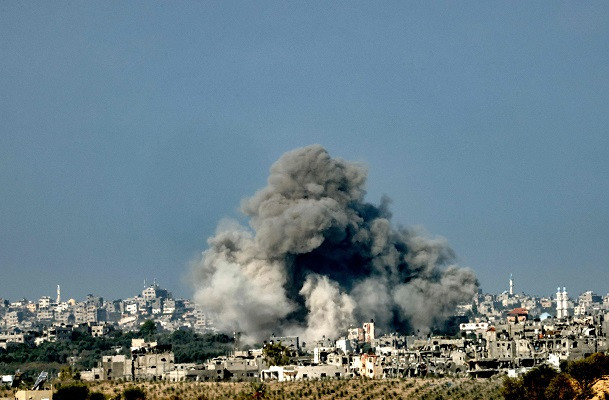 A picture taken from the southern Israeli city of Sderot shows smoke ascending over the northern Gaza Strip following an Israeli airstrike. PHOTO: Reuters
Medicine, water purifiers and blankets were being unloaded at El Arish airport near Gaza, an AFP reporter saw, with Ahmed Ali, head of the Egyptian Red Crescent, saying he was getting "two to three planes of aid a day".
The situation inside Gaza is "beyond catastrophic", said Sara Alzawqari, UNICEF spokeswoman for the Gulf. "Time is running out and the numbers of casualties amongst children are rising."
Egyptian state-linked broadcaster Al Qahera News had said the Rafah crossing — the only route into Gaza — would open on Friday, but Cairo later said it needed more time to repair roads.
In Geneva, the WHO's emergencies director called a deal struck by US President Joe Biden to allow in 20 trucks "a drop in the ocean of need". "It should be 2,000 trucks," Michael Ryan said.
Within Israel, still coming to terms with the deadliest attack in its 75-year history, the drumbeat of war was growing louder, as leaders rallied troops for a ground offensive.
Decked out in body armour, Israel's Prime Minister Benjamin Netanyahu visited front-line troops near Gaza, urging them to "fight like lions" and "win with full force".
Defence Minister Yoav Gallant also toured the front line, telling some of the tens of thousands of troops awaiting the ground invasion that new orders would come soon.
"Right now you see Gaza from afar, soon you will see it from the inside. The order will come soon," he said, predicting "difficult" battles ahead.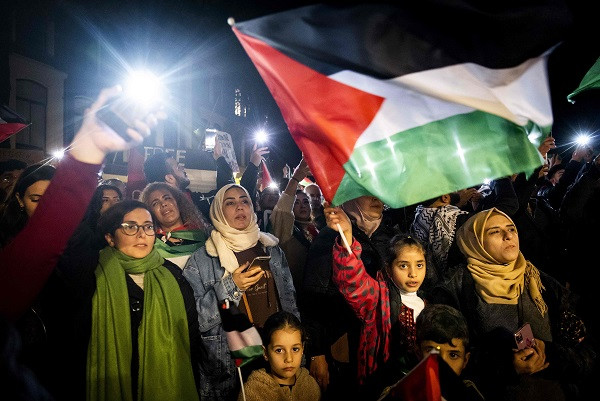 People take part in a pro-Palestinian demonstration in Utrecht, on October 19, 2023. Demonstrations have been going on in several Dutch cities for several days after a hospital in Gaza was bombed by Israel. PHOTO AFP.
During a rare address from the Oval Office, Biden urged the United States to take the lead in supporting Israel and Ukraine, saying he would make an "urgent" request to Congress for aid later Friday.
"American leadership is what holds the world together," Biden said in just the second primetime speech to the nation of his presidency from behind the historic Resolute Desk.
While solidly backing Israel, he also pointed to the plight of those trapped in Gaza, saying they "urgently need food, water and medicine".
Fresh from a whirlwind trip to Israel this week, Biden is hoping to staunch the possibility of a wider Middle East war.
The United States has already moved two aircraft carriers into the eastern Mediterranean to deter Iran or Hezbollah, both allies of Hamas, from getting involved.
But fears of a wider conflagration are growing, with Israel announcing plans to evacuate the northern city of Kiryat Shmona after days of clashes with Hezbollah fighters along the border with Lebanon.
Key Middle East players Abdel Fattah al-Sisi of Egypt and Jordan's King Abdullah II have warned the conflict could spread and condemned what they said was the "collective punishment" of Gazans.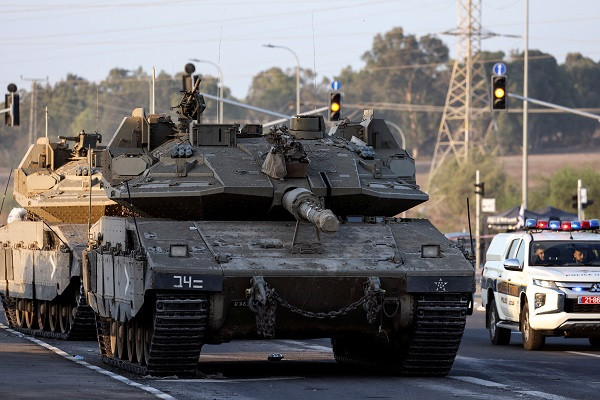 Israeli tanks seen on a road near Israel's border with the Gaza Strip. PHOTO: Reuters
Meanwhile, the two sides continued to trade blame for deadly strikes, the latest coming at a church compound in Gaza late Thursday.
The Gazan interior ministry said several people sheltering at the church were killed and wounded, blaming an Israeli strike.
Witnesses told AFP the strike damaged the facade of the church and caused an adjacent building to collapse, adding that many injured people were evacuated to hospital.
The Israeli army acknowledged a wall of the church had been damaged in one of its air strikes targeting a "command and control centre belonging to a Hamas terrorist".
"We are aware of reports on casualties. The incident is under review," a spokesperson told AFP.
Hundreds still stranded, plants closed in India's Chennai

CHENNAI:

Volunteers waded through stagnant water to hand out food and supplies, and some manufacturing plants remained shut in India's southern tech-and-auto hub district of Chennai on Friday, four days after cyclone Michaung lashed the coast.
At least 14 people, most of them in Chennai and its state of Tamil Nadu, have died in the flooding, triggered by torrential rains that started on Monday.
The cyclone itself made landfall further north in Andhra Pradesh state on Tuesday afternoon.
Authorities said some low-lying areas of the state were still inundated and government officials and volunteers were taking supplies to people stuck in their homes in slums and other areas.
The larger Chennai area is home to the Indian units of several global firms including Hyundai Motor (005380.KS), Daimler and Taiwan's Foxconn (2317.TW) and Pegatron (4938.TW) which do contract manufacturing for Apple (AAPL.O).
Read more: Chennai flooded as heavy rains from cyclone Michaung batter south India
While many of them including Pegatron and Foxconn resumed operations within a day or two of the cyclone making landfall, some plants of the TVS group located in the worst-affected areas are yet to open, industry sources said.
Adani Krishnapatnam Port (APSE.NS) in Andhra Pradesh, said on Friday the cyclone had "very badly affected" its operations and it was declaring a force majeure period starting Dec. 3.
Force majeure is a notice used to describe events outside a company's control, such as a natural disaster, which usually releases it from contractual obligation without penalty.
State-run Madras Fertilizers (MDFT.NS) notified stock exchanges that its Chennai plant has been shut and is tentatively expected to resume operations within two to four weeks.
Infrastructure questioned
Information technology (IT) services providers told staff to work from home for the week, while schools and colleges closed. A few schools and colleges were converted into temporary shelters.
This week's floods in Chennai brought back memories of the extensive damage caused by floods eight years ago which killed around 290 people.
In Andhra Pradesh, the damage from the cyclone was relatively contained, with roads damaged and trees uprooted as big waves crashed into the coast.
Defence Minister Rajnath Singh visited Chennai on Thursday and announced New Delhi will release a second instalment of 4.5 billion rupees ($54 million) to Tamil Nadu to help manage the damage. The federal government has also approved a 5.6 billion-rupee project for flood management in Chennai, he said.
Chennai residents questioned the ability of the city's infrastructure to handle extreme weather.
"Not only has urbanisation itself caused a problem, but the nature of the urbanisation has preyed upon open spaces, holding areas like marshlands and flood plains," social activist Nityanand Jayaraman said.
Experts have, however, said better stormwater drainage systems would not have been able to prevent the flooding caused by very heavy and extremely heavy rains.
"This solution would have helped a lot in moderate and heavy rainfall, but not in very heavy and extremely heavy rains," Raj Bhagat P, a civil engineer and geo-analytics expert, said on Wednesday.
Gunman described as struggling academic with 'target list'
The gunman who killed three professors and wounded one at the University of Nevada, Las Vegas, was a financially struggling academic whose job applications were rejected by several higher-education institutions in Nevada, police said on Thursday.
Anthony James Polito, 67, also had mailed nearly two dozen suspicious letters to faculty at universities across the country and had prepared a "target list" of people at both UNLV and a North Carolina university where he once worked, police said.
Polito, facing eviction from his home in the Las Vegas suburb of Henderson, had a criminal record of computer trespass dating to 1992 in Virginia, but police said there were no advance signs of violence.
The Taurus 9mm handgun he used in the shooting was legally purchased in 2022, according to Sheriff Kevin McMahill of the Las Vegas Metropolitan Police Department. He said Polito, who police shot dead after the attacks, was believed to have acted alone.
The precise motive for the rampage remained to be determined, though officials said it appeared students were not the primary target.
All four people shot on Wednesday inside Beam Hall, the campus building that houses UNLV's business school, were faculty members.
Two of the dead were identified as professor Cha Jan "Jerry" Chang, 64, and assistant professor Patricia Navarro Velez, 39. The identity of the third slain professor was being withheld pending notification of family.
Read: Las Vegas campus shooting leaves 4 dead, including suspect
The surviving victim remained hospitalized, and his condition worsened on Thursday, McMahill said.
Letters and list 
Detectives learned Polito had visited a post office shortly before the shooting and mailed 22 letters with no return address to university personnel across the United States, and had a list of people he was seeking on the UNLV campus as well as faculty from his former employer, East Carolina University in Greenville, North Carolina.
His LinkedIn profile described Polito as a semi-retired associate professor of business who taught at East Carolina from 2001-2017.
Authorities intercepted the letters before any were delivered and found a suspicious white powdery substance in at least one of them, McMahill said at a news briefing on Thursday.
The letters' contents remained under investigation, the sheriff told reporters, warning that anyone in higher education who received such an envelope should exercise caution and contact authorities.
He said officials were working to notify the intended recipients and had contacted nearly everyone on the separate target list to make sure all were safe.
"None of the individuals listed on the target list became a victim," he told reporters.
He said detectives also had uncovered evidence that Polito was struggling financially, including an eviction notice taped to the entrance of his apartment. He said a document that appeared to be a will was found inside.
"We know he had applied numerous times for jobs with several Nevada higher-education institutions," McMahill added, but he did not say whether UNLV was one of them.
Police searching Polito's home also recovered ammunition similar to the 150 rounds he was carrying.
The UNLV campus will remain closed through Friday. The UNLV website said classes had been canceled through Dec. 10.
Israel says Reuters journalist Abdallah was killed in combat zone

JERUSALEM:

The Israeli military, responding on Friday to a Reuters investigation that determined its forces killed a Reuters journalist in southern Lebanon on Oct. 13, said the incident took place in an active combat zone and was under review.
Without directly addressing the death of visuals journalist Issam Abdallah, a military statement said Lebanese Hezbollah fighters had at the time attacked across the border and Israeli forces opened fire to prevent a suspected armed infiltration.
A Reuters special report published on Thursday found that an Israeli tank crew killed Abdallah and wounded six reporters by firing two shells in quick succession from Israel while the journalists were filming cross-border shelling.
Israel's statement on Friday said that on Oct. 13, Iranian-backed Hezbollah militants launched an attack on multiple targets within Israeli territory along the Lebanese border.
"One incident involved the firing of an anti-tank missile, which struck the border fence near the village Hanita. Following the launch of the anti-tank missile, concerns arose over the potential infiltration of terrorists into Israeli territory," the Israel Defence Forces (IDF) said in a statement.
Read: Israeli tank fire killed Reuters journalist Issam Abdallah in Lebanon
"In response, the IDF used artillery and tank fire to prevent the infiltration. The IDF is aware of the claim that journalists who were in the area were killed.
"The area is an active combat zone, where active fire takes place and being in this area is dangerous. The incident is currently under review," it said.
The strikes killed Abdullah, 37, and severely wounded Agence France-Presse (AFP) photographer Christina Assi, 28, just over a kilometre from the Israeli border near the Lebanese village of Alma al-Chaab.
Amnesty International said on Thursday that the Israeli strikes were likely to have been a direct attack on civilians and must be investigated as a war crime.
In a separate report Human Rights Watch (HRW) said the two Israeli strikes were "an apparently deliberate attack on civilians and thus a war crime" and said those responsible must be held to account. US Secretary of State Antony Blinken said on Thursday it was important that Israel's inquiry into the killing reach a conclusion and for the results to be seen.
"My understanding is that Israel has initiated such an investigation, and it will be important to see that investigation come to a conclusion, and to see the results of the investigation," Blinken said at a press conference.