India exploits FATF standards to target civil society: Amnesty
The Indian authorities are exploiting the recommendations of a global terrorism financing and money laundering watchdog, Financial Action Task Force (FATF), to target civil society groups and activists and deliberately hinder their work, Amnesty International said in its new briefing released to media.
"Weaponising counter-terrorism: India's exploitation of terrorism financing assessments to target civil society" revealed how the recommendations of the FATF — a global body responsible for tackling terrorism financing and money laundering — had been abused by the Indian authorities to bring in draconian laws in a coordinated campaign to stifle the non-profit sector.
These laws are in turn used to bring terrorism-related charges and, amongst other things, to prevent organisations and activists from accessing essential funds. "Under the guise of combatting terrorism, the Indian government has leveraged the Financial Action Task Force's recommendations to tighten its arsenal of financial and counter-terrorism laws which are routinely misused to target and silence critics.
Read More: Condemnatory protest demonstrations 'greet' Modi at BRICS summit
The FATF must hold the Indian authorities accountable for the persistent weaponisation of its recommendations," said Aakar Patel, chair of the board at Amnesty International India.
"By abusing these laws, the authorities in India have failed to comply with both FATF standards and international human rights law."
Non-governmental organisations in India require a "foreign contribution licence" to access foreign funds as established by the Foreign Contribution (Regulation) Act (FCRA).
The introduction of this bill in 2006 coincided with India becoming an observer state of the FATF.
Later in 2010, amendments were made to the act to improve India's 'non-compliant' status.
Since then, however, and specifically in the last ten years, more than 20,600 NGOs have had their licences cancelled with nearly 6,000 of these cancellations occurring since the beginning of 2022.
Read More: MODI'S MEDIA TAKEOVER
In a survey by Amnesty International, 11 out of 16 NGOs (working on issues relating to minorities, marginalised groups and climate change) confirmed the arbitrary renunciation of their foreign contribution licences through suspensions, cancellations, and non-renewals.
The organisations said that the authorities provided only vague reasons, including accusing them of "bringing disrepute to public institutions", "working against public or national interest" or alluding to their human rights work.
Most of the groups Amnesty International spoke to said they have had to reduce their staff by 50 to 80 per cent, drastically affecting the scope of their work. "Almost all our programmes have been shut down … [We are] surviving just to fight the legal cases that have been filed against us," one activist said.
The 2020 and earlier amendments to the FCRA, however, do not conform with FATF's Recommendation 8, which requires that laws and regulations target only those Non-Profit Organisations that a country has identified – through a careful, targeted "risk-based" analysis – as vulnerable to terrorism financing abuse.
None of the NGOs Amnesty International spoke with were contacted for a "risk-assessment" by the Indian government, despite FATF having specifically highlighted the lack of outreach in its 2010 and 2013 Mutual Evaluation Reports.
Such actions also do not meet the guidelines laid down by the FATF's interpretative note on Recommendation 8 which aims to minimise the unintended consequences faced by the non-profit sector by calling for specific and targeted counter-terrorism measures.
The enactment of the Prevention of Money Laundering Act, 2002 (PMLA) and the 2012 amendments to the Unlawful Activities (Prevention) Act (UAPA), India's main counter-terrorism law, were among the pre-conditions to India becoming the 34th member of the FATF.
However, United Nations' special rapporteurs have repeatedly called out the contentious and overbroad provisions of UAPA which both violate international human rights law and standards and contradict the FATF's own guiding principles.
The Indian authorities have ignored all such calls and have continued to apply these laws in a discriminatory manner against dissenting voices such as Muslim student activist Umar Khalid, Kashmiri human rights activist Khurram Parvez, journalist Irfan Mehraj and 16 others (in the Bhima Koregaon case), ten of whom continue to be detained since 2018 without trial on allegations of 'funding terrorism', amongst other charges.
The PMLA has also been used to target Amnesty International forcing the organisation to halt its operations in the country in September 2020.
Climate fund hailed, but 'needs billions rather than millions'
The launch of a climate "loss and damage" fund drew praise and hundreds of millions of dollars in pledges at the UN's COP28 talks on Thursday but also warnings that much more is needed to help vulnerable nations.
"We have delivered history today," the UAE's COP28 president Sultan Al Jaber told delegates who stood and applauded after the decision's adoption in Dubai.
The announcement was followed immediately by financial pledges, including 225 million euros ($246 million) from the European Union, $100 million from the United Arab Emirates, another $100 million from Germany, $40 million from Britain, $17.5 million from the United States and $10 million from Japan.
After years of dragging their feet on the issue, wealthy nations backed the fund in a landmark agreement at the COP27 summit in Sharm el-Sheikh, Egypt, last year.
Its launch on the first day of COP28 follows fraught negotiations on the mechanics of the fund, which will be housed at the World Bank on an interim basis.
"This sends a positive signal of momentum to the world," Jaber said.
He said it was "the first time a decision has been adopted on day one of any COP and the speed in which we have done so is also unique, phenomenal and historic."
"This is evidence that we can deliver. COP28 can and will deliver," he added.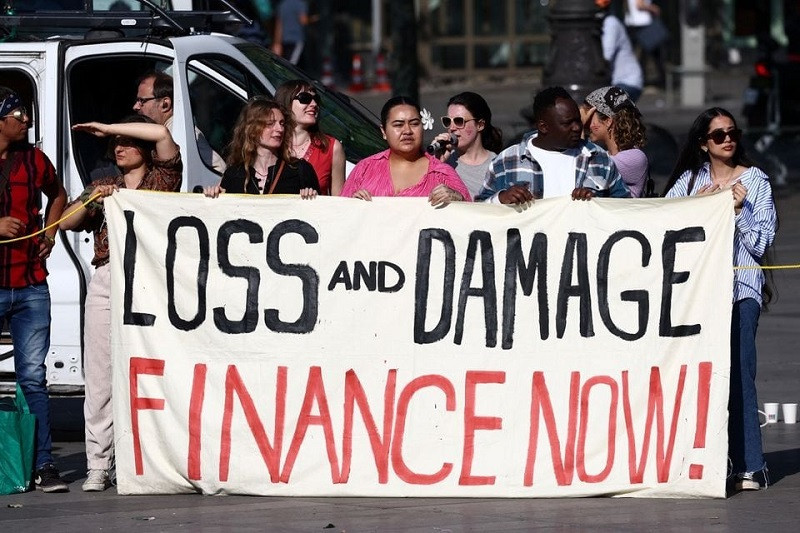 Environmental activists hold a banner during a climate strike action in Paris, France, June 23, 2023. PHOTO: REUTERS
But the money pledged so far fall well short of the $100 billion that developing nations — which have historically been least responsible for greenhouse gas emissions — have said are needed to cover losses from natural disasters.
"The progress we've made in establishing a loss and damage fund is hugely significant for climate justice, but an empty fund can't help our people," said Madeleine Diouf Sarr, chair of the Group of the 46 Least Developed Countries.
The Alliance of Small Island States — among the most impacted by rising seas and other effects of climate change — said "the work is far from over".
"We cannot rest until this fund is adequately financed and starts to actually alleviate the burden of vulnerable communities," it said.
"Success starts when the international community can properly support the victims of this climate crisis, with efficient, direct access to the finance they urgently need," the group added.
Rachel Cleetus, policy director of the climate and energy programme at the Union of Concerned Scientists, said the financial commitments should be "in the billions, not millions".
"Millions would be an insult given what's happening already around the world," Cleetus told reporters.
"We want to hear the starting point is a conversation about billions and then a plan to scale it up by 2030 so that it meets the needs that are clearly rising," she said.
Read: COP28 outcome may not address 'systemic disparities'
The fund will be housed in the World Bank for four years, a decision that developing nations begrudgingly accepted as the Washington-based institution is dominated by Western powers.
Its board members must now be appointed and represent wealthy and developing nations, and their first steps will be critical in building up its credibility.
A European diplomat said the first contributions will enable the financing of pilot projects and to test how the fund works before seeking more money "in a year or a year-and-a-half".
Developed countries, the US chief among them, insisted that contributions be on a voluntary basis, and want richer emerging powers such as China and Saudi Arabia to open their wallets, too.
US climate envoy John Kerry said the government would work with Congress to provide the $17.5 million pledge and said the US expects the fund to "draw from a wide variety of sources".
Richard Sherman, the South African co-chair of the committee that oversaw negotiations, acknowledged that "the outcome might not be satisfactory to all people.
"We certainly know that our colleagues in civil society have been shouting at us."
'Let us be a lesson', Kazakhs wary of return to nuclear testing

KAZAKHSTAN:

As Russia warns of the rising risk of nuclear war, and relations with the United States sink into a deep freeze, communities close to the vast Soviet-era nuclear testing site in northern Kazakhstan have a message for leaders: "Let us be a lesson."
Hundreds of tests were carried out between 1949 and 1989 on the barren steppe near the city of Semey, formerly known as Semipalatinsk, close to the Kazakh-Russian border. The effect of radiation had a devastating impact on the environment and local people's health, and continues to affect lives there today.
Many nuclear proliferation experts believe resuming testing by either nuclear superpower more than 30 years after the last test is unlikely soon.
But tensions over Russia's invasion of Ukraine have led to increasingly hostile rhetoric, and the arms control architecture built since the Soviet Union's collapse more than three decades ago has begun to unravel.
In early November, President Vladimir Putin revoked Russia's ratification of the 1996 global treaty banning nuclear weapons tests. Moscow says it will not lead to a resumption of testing unless the United States does first.
"Let our suffering be a lesson to others," said Serikbay Ybyrai, local leader in the village of Saryzhal, who saw tests being carried out some 20 km (12 miles) away when he was a boy. "If this (testing) resumes, humanity will disappear."
When devices were detonated above ground – until 1963 when tests went underground – authorities would order local people out of homes and schools because of fears that ground tremors might cause buildings to collapse.
"I remember I was about five years old," said Baglan Gabullin, a resident of Kaynar, another village that lived under the shadow of nuclear testing.
Read: Russia loads missile with nuclear-capable glide vehicle into launch silo
He recalled how adults would instruct him and his friends not to look in the direction of the blast.
"We were small, so on the contrary, out of curiosity we looked. The flash was yellow at first, and then the black mushroom grew," he said.
Kazakh authorities estimate up to 1.5 million people were exposed to residual radioactive fallout from testing. Over 1 million received certificates confirming their status as victims of tests, making them eligible for an 18,000-tenge ($40) monthly payout.
'Everyone started dying'
Maira Abenova, an activist from the Semey region who set up a non-governmental organisation protecting the rights of nuclear test victims after losing most family members to diseases she said were related, urged politicians not to allow nuclear escalation.
"As someone living with the consequences of what you could call 40 years of nuclear warfare, I think we can tell the world what we have gone through," she said.
There is little reliable data on the specific health impact of testing in Kazakhstan.
But scientists say exposure to radioactive material on the ground, inhalation of radioactive particles in the air and ingestion of contaminated food including local livestock contributed to increased cancer risk and cases of congenital malformation.
UN climate talks open in oil-rich UAE, pressure for urgent action

DUBAI:

The UN climate conference opened Thursday with nations urged to make faster cuts to planet-warming emissions and phase out fossil fuels as scepticism swirls over the oil-rich United Arab Emirates hosting the talks.
The two-week-long negotiations in a vast exhibition venue in Dubai come at a pivotal moment, with emissions still climbing and the UN saying this year is likely to be the hottest in human history.
World leaders, Britain's King Charles III and activists and lobbyists are among more than 97,000 people jetting into the flashy Gulf city, which boasts the world's tallest skyscraper, one of its busiest airports, and an indoor ski slope.
Double the size of last year's conference, COP28 is billed as the largest-ever climate gathering and the UN and hosts the UAE say they will be the most important since Paris 2015.
There, nations agreed to limit global warming to well below 2 degrees Celsius since the pre-industrial era, and preferably to a safer limit of 1.5C.
But scientists say the world is off-track, and the nearly 200 nations gathering for COP28 must commit to accelerating climate action or risk the worst impacts of a warming planet.
UN Secretary-General Antonio Guterres said leaders should aim for a complete "phaseout" of fossil fuels, a proposal opposed by some powerful nations that has dogged past negotiations.
"Obviously, I am strongly in favour of language that includes (a) phaseout, even with a reasonable time framework," Guterres told AFP before flying to Dubai.
A central focus will be a stocktake of the world's limited progress on curbing global warming, which requires an official response at these talks.
Hosts under fire
On Thursday, nations are expected to formally approve the launch of a "loss and damage" fund to compensate climate-vulnerable countries after a year of hard-fought negotiations over how it would work.
But it remains to be filled, with rich nations urged to make contributions so the money can start flowing.
The UAE sees itself as a bridge between the rich developed nations most responsible for historic emissions and the rest of the world, which has contributed less to global warming but suffers its worst consequences.
But the decision for it to host has attracted a firestorm of criticism, particularly as the man appointed to steer the talks, Sultan Al Jaber, is also head of UAE state oil giant ADNOC.
Read Caretaker PM arrives in Dubai to attend COP-28
Jaber, who also chairs a clean energy company, has defended his record, and strenuously denied this week that he used the COP presidency to pursue new fossil fuel deals, allegations first reported by the BBC.
Christiana Figueres, who was UN climate chief when the Paris deal was reached, questioned the role of fossil fuel companies at COP and said she was "giving up hope" they could be part of the solution to warming.
Guterres said Jaber was in a better position to tell the oil industry that a fossil fuel phaseout was necessary than "if he was the member of an NGO with a very solid pro-climate record."
"A very clear signal that the era of fossil fuels needs to end very rapidly is our litmus test for COP28," said Romain Ioualalen, global policy campaign manager at Oil Change International.
Rule by consensus
Rallying a common position on the matter will be difficult at COP where all nations — whether dependent on oil, sinking beneath rising seas or locked in geopolitical rivalry — must take decisions unanimously.
The UAE hopes to marshal an agreement on the tripling of renewable energy and doubling the annual rate of energy efficiency improvements by 2030.
Nations will navigate a range of thorny issues between November 30 and December 12, and experts say geopolitical tensions and building trust could be a huge challenge.
At the opening of the conference, delegates were asked to pause for a minute's silence for civilians killed in the Gaza conflict.
On the sidelines of COP, Israeli President Isaac Herzog will hold talks with diplomats on the release of hostages held by Hamas, his office said. He is also scheduled to speak on Friday within minutes of Mahmoud Abbas, leader of the Palestinian Authority.
Neither US President Joe Biden nor Chinese President Xi Jinping are attending, though Washington is sending Vice President Kamala Harris.
But the US and China, the world's two biggest polluters, did make a rare joint announcement on the climate this month that spurred optimism going into COP.