Hardships and haute cuisine
PUBLISHED
October 01, 2023


KARACHI:

Just three years ago, the restaurant industry in Pakistan was caught in the vicious circle of pandemic-related challenges such as employee shortages, financial losses, and adapting to change. It had barely recovered the losses incurred that the current economic situation compounded by the soaring power tariffs sprung fresh challenges and hardships for it.
"It is disheartening that the industry, which has long been a source of joy and entertainment is navigating through its most trying period yet," says Kamran Sheikh, architect, interior designer, and Chairman of All Pakistan Restaurant Association. "The explosion of restaurants is a testament to the evolving tastes and preferences of the population, but it has brought with it the burden of excessive taxes, licensing fees, and additional charges. These financial pressures, combined with the limited dinner hours, threaten to extinguish the vibrancy of this vital sector."
Sheikh elaborates that restaurants are not just places to dine; they are hubs of social interaction, cultural exchange, and community bonding. In a landscape where alternative forms of entertainment are limited; the significance of restaurants cannot be overstated. "They are more than mere businesses," he says. "They are the lifeblood of countless families, communities, and the second-largest employer of people in the country. The dire situation facing the restaurant industry calls for urgent attention and relief from local governments. The survival of this crucial sector is not just about economic viability; it's about preserving an integral part of Pakistani culture and society. I hope that policymakers recognise the pivotal role that restaurants play and take measures to alleviate the burden of taxes and fees in the present climate."
Less eating out
Farooq Mamsa who has served well-known multinational brands in the food industry for the past 28 years, worked his way up to the top and presently is the COO of OPTP, one of Pakistan's largest and most rapidly growing fast-food brands. He believes that in the present economic climate, people's eating habits may not have changed completely, but they've been amended to a certain extent.
"Going out is one of the few things a family can do in Pakistan, so they still go out as this is how we celebrate occasions," he points out. "But they tend to now think a lot more about where they want to go, and how much they want to spend. People who enjoy going out to high-end places maybe once a week, may now be going once in two weeks or probably order in from casual dining or fast-food places like KFC, OPTP or McDonald's or maybe Nando's which is cheaper to a certain extent compared to high-end outlets, So, while people have not actually changed their habit of eating out, since a segment doesn't eat at home, the overall spending may have somewhat decreased. Previously, they may not have thought as much about the budget for spending or eating out, but now it certainly figures in."
Drop in sales
"Sales have dropped," says Mamsa in regard to the current economy and inflation. "Year on year we've seen that September sales are lower than August, but this year the drop has been a lot more significant," he says. "Some restaurants or chains have actually seen a drop of up to 40% in sales which is quite significant."
Money devalued
"Students who've seen the value of the money in their hands shrink have also changed the way they spend that money. They may be eating more fast food or from a certain local chains or homegrown outlets where they get a lot more value for their money."
Higher cost, lower profits
The rising cost of doing business undoubtedly puts pressure on menu prices, which has significant implications for the affordability of dining out, especially for the average consumer. "In an environment where the cost of doing business has soared, it's an unfortunate reality that these increased expenses may inevitably find their way into menu prices," Sheikh points out. "While this might not greatly affect the well-off, it does pose a concerning dilemma for the average person who may find dining out less accessible due to budget constraints."
Whether it's fast food or casual dining, the ripple effects of rising prices can potentially limit the ability of many individuals and families to enjoy the simple pleasure of a meal outside their homes. It's a situation that underscores the importance of finding a balance between ensuring a sustainable restaurant industry and making dining out accessible to a wider segment of society.
"The cost of raw ingredients and transportation have gone up, salaries and wages as well, although not to the same extent, but to a certain degree," agrees Mamsa. "With business costs increase significantly, it's not possible to make the same profits that restaurants made earlier. As the profits have shrunk, those who could not sustain themselves have gone out of business. Someone from a major food delivery service told me that they lost around 5,500 food outlets in a few months that are either shutting down completely or just stopped doing business with them because they just could not afford the commissions anymore, and that is hugely significant."
A slippery slope
While quality is a big question mark to most people, intelligent businesses have raised the quality bar and they offer a lot more value for money in that sense. "Which is why the sales at these, while affected, are to a lesser degree than others," shares Mamsa. "The worst thing that a business can do is shrink their portions and quantities or replace ingredients with lower quality ones. That is a slippery slope and customers are savvy to that and it affects them negatively causing a downward spiral in sales for those who choose that path."
Creative solutions, such as offering affordable menu options, special promotions, or exploring innovative cost-saving measures may help mitigate the impact on consumers while allowing restaurants to stay afloat. "It's a challenging landscape that requires both resilience and adaptability from the industry as well as understanding and support from the public and policymakers," says Sheikh, who believes that the goal is to preserve the cultural and social significance of dining out, making it an experience that remains within reach for as many people as possible, regardless of their economic circumstances.
From hot to haute
Sheikh ventured to Pakistan in the early 80s to craft an extraordinary career. "My professional journey began in this vibrant country," he fondly reflects on how he started out. "My inaugural project, Ménage Restaurant, marked a significant milestone as the first fine dining establishment to grace the dining-out scene in years."
Stay for the ambience
Since his foray into the restaurant business, Sheikh's journey has been a tapestry of diverse accomplishments. Not only did he introduce a new era of dining, but also pioneered the field of interior design in Pakistan. "I've conceptualised and executed numerous restaurant projects, overseeing every facet of the hospitality industry," he shares, "from crafting innovative kitchen designs to curating menus that tantalise the taste buds, and from creating inviting interior spaces to providing comprehensive training.
New flavours
Sheikh's dedication to the art of hospitality continues to drive him forward. "Throughout my extensive experience in Pakistan's culinary landscape, I've had the privilege of introducing exciting new flavours to the scene," he shares. "I brought the allure of American continental and the exotic charm of Thai cuisine to an audience eager for something fresh and exciting."
In those early days, culinary options were limited, with only a handful of restaurants catering to diverse tastes. "While Cantonese cuisine held its sway, there was a conspicuous absence of fine dining establishments," says Sheikh, discussing the void that presented an opportunity to redefine the culinary experience in Pakistan. "Introducing new cuisines cuisine, not only expanded the gastronomic horizons but also established the concept of fine dining."
Sheikh's commitment to elevating the dining experience have been the driving forces throughout his career. "I've been privileged to witness and contribute to the evolution of Pakistan's culinary landscape, and my journey continues to be one of creativity, excellence, and a dedication to delighting palates."
In the early stages of Sheikh's culinary adventure, the concept of fine dining was met with awe and wonder in Pakistan. "It was a time when people were accustomed to more casual and unassuming dining experiences," he explains. "The introduction of American continental and Thai cuisine was a revelation in itself, but it was the fine dining interiors that truly captivated hearts and minds."
Power of aesthetics and ambiance
The crisp, clean, and meticulously designed dining spaces Sheikh created were a departure from the norm. Guests were treated to not only exquisite flavours but also to an ambiance that transported them to a world of elegance and sophistication. "It was an intrepid exit from the usual and a bold step towards redefining the dining culture," he says.
"As the years passed, fine dining became increasingly popular, and I took pride in being at the forefront of this culinary transformation," shares Sheikh.
Café Zouk
In 1994, Café Zouk emerged as a trailblazing icon in the Pakistani culinary landscape. Over nearly three decades, it has stood as a beacon of excellence in the realm of casual continental and Thai cuisine, consistently delivering memorable dining experiences.
"From the early days when American continental and Thai cuisine were groundbreaking to the present, Pakistani tastes have expanded to include Mediterranean, Italian, Japanese, and even Korean delights, and it's heartening to witness the rich medley of flavours now available to Pakistani diners," says Sheikh. "The proliferation of fine dining, casual, and fast-food restaurants across Pakistan is a testament to the growing appetite for diverse culinary experiences."
Sheikh believes it is the need of the hour to explore, reinvent, and elevate the flavours and traditions of our rich culinary heritage. "As the culinary landscape continues to evolve, there's potential for exciting fusion and reinterpretations that pay homage to our roots while embracing global influences," he says.
The hard truth
A lot of restaurants shut down soon after they launch, as opposed to those that have been around for decades. What goes wrong? "Running and maintaining a successful restaurant necessitates not just passion, but a professional work ethic of the highest order," says Sheikh. "While new establishments sprouting up everywhere, it's important to recognise that the restaurant industry has evolved into a finely-tuned science. Beyond the allure of vibrant crowds and social gatherings, the foundation of a truly successful restaurant lies in the rigor of training and professionalism. Owning a restaurant can appear glamorous, and the idea of being a restaurateur is seductive, however, the reality behind the scenes is hard work, discipline, and unwavering commitment."
"I've enjoyed every bit, every minute of my time within this industry because it's a passion," says Mamsa, recounting his career in the food industry. "I've learned that this is a business where you keep learning. You never stop learning because every cuisine, every aspect, every restaurant, every brand is different, and while the basics don't change, the way of doing things does, and the world is changing, the eating habits are becoming different, and because eating out will always remain in, this is a fantastic business to be in as long as you do things correctly."
Sheikh emphasises that from meticulous kitchen operations to the intricacies of menu planning and cost management, to the art of delivering impeccable service, every aspect of restaurant operation demands expertise and precision. The ability to navigate through challenges, from changing culinary trends to customer expectations, requires a deep understanding of the industry's minutiae.
"In this competitive landscape, those who thrive are the ones who have honed their skills, embraced continuous learning, and upheld the highest standards of professionalism," he says. "The restaurant business is a symphony of talent and dedication, where the true magic happens, creating memorable dining experiences and I cannot emphasise enough on respecting and recognising the professionalism that underpins the industry's success, serving as a valuable reminder for aspiring restaurateurs and those who savour the fruits of their labour."
'Domestic debt restructuring will be painful'

ISLAMABAD:

As the government maintains silence about its next move after declaring its debt "unsustainable," former central bank governor Shahid Kardar stated on Monday that Pakistan would need to be in the International Monetary Fund (IMF) to qualify for debt restructuring, and the process would be very painful.
Banks may need to take a hit on their principal loans, the central bank may need to relax prudent regulations to lower capital requirements, and high taxes might have to be imposed on cash withdrawals to prevent a run on the banks, according to Kardar.
He delivered a presentation on the prospects of debt relief during the third Pakistan Prosperity Forum organised by the Policy Research Institute of Market Economy (PRIME).
"Pakistan would have to be in the IMF programme to qualify for the debt restructuring," said Kardar in response to a question.
The Ministry of Finance's spokesperson did not respond to questions even after three days regarding whether the government has approached commercial banks for debt restructuring.
The servicing of external and domestic debts appears increasingly unsustainable, with Pakistan's gross public debt now equal to 667% of revenues compared to the average of 214% for more than 20 comparators, according to Kardar. Kardar also pointed out that wasteful expenditures on low-priority and poorly designed projects have made the debt unsustainable. Prospects for recovery depend on progress in restoring debts to manageable levels.
"Debt restructuring is complex, there are no short-cut solutions, and the government would also face issues like foreign currency swap arrangements, deposits with the SBP, bonds with a large number of holders and covered by New York Laws," said Kardar.
The former governor said that Pakistan may also not qualify for the G-20 Common Framework for Debt Treatment, meant only for heavily indebted countries. Kardar stated that being lower-middle-income, Pakistan may also not get relief under the G-20 framework. He mentioned that bilateral creditors seem reluctant to suspend debt servicing payments due to difficult financial conditions, fearing credit rating downgrades leading to a loss of access to capital markets.
Domestic debt restructuring
Although the Ministry of Finance has not responded to a question on the future course of action, Kardar highlighted the prospects and challenges of domestic debt restructuring.
The former governor said that if Pakistan seeks the write-down of external debt, foreign lenders would also ask in return for similar adjustments in domestic debt. He predicted that banks, being the largest lenders to a bankrupt borrower, will have to bear the burden of some pain.
Read: FM warns of unsustainable debt
Pakistan's total public debt has already increased to Rs75 trillion or equal to three-fourths of its economy, with interest payments consuming the entire net federal income.
Kardar said that the "reduction or liquidation of domestic debt will require a gradual approach, involving a combination of significantly negative real interest rates, a moratorium and suspension of interest payments for some years, longer maturities, and some write-down of its face value."
He said that a substantial reduction in the face value of the banks' lending to the government would hit the capital base of banks, requiring loans to them at concessional rates. A short-term relaxation of the SBP's prudential regulations on capital adequacy might be needed for domestic debt restructuring. The former governor suggested that, to prevent large cash withdrawals and a run on banks by depositors, the government might have to impose a hefty withholding tax. This would need to be supplemented by the government guaranteeing all deposits for a two to three-year period.
He said that one option could be a higher tax rate on bank incomes, but he stated that it was not a preferred option. Kardar also mentioned that there was not much space for external debt restructuring, as 48% of the debt is owed to multilaterals and is mostly at highly concessional rates. He added that China, which holds 31% of bilateral debt, was already rolling over repayments of $8 billion but was reluctant to accept losses on its lending portfolio.
The former central bank governor found many similarities between Pakistan and Sri Lanka, another country facing a severe debt crisis.
He said that, like Pakistan, Sri Lanka also granted generous tax exemptions and booked a primary budget surplus in only three years since 1951. Sri Lanka, like Pakistan, financed its unsustainable fiscal deficits through foreign and domestic borrowings, resulting in its public debt jumping to 128% of GDP and interest payments being 72% of revenues.
For this fiscal year, the IMF has estimated Pakistan's interest payments cost at 92% of the FBR's revenues.
Published in The Express Tribune, November 28th, 2023.
Like Business on Facebook, follow @TribuneBiz on Twitter to stay informed and join in the conversation.
PSX crosses 60,000 points milestone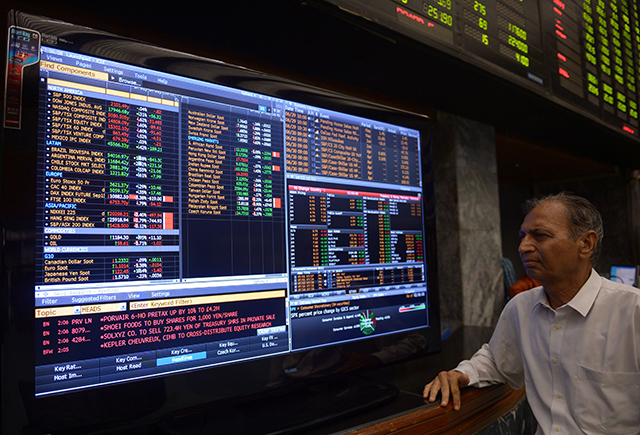 Segregation of client assets is critical as brokers have been penalised for using client money illegally. PHOTO: AFP
---

KARACHI:

The Pakistan Stock Exchange (PSX) smoothly crossed the psychological barrier of 60,000 points during the early trading hours of Tuesday. 
The gains came due to rich individuals and institutional investors making significant new investments in expectation of deep cuts in interest rates and the availability of stocks at low prices.
The PSX benchmark KSE-100 Index hit a new all-time high level of 60,745 points, rising by 1.56% or 934 points before mid-day from Monday's close at 59,811 points. Penny stocks were the volume leader in the rally including textile, technology, food, bank and steel stocks.
Speaking to The Express Tribune, Arif Habib Limited Head of Research Tahir Abbas said: "The high expectation for a deep 7% cut in the key policy rate (interest rate) by the State Bank of Pakistan over the one-year agreed investors to take new possessions".
"The central bank is expected to cut its key policy rate to 15% by December 2024 from record high 22% at present…ahead of a potential deceleration in inflation reading next year," he added
Abbas mentioned that the interest rate cut expectations have made rich individuals and institutional investors relocate their investments to the stock market from fixed-income instruments these days.
Topline Securities CEO Muhammad Sohail said in a comment on X (formerly Twitter) that the PSX is breaking records and the development is "still not surprising."
The market has gained 50% in only five months to over 60,000 points from 40,000 points. "This is the fastest 50% rise in a few months after 2004," he wrote.
Read PSX hits fresh record, nears 60k milestone
"When you have an unbelievably low valuation, a price-to-earnings ratio of 3-4%, such recovery is not at all surprising," Sohail further commented.
Abbas further said the listed companies have booked record high growth in profit of 46% in the first nine months ending September 2023 and added that "accordingly, dividend payments by them rose robustly by 42% in the same period. This is another factor that has attracted new investment at PSX".
The market is expecting foreign currency inflows worth around $1.5-2 billion from multilateral creditors like the World Bank and Asian Development Bank soon after the IMF executive board approves the release of its second tranche of $700 million to Pakistan in December 2023.
This is another factor for the record-buying spree at PSX.
He anticipated the market reaching 75,000-80,000 points by the end of December 2024 considering all goes well including political stability in the country, economic growth, and global commodity prices remaining stable.
"The next six months seem stable at least", he maintained.
Completion of key projects increases water storage

LAHORE:

The completion of eight ongoing water and hydropower projects by Water and Power Development Authority (WAPDA) is set to significantly enhance Pakistan's water storage capacity and hydel power generation. The carry-over water capacity in the country will increase from 30 to 45 days, with an additional 9.7 MAF water storage.
During a visit to WAPDA House, a delegation from PAF Air War College Karachi, led by Air Commodore Raja Imran Asghar, received a comprehensive briefing. The delegation comprised officers from Pakistan and allied nations.
Read: Water projects presented to Turkish consultants
The delegation learned about the climate change threats and water security challenges faced by Pakistan. WAPDA's ongoing projects, such as Diamer Basha Dam, Mohmand Dam, and others, were highlighted as crucial for the water, food, and energy security of the country.
Published in The Express Tribune, November 28th, 2023.
Like Business on Facebook, follow @TribuneBiz on Twitter to stay informed and join in the conversation.