Hamas fighters seek to block Israeli advance on Gaza City

JERUSALEM/
GAZA:

Israeli tanks and troops pressed towards Gaza City on Thursday but met resistance from Hamas fighters using mortars and hit-and-run attacks from tunnels as the Palestinian death toll from nearly four weeks of bombardment climbed above 9,000.
The Gaza Strip's main population centre in the north has become the focus of attack for Israel, which has vowed to annihilate the Palestinian group's command structure and has told civilians to leave.
"We are at the gates of Gaza City," Israeli military commander Brigadier General Itzik Cohen said.
Hamas and allied Islamic Jihad fighters were emerging from tunnels to fire at tanks, then disappearing back into the network, residents said and videos from both groups showed.
"They never stopped bombing Gaza City all night, the house never stopped shaking," said one Palestinian man, asking not to be identified by name. "But in the morning we discover the Israeli forces are still outside the city, in the outskirts and that means the resistance is heavier than they expected."
Aware of the difficulties of fighting in an urban environment, Israeli officers' strategy appears for now to be concentrating large forces in the northern Gaza Strip rather than launching a ground assault on the entire territory.
As international calls for a humanitarian pause in hostilities go unheeded, Palestinians are suffering shortages of food, fuel, drinking water and medicine. Sewage is leaking, some are drinking salt water and the trickle of aid permitted in by Israel is a tiny proportion of what is needed.
Over a third of Gaza's 35 hospitals are not functioning, with many turned into impromptu refugee camps and some rescuers using donkey carts instead of ambulances.
Read also: Gaza surgeons operate in corridors as Israeli bombs fill hospitals
"The situation is beyond catastrophic in the hospitals," said the charity Medical Aid for Palestinians, describing packed corridors and many medics themselves bereaved and homeless.
The head of Israel's armed forces signalled willingness on Thursday to ease its embargo on fuel for Gaza, saying that if hospitals there run out they could be resupplied under supervision.
The United Arab Emirates offered to treat 1,000 children while Turkey offered to take cancer patients.
The latest war in the decades-old conflict began when Hamas fighters broke through the border on Oct. 7. Israel says they killed 1,400 people, mostly civilians, and took more than 200 hostages in the deadliest day of its 75-year history.
Israel's ensuing bombardment of the small Palestinian enclave of 2.3 million people has killed at least 9,061 people, including 3,760 children and 2,326 women, according to Gaza health authorities.
Though Western nations and the United States in particular have traditionally supported Israel, harrowing images of bodies in the rubble and hellish conditions inside Gaza have triggered appeals for restraint and street protests around the world.
Residents reported mortar fire around Gaza City and said Israeli tanks and bulldozers were sometimes driving over rubble and knocking down structures rather than using regular roads.
Destruction across Gaza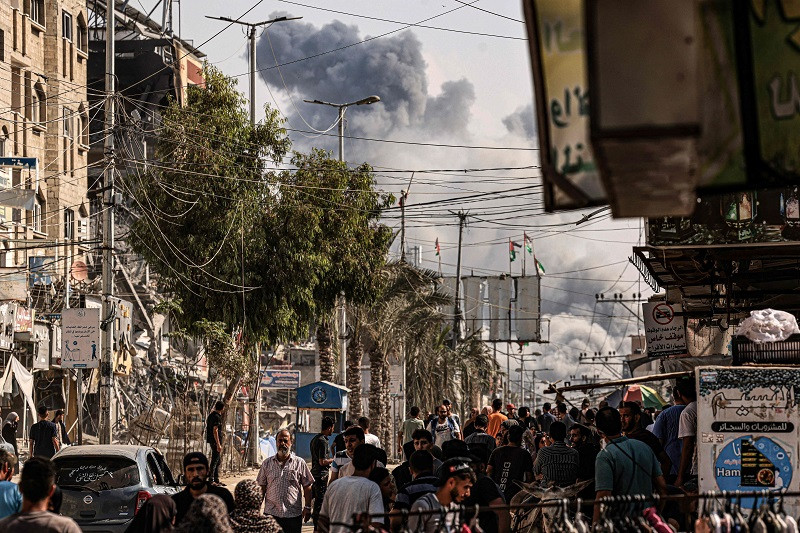 People walk along a street as a plume of smoke rises in the background during an Israeli strike on the Bureij refugee camp in the central Gaza Strip on November 2, 2023. PHOTO: AFP
Though Israel has told Gazans to go south, that part of the territory was not spared either. Three Palestinians died in tank shelling near the town of Khan Younis and an air strike killed five outside a UN school in Beach refugee camp, Gaza health officials said.
In central Gaza, an air strike destroyed clusters of houses in the Bureij refugee camp, residents and Gaza officials said, with 15 bodies pulled from the rubble.
"A massacre, a massacre," people cried as they gathered corpses in blankets.
Brigadier General Iddo Mizrahi, chief of Israel's military engineers, said troops were in a first stage of opening access routes in Gaza but were encountering mines and booby-traps.
"Hamas has learned and prepared itself well."
After a total blockade of Gaza for more than three weeks, foreign passport-holders and some wounded were allowed out. Palestinian border official Wael Abu Mehsen said 400 foreign citizens would leave for Egypt via the Rafah crossing on Thursday, after some 320 on Wednesday.
Dozens of critically injured Palestinians were to cross too. Israel asked foreign countries to send hospital ships for them.
"I want to pass. We are not animals," said Ghada el-Saka, an Egyptian at Rafah waiting to return home after visiting relatives. "We've seen death with our own eyes," she added, describing a strike near her siblings' house that had made her and her daughter live on the street.
Read: Battles rage in Gaza as Israeli strikes on refugee camp kills more than 195 people
Israel's latest strikes have included the heavily populated area of Jabalia, set up as a refugee camp in 1948.
Gaza's Hamas-run media office said at least 195 Palestinians were killed in the two hits on Tuesday and Wednesday, with 120 missing and at least 777 people hurt.
Israel, which accuses Hamas of hiding behind civilians, said it killed two Hamas commanders in Jabalia.
"We will hunt them down through night and day, in their cities and in their beds," Israeli war cabinet minister Benny Gantz said, warning of a long and complex fight.
With Arab nations vocal in their outrage at Israel's actions, the UN High Commissioner for Human Rights said Israel's "disproportionate attacks" may constitute war crimes.
Israel says it has lost 18 soldiers and killed dozens of fighters since ground operations were expanded on Friday.
Violence has also spread to the occupied West Bank, with Israeli raids touching off clashes with gunmen and people throwing stones.
Palestinian medics said three teenagers and a 25-year-old were killed there in clashes on Thursday. Israel's army had no comment. Separately, the military and medics said Palestinian gunmen killed an Israeli motorist in the West Bank.
Hundreds still stranded, plants closed in India's Chennai

CHENNAI:

Volunteers waded through stagnant water to hand out food and supplies, and some manufacturing plants remained shut in India's southern tech-and-auto hub district of Chennai on Friday, four days after cyclone Michaung lashed the coast.
At least 14 people, most of them in Chennai and its state of Tamil Nadu, have died in the flooding, triggered by torrential rains that started on Monday.
The cyclone itself made landfall further north in Andhra Pradesh state on Tuesday afternoon.
Authorities said some low-lying areas of the state were still inundated and government officials and volunteers were taking supplies to people stuck in their homes in slums and other areas.
The larger Chennai area is home to the Indian units of several global firms including Hyundai Motor (005380.KS), Daimler and Taiwan's Foxconn (2317.TW) and Pegatron (4938.TW) which do contract manufacturing for Apple (AAPL.O).
Read more: Chennai flooded as heavy rains from cyclone Michaung batter south India
While many of them including Pegatron and Foxconn resumed operations within a day or two of the cyclone making landfall, some plants of the TVS group located in the worst-affected areas are yet to open, industry sources said.
Adani Krishnapatnam Port (APSE.NS) in Andhra Pradesh, said on Friday the cyclone had "very badly affected" its operations and it was declaring a force majeure period starting Dec. 3.
Force majeure is a notice used to describe events outside a company's control, such as a natural disaster, which usually releases it from contractual obligation without penalty.
State-run Madras Fertilizers (MDFT.NS) notified stock exchanges that its Chennai plant has been shut and is tentatively expected to resume operations within two to four weeks.
Infrastructure questioned
Information technology (IT) services providers told staff to work from home for the week, while schools and colleges closed. A few schools and colleges were converted into temporary shelters.
This week's floods in Chennai brought back memories of the extensive damage caused by floods eight years ago which killed around 290 people.
In Andhra Pradesh, the damage from the cyclone was relatively contained, with roads damaged and trees uprooted as big waves crashed into the coast.
Defence Minister Rajnath Singh visited Chennai on Thursday and announced New Delhi will release a second instalment of 4.5 billion rupees ($54 million) to Tamil Nadu to help manage the damage. The federal government has also approved a 5.6 billion-rupee project for flood management in Chennai, he said.
Chennai residents questioned the ability of the city's infrastructure to handle extreme weather.
"Not only has urbanisation itself caused a problem, but the nature of the urbanisation has preyed upon open spaces, holding areas like marshlands and flood plains," social activist Nityanand Jayaraman said.
Experts have, however, said better stormwater drainage systems would not have been able to prevent the flooding caused by very heavy and extremely heavy rains.
"This solution would have helped a lot in moderate and heavy rainfall, but not in very heavy and extremely heavy rains," Raj Bhagat P, a civil engineer and geo-analytics expert, said on Wednesday.
Gunman described as struggling academic with 'target list'
The gunman who killed three professors and wounded one at the University of Nevada, Las Vegas, was a financially struggling academic whose job applications were rejected by several higher-education institutions in Nevada, police said on Thursday.
Anthony James Polito, 67, also had mailed nearly two dozen suspicious letters to faculty at universities across the country and had prepared a "target list" of people at both UNLV and a North Carolina university where he once worked, police said.
Polito, facing eviction from his home in the Las Vegas suburb of Henderson, had a criminal record of computer trespass dating to 1992 in Virginia, but police said there were no advance signs of violence.
The Taurus 9mm handgun he used in the shooting was legally purchased in 2022, according to Sheriff Kevin McMahill of the Las Vegas Metropolitan Police Department. He said Polito, who police shot dead after the attacks, was believed to have acted alone.
The precise motive for the rampage remained to be determined, though officials said it appeared students were not the primary target.
All four people shot on Wednesday inside Beam Hall, the campus building that houses UNLV's business school, were faculty members.
Two of the dead were identified as professor Cha Jan "Jerry" Chang, 64, and assistant professor Patricia Navarro Velez, 39. The identity of the third slain professor was being withheld pending notification of family.
Read: Las Vegas campus shooting leaves 4 dead, including suspect
The surviving victim remained hospitalized, and his condition worsened on Thursday, McMahill said.
Letters and list 
Detectives learned Polito had visited a post office shortly before the shooting and mailed 22 letters with no return address to university personnel across the United States, and had a list of people he was seeking on the UNLV campus as well as faculty from his former employer, East Carolina University in Greenville, North Carolina.
His LinkedIn profile described Polito as a semi-retired associate professor of business who taught at East Carolina from 2001-2017.
Authorities intercepted the letters before any were delivered and found a suspicious white powdery substance in at least one of them, McMahill said at a news briefing on Thursday.
The letters' contents remained under investigation, the sheriff told reporters, warning that anyone in higher education who received such an envelope should exercise caution and contact authorities.
He said officials were working to notify the intended recipients and had contacted nearly everyone on the separate target list to make sure all were safe.
"None of the individuals listed on the target list became a victim," he told reporters.
He said detectives also had uncovered evidence that Polito was struggling financially, including an eviction notice taped to the entrance of his apartment. He said a document that appeared to be a will was found inside.
"We know he had applied numerous times for jobs with several Nevada higher-education institutions," McMahill added, but he did not say whether UNLV was one of them.
Police searching Polito's home also recovered ammunition similar to the 150 rounds he was carrying.
The UNLV campus will remain closed through Friday. The UNLV website said classes had been canceled through Dec. 10.
Israel says Reuters journalist Abdallah was killed in combat zone

JERUSALEM:

The Israeli military, responding on Friday to a Reuters investigation that determined its forces killed a Reuters journalist in southern Lebanon on Oct. 13, said the incident took place in an active combat zone and was under review.
Without directly addressing the death of visuals journalist Issam Abdallah, a military statement said Lebanese Hezbollah fighters had at the time attacked across the border and Israeli forces opened fire to prevent a suspected armed infiltration.
A Reuters special report published on Thursday found that an Israeli tank crew killed Abdallah and wounded six reporters by firing two shells in quick succession from Israel while the journalists were filming cross-border shelling.
Israel's statement on Friday said that on Oct. 13, Iranian-backed Hezbollah militants launched an attack on multiple targets within Israeli territory along the Lebanese border.
"One incident involved the firing of an anti-tank missile, which struck the border fence near the village Hanita. Following the launch of the anti-tank missile, concerns arose over the potential infiltration of terrorists into Israeli territory," the Israel Defence Forces (IDF) said in a statement.
Read: Israeli tank fire killed Reuters journalist Issam Abdallah in Lebanon
"In response, the IDF used artillery and tank fire to prevent the infiltration. The IDF is aware of the claim that journalists who were in the area were killed.
"The area is an active combat zone, where active fire takes place and being in this area is dangerous. The incident is currently under review," it said.
The strikes killed Abdullah, 37, and severely wounded Agence France-Presse (AFP) photographer Christina Assi, 28, just over a kilometre from the Israeli border near the Lebanese village of Alma al-Chaab.
Amnesty International said on Thursday that the Israeli strikes were likely to have been a direct attack on civilians and must be investigated as a war crime.
In a separate report Human Rights Watch (HRW) said the two Israeli strikes were "an apparently deliberate attack on civilians and thus a war crime" and said those responsible must be held to account. US Secretary of State Antony Blinken said on Thursday it was important that Israel's inquiry into the killing reach a conclusion and for the results to be seen.
"My understanding is that Israel has initiated such an investigation, and it will be important to see that investigation come to a conclusion, and to see the results of the investigation," Blinken said at a press conference.