Canadian PM says India's actions causing hardship for millions

OTTAWA:

Prime Minister Justin Trudeau said on Friday the Indian government's crackdown on Canadian diplomats was making normal life difficult for millions of people in both countries.
Trudeau spoke a day after Canada said it had withdrawn 41 diplomats following an Indian threat to unilaterally revoke their status.
New Delhi is angry that Trudeau last month suggested Indian agents might have been involved in the June murder of a Sikh separatist leader in Canada. India denies the allegation.
"The Indian government is making it unbelievably difficult for life as usual to continue for millions of people in India and in Canada. And they're doing it by contravening a very basic principle of diplomacy," Trudeau said.
"It's something that has me very concerned for the wellbeing and happiness of millions of Canadians who trace their origins to the Indian subcontinent," he told reporters at a televised press conference in Brampton, Ontario.
Trudeau said the expulsion of some of Canada's diplomats will hamper travel and trade and pose difficulties for Indians studying in Canada.
Read more: The cold war between India and Canada
Around two million Canadians, 5% of the overall population, have Indian heritage. India is by far Canada's largest source of global students, making up for roughly 40% of study permit holders.
The Indian foreign ministry earlier rejected the idea it had violated the Vienna convention on diplomatic relations.
"The state of our bilateral relations, the much higher number of Canadian diplomats in India, and their continued interference in our internal affairs warrant a parity in mutual diplomatic presence in New Delhi and Ottawa," it said in a statement. Canada now has 21 diplomats remaining in India.
The U.S State Department on Friday backed Canada in the dispute over diplomats.
"We have urged the Indian government not to insist upon a reduction in Canada's diplomatic presence and to cooperate in the ongoing Canadian investigation," said spokesperson Matthew Miller.
Snowstorm kills eight in Ukraine and Moldova, power lost

KYIV:

A winter storm lashed central and southern Ukraine, killing at least five people in Ukraine and three in neighbouring Moldova, with snow and high winds knocking out power to hundreds of towns and villages and shutting highways
At least 19 people were injured in Ukraine and a further 10 in Moldova. Forecasters said more bad weather was on the way, with snow and rain forecast throughout Ukraine on Tuesday.
The extreme weather struck as tens of thousands of troops man front-line positions in the 21-month-old war with Russia amid fears Moscow could attack the power grid with air strikes this winter.
Ukrainian President Volodymyr Zelenskiy, speaking in his nightly video address, said five people had died in southern Odesa region and suggested there might be others elsewhere.
Emergency services said the power remained out in 882 localities. Traffic was halted on 10 highways and more than 1,500 trucks were stranded.
Schools were closed in both southern Ukraine and in Moldova.
High winds left drifting snow up to two metres (six feet) deep in some places, Interior Minister Ihor Klymenko said.
Ukrainian authorities shared images of damaged power grid facilities, toppled trees and rescuers helping people to climb out of drifts and towing cars away from snow-covered roads.
Central Kyiv and southern Odesa and Mykolaiv regions were the hardest hit by the power cuts, with 40,000 homes initially affected in Kyiv region, authorities said. By 6:30 p.m, more than 15,000 homes in the region were still without electricity.
In Moldova, two people were found frozen to death in a car in the east of the country and another outside the capital.
Ukraine's border service said that two border crossings in Odesa region to Moldova reopened after a temporary suspension on Sunday, but traffic conditions remained difficult.
On Sunday, the mayor of the Black Sea port of Odesa urged residents to stay at home, and authorities warned that water supplies were being interrupted by power cuts that stopped pumps from working.
Eight people suffered hypothermia and five were injured by falling trees in Odesa region, the emergency service said.
On Monday evening, the boiler facility in Odesa, where a 100-metre (yard) pipe broke and fell on Sunday, resumed operations.
"Currently, heating is provided in a test mode for 120,000 customers in Odessa. People's homes should be warm by morning," Oleh Kiper, the regional governor, said on Telegram.
PM Sunak cancels meeting with Greek PM over Parthenon sculptures

LONDON:

Greek Prime Minister Kyriakos Mitsotakis accused his British counterpart Rishi Sunak of cancelling a scheduled meeting in London on Tuesday in a diplomatic row over the status of the Parthenon Sculptures.
Greece has repeatedly asked the British Museum to permanently return the 2,500-year-old sculptures that British diplomat Lord Elgin removed from the Parthenon temple in the early 19th century when he was ambassador to the Ottoman Empire.
"I express my annoyance that the British Prime Minister cancelled our planned meeting just hours before it was due to take place," Mitsotakis said in a statement.
"Greece's positions on the issue of the Parthenon Sculptures are well known. I had hoped to have the opportunity to discuss them with my British counterpart. Anyone who believes in the rightness and justice of his positions is never afraid of confronting arguments," he said.
The Greek government has been in discussions with British Museum chair George Osborne on a possible loan deal for the sculptures, which have been a source of dispute between the two countries for centuries.
Mitsotakis complained in an interview with the BBC on Sunday that talks over a possible return of the sculptures to Athens were not advancing quickly enough.
He said that the continued presence of the sculptures in the British Museum was like cutting the "Mona Lisa in half" and it was not a question of ownership but "reunification".
A British government official, who asked not to be named, said the row over the marbles meant it was not suitable for the meeting to go ahead.
Earlier, a spokesperson for Sunak said there were no plans to return the sculptures.
Asked about Mitsotakis' statement, Sunak's office said Britain's relationship with Greece was "hugely important" and the two countries needed to work together on global challenges like tackling illegal migration.
Deputy British Prime Minister Oliver Dowden was available to meet Mitsotakis to discuss these issues instead, Sunak's office said.
The British government has always ruled out giving up ownership of the marbles, which include about half of the 160-metre (525-ft) frieze that adorned the Parthenon, and says they were legally acquired.
A law prevents the British museum from removing objects from the collection apart from in certain circumstances, but the legislation does not prohibit a loan.
A meeting between Mitsotakis and British opposition leader Keir Starmer went ahead on Monday as planned. The Financial Times last week reported that Starmer would not block a "mutually acceptable" loan deal for the sculptures.
Labour declined to comment.
Deal reached to extend Israel-Hamas truce in Gaza by two days

JERUSALEM/
GAZA:

Mediator Qatar said on Monday a deal had been reached to extend a truce between Israeli and Hamas forces in Gaza by two days, continuing a pause in seven weeks of warfare that has killed thousands and laid waste to the Palestinian enclave.
"An agreement has been reached to extend the humanitarian truce for an additional two days in the Gaza Strip," a Qatari foreign ministry spokesperson said in a post on social media platform X.
There was no immediate comment from Israel, but a White House official confirmed agreement had been reached.
Hamas also said it had agreed a two-day extension to the truce with Qatar and Egypt, who have been facilitating indirect negotiations between the two sides. There was no immediate comment from Israel.
"An agreement has been reached with the brothers in Qatar and Egypt to extend the temporary humanitarian truce by two more days, with the same conditions as in the previous truce," a Hamas official said in a phone call with Reuters.
Before the statements, the head of Egypt's State Information Service, Diaa Rashwan, had said an extension agreement was close and would include the release of 20 Israeli hostages from among those seized by Hamas during its Oct. 7 assault on southern Israel. In exchange 60 Palestinian prisoners held in Israeli jails would be freed, he said.
The initial truce was due to end on early Tuesday morning.
On Sunday, Hamas freed 17 people, including a 4-year-old Israeli-American girl, bringing the total number the militant group has released since Friday to 58, including foreigners. Israel freed 39 teenage Palestinian prisoners on Sunday, taking the total number of Palestinians freed under the truce to 117.
Alon Ben David, a senior defence correspondent for Israeli Channel 13 described the conditions of the captives recently released by Hamas saying the hostages were "treated well by Hamas and they were not subjected to torture or ill-treatment." pic.twitter.com/rsb2kjRZaZ

— Clash Report (@clashreport) November 27, 2023
An Israeli government spokesperson said on Monday that the total number of hostages still held in Gaza was now 184, including 14 foreigners and 80 Israelis with dual nationality.
Once the truce ends, Netanyahu said at the weekend, "we will return with full force to achieve our goals: the elimination of Hamas; ensuring that Gaza does not return to what it was; and of course the release of all our hostages."
Brief respite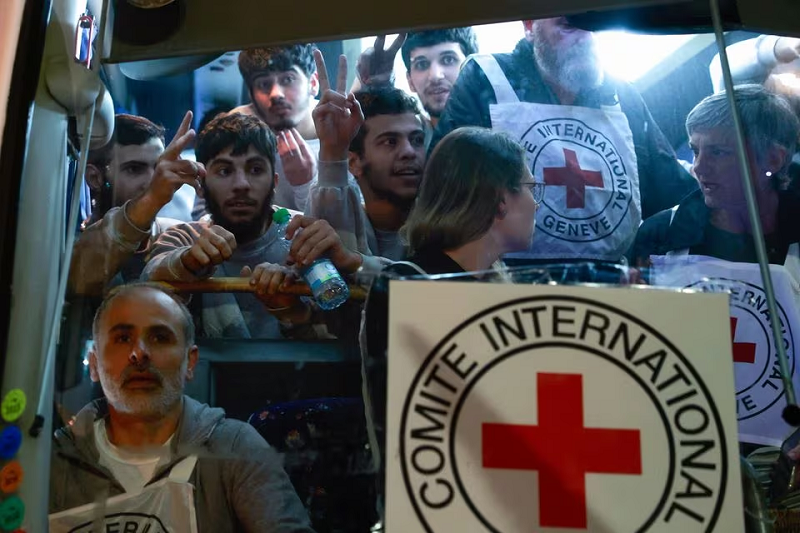 Released Palestinian prisoners leave the Israeli military prison, Ofer, in Ramallah in the Israeli-occupied West Bank November 26, 2023. PHOTO: REUTERS
Palestinians in Gaza said on Monday they were praying for an extension of the truce. Some were visiting homes reduced to rubble by weeks of intensive Israeli bombardment, while others queued for flour and other essential aid being delivered by the United Nations' relief agency UNRWA.
The al-Sultan family, among hundreds of thousands of people displaced from their homes in the north of the Gaza Strip, snatched a few hours of sorely needed relaxation by the sea.
"We used these four days (of truce) and came to the beach in Deir Al-Balah to allow our children to have some fun," their mother, Hazem Al Sultan, said. "We are anticipating the end of these four days, and we don't know what will happen to us next."
Palestinians gave the freed prisoners a jubilant reception in Ramallah, according to Palestinian news agency WAFA.
Omar Abdullah Al Hajj, 17, released on Sunday, told Reuters he'd been kept in the dark about what was happening in the outside world.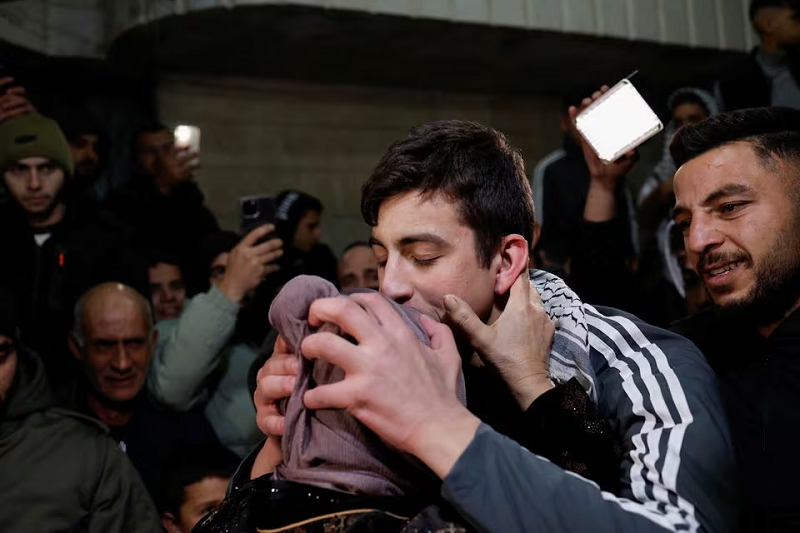 Released Palestinian prisoner Khalil Zamareh is received by his family near Hebron in the Israeli-occupied West Bank, November 27, 2023. PHOTO: REUTERS
"We were 11 people crammed into a single room where usually there are six. There was never enough food and I was never told how long I was going to stay," he said.
"I can't believe I'm free now but my joy is incomplete because we still have our brothers who remain in prison," said Al Hajj, whom Israel's Justice Ministry accused of belonging to the Islamic Jihad group and posing a security threat which it did not specify.
The truce agreed last week is the first halt in fighting in the seven weeks since Hamas attacked Israel, killing 1,200 people and taking about 240 hostages back into Gaza.
In response to that attack, Israel has bombarded the enclave and mounted a ground offensive in the north. Some 14,800 Palestinians have been killed, Gaza health authorities say, and hundreds of thousands displaced.
Diplomatic efforts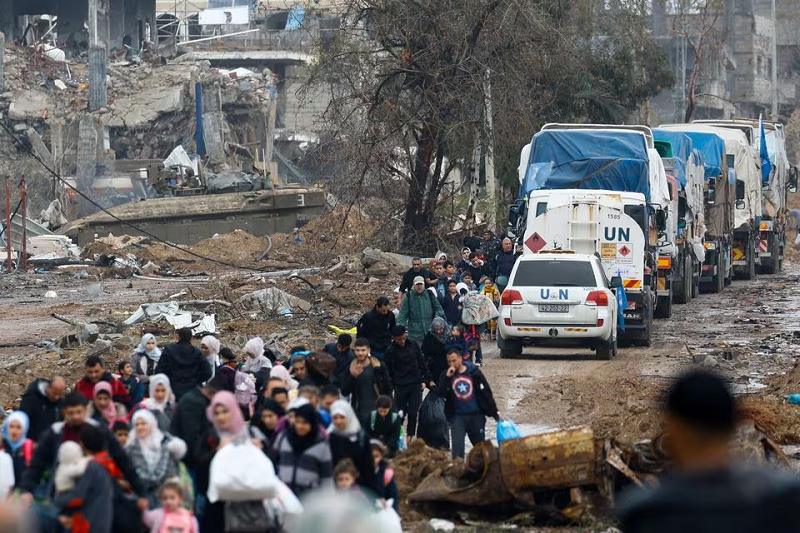 Palestinians fleeing north Gaza move southward as trucks carrying aid and fuel head towards north Gaza, near Gaza City, November 27, 2023. PHOTO: REUTERS
Qatar, Egypt, the United States, the European Union and Spain were all working to extend the ceasefire, the Palestinian Authority's foreign minister, Riyad al-Maliki, said during a conference in Barcelona devoted to the crisis.
Al-Maliki, whose Authority runs the occupied West Bank, told the Forum for the Union of the Mediterranean that the international community must pressure Israel to extend the truce indefinitely. The death toll would double if war resumes on Tuesday, he added.
The European Union's top diplomat, Josep Borrell, told the same conference the current truce was an important first step but that far more would be needed to alleviate the situation.
Borrell also urged Israel not to "recolonise Gaza", saying that the creation of a Palestinian state in the West Bank, East Jerusalem and Gaza was the best guarantee of Israel's peace and security.
Spanish Foreign Minister Jose Manuel Albares said Hamas could no longer rule Gaza after hostilities end since it did not have "an agenda for peace".