Army most popular institution in Pakistan: Gallup survey

KARACHI:

In a recent Gallup survey conducted across the country, the Pakistan Army has emerged as the institution with the highest level of public approval, earning an impressive 88 per cent rating.
The survey, titled "National Public Opinion Poll Report," conducted between June 10 and June 30, gathered responses from 3,500 participants representing various regions in all four provinces of Pakistan.
The survey illuminated the public's sentiments on various institutions and political figures, offering a comprehensive snapshot of Pakistan's current political landscape and the challenges it faces, including inflation, poverty, unemployment, and concerns about the efficacy of democracy.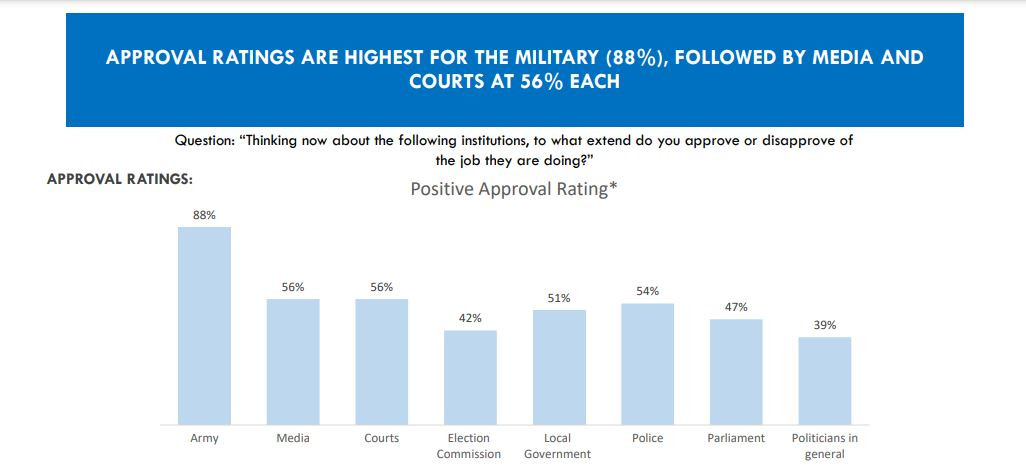 The results of the survey showcased the public's perception of various institutions, with both the media and the courts receiving a 56 per cent approval rating, while the Election Commission of Pakistan (ECP) garnered a 42 per cent approval rating.
The police earned a 54 per cent approval rating, while politicians secured the lowest rating on the list, with only 39 per cent of respondents approving of their performance.
Region-wise breakdowns revealed Khyber-Pakhtunkhwa (K-P) leading the approval ratings for the army with an impressive 91 per cent, closely followed by Punjab at 90 per cent.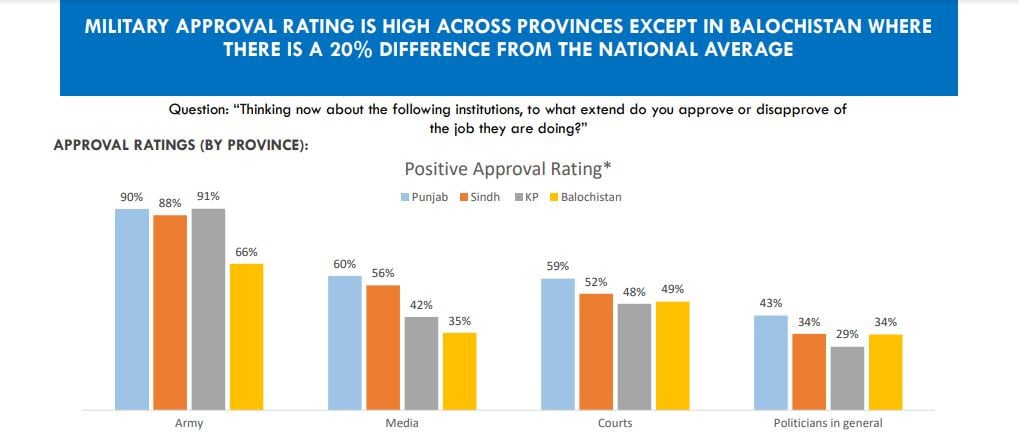 Sindh recorded an 88 per cent approval rating for the army, while Balochistan showed the lowest approval at 66 per cent. Remarkably, 57 per cent of respondents strongly approved of the army's performance.
Imran remains most popular leader
In terms of political leadership, Pakistan Tehreek-e-Insaf (PTI) Chairman Imran Khan maintained his position as the country's most popular leader, earning over a 60 per cent approval rating.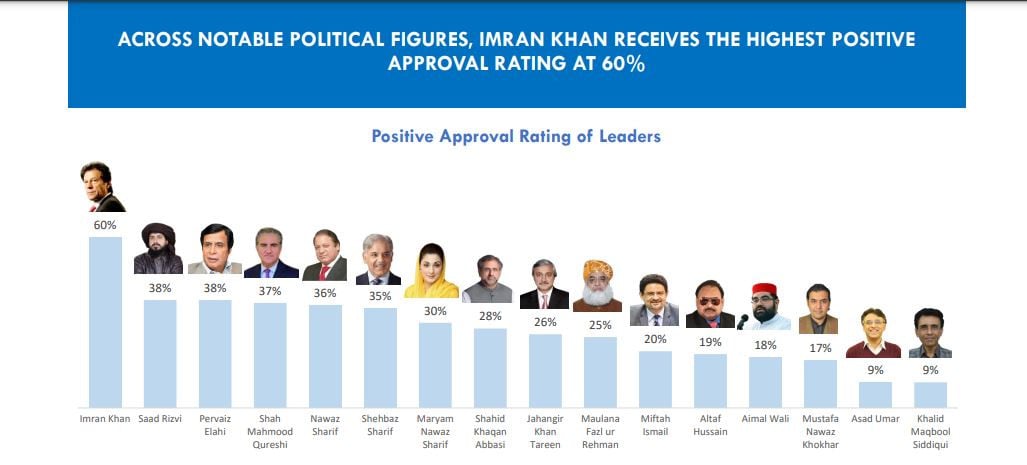 Saad Rizvi, the chief of Tehreek-e-Labbaik Pakistan (TLP), secured a distant second place with a 38 percent approval rating, sharing this rating with PTI President Parvez Elahi.
Read more: Imran most popular leader in Pakistan: Gallup survey
Other notable ratings included PTI's Shah Mahmood Qureshi at 37 per cent, followed closely by Pakistan Muslim League-Nawaz (PML-N) supreme leader Nawaz Sharif at 36 per cent, PML-N President Shehbaz Sharif at 35 per cent, PML-N Senior Vice President Maryam Nawaz at 30 per cent, and PML-N's Shahid Khaqan Abbasi at 28 per cent.
When it came to political party preferences, PTI led with a 59 per cent likability rating, with Pakistan Peoples Party (PPP) following at 42 per cent, TLP at 41 per cent, PML-N at 38 per cent, and Jamaat-e-Islami (JI) at 31 per cent.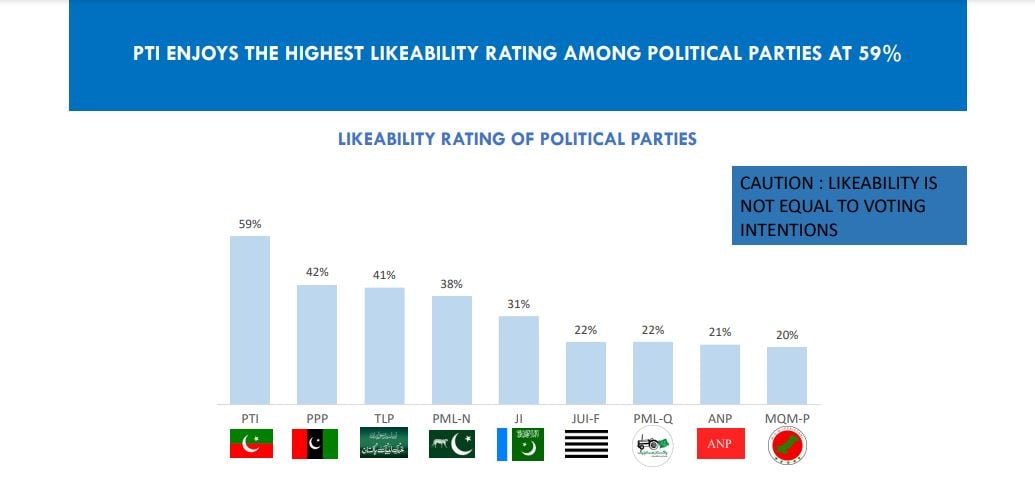 On the other hand, Jamiat-e-Ulema Islam-Fazl (JUI-F) received a 22 per cent approval rating, while Pakistan Muslim League-Quaid (PML-Q), Awami National Party (ANP), and Muttahida Qaumi Movement-Pakistan (MQM-P) garnered 22 per cent, 21 per cent, and 20 per cent approval ratings, respectively.
The survey also explored voting preferences, revealing that twice as many respondents would vote for PTI if elections were held next week compared to those who would vote for PML-N. In terms of governance indicators, the PTI government received the highest rating for its economic performance.
However, the survey also highlighted public dissatisfaction, with 77 per cent of respondents reporting dissatisfaction with the country's current direction, while 47 per cent described the economic situation as "very bad".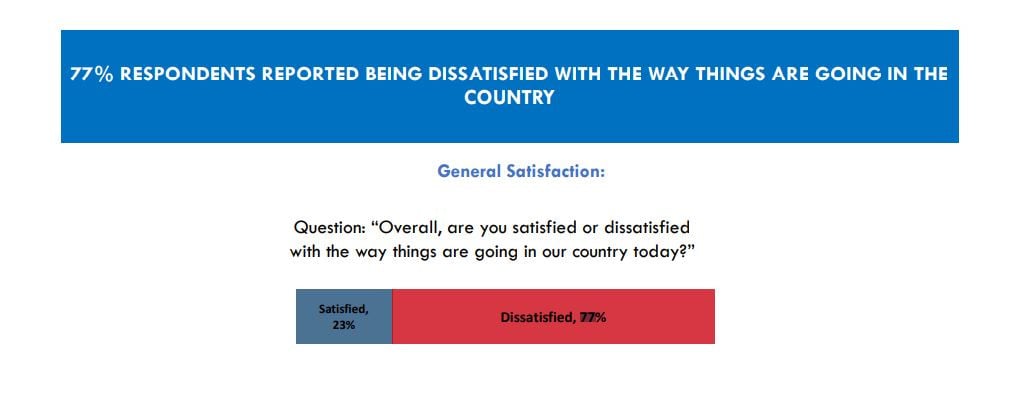 Only 15 per cent of respondents believed that the country's economic situation would improve significantly over the next 12 months.
According to the report, inflation, poverty and unemployment remained the most serious problems in Pakistan with one in five people (20 per cent) feeling that democracy is not delivering at all.
Father of girl killed for 'honour' arrested in Kohistan
Police in Khyber-Pakhtunkhwa (K-P) on Tuesday arrested the father of the girl who was allegedly killed in the name of "honour" in Kohistan, officials said.
The suspect Arsala was presented before a local court which granted a seven-day physical remand. Three suspected accomplices, believed to have aided and advised the accused, have also been taken into custody.
On Sunday, a young girl was murdered and another rescued by the police in a case involving a viral video in which both the girls could be seen dancing with local boys.
The girl was killed in the Barsharyal village of Kohistan's Palas — 150km northwest of Mansehra — allegedly by her own family members on orders issued by a local jirga.
Read More: Husband held over honour killing of wife
The boys featured in the video, which went viral on social media around four days ago, had gone into hiding.
According to details, in the case registered under sections 114, 15AA, 302/311/109/34 PPC at Palas police station on November 28, 2023, the arrested suspect, Arsala, son of Mohsin, belonging to the Barsharyal tribe, was presented before the senior sessions judge/ Palas Assistant Commissioner.
Read More: CM orders inquiry into Kohistan girl's killing
The police had requested a 10-day physical remand for further investigation, but the judge approved a seven-day remand. The accused will be interrogated further in connection with the case.
Three other alleged accomplices in this gruesome murder have also been arrested. Among them, one is Arsala's brother, one is his uncle's son, and the third is a close relative. They have been apprehended on charges of abetment and will be presented before the court for physical remand.
Meanwhile, the boy, identified as Rahmat Shah, who featured in the viral images, has been rescued safely by the local police from Barsharyal.
The police had recorded his statement, and he will be presented in court for further legal proceedings.
Police teams are actively present in Barsharyal, conducting a thorough investigation into the matter.
PM Kakar arrives in Kuwait on two-day official visit

KUWAIT:

Caretaker Prime Minister Anwaarul Haq Kakar on Tuesday arrived in Kuwait on a two-day official visit to meet the brotherly country's leadership.
Upon his arrival at the airport, Kuwait's Minister for Electricity, Water and Renewable Energy Dr Jassim Mohammed Abdullah Al-Ostad received the prime minister, PM Office said in a press release.
Pakistan Ambassador to Kuwait Malik Muhammad Farooq and other senior diplomatic officials were also present on the occasion.
Read more: Investment worth $10b on the cards
During his visit, the premier will meet Crown Prince of Kuwait Sheikh Mishal Al-Ahmad Al-Jaber Al-Sabah and Prime Minister Sheikh Ahmed Al-Nawaf Al-Ahmad Al-Sabah.
Caretaker Prime Minister Anwaar-ul-Haq Kakar arrived in Kuwait for his two day official visit, today. Kuwait's Minister for Electricity, Water and Renewable Enegery, Dr Jassim Mohammed Abdullah Al-Ostad received the Prime Minister upon his arrival. pic.twitter.com/ZmeVlZk3S8

— Prime Minister's Office (@PakPMO) November 28, 2023
During the visit, a new era of economic and economic cooperation between the two countries will begin. 
A number of MoUs will be signed for mutual cooperation in various sectors including manpower, information technology, minerals and mining, food security, energy and defence, it was further added.
As a traditional Kuwaiti welcoming gesture, the caretaker prime minister was also presented "Kahwa" upon his arrival.
As a traditional Kuwaiti welcoming gesture to welcome guests, Caretaker Prime Minister Anwaar-ul-Haq Kakar being presented "Kahwa" upon his arrival in Kuwait. pic.twitter.com/3RP94rclqz

— Prime Minister's Office (@PakPMO) November 28, 2023
Earlier this month, the interim federal cabinet gave the nod to seven memorandum of understanding (MoUs) with Kuwait for an investment worth $10 billion.
The MoUs would be signed by PM Kakar during the visit.
The MoUs will be inked for projects in various fields, including expansion of water reservoirs, mining facilities, protection and expansion of mangrove forests for coastal areas, investment in IT sector and food security.
The MoUs between the two countries became possible due to the efforts made by the Special Investment Facilitation Council (SIFC), according to a statement issued by the PM Office earlier.
It added that the interim premier, who chaired the meeting in the federal capital, and his cabinet members appreciated the efforts of the SIFC and the relevant ministries.
The caretaker prime minister issued directions to the federal authorities concerned to ensure cooperation with the provinces for early and fair execution of the projects.
Govt will support ECP in holding 'fair polls'

ISLAMABAD:

Caretaker Federal Minister for Information, Broadcasting and Parliamentary Affairs Murtaza Solangi Tuesday said under Article 218(3) of the Constitution, the Election Commission of Pakistan (ECP) would fulfill its responsibility to conduct fair, transparent and impartial elections and the government would support it.
Talking to media in the federal capital, the interim minister noted that the Constitution comprised 280 articles, adding that it not only had the article pertaining to holding of elections in 90 days but also had Article 254.
Read also: Caretaker govt has no agenda: Solangi
"Everyone in Pakistan has freedom to express opinion, complain and criticize," he said.
The minister maintained that the PML-N also had the same liberty as of the PPP and the other parties.
He said Caretaker Prime Minister Anwaarul Haq Kakar had apprised the people about his visit to the UAE on Monday night through a video message.