Amid Canada tensions, Indian, US diplomats to meet in Washington

NEW DELHI:

Amid a diplomatic spat between India and Canada over the murder of a Sikh community leader, India's Foreign Minister S. Jaishankar will be meeting his US counterpart Antony Blinken on Thursday in Washington.
During his visit, Jaishankar has a series of meetings planned, including discussions with his US counterpart Antony Blinken, White House officials, members of the US administration, and interaction with the Indian diaspora, said a press statement issued earlier by the Indian Foreign Ministry.
The agenda of the meeting has not been shared but it is believed that the ongoing crisis between India and Canada will be discussed in the meeting.
Sikh community leader Hardeep Singh Nijjar was shot dead on June 18 in Surrey, Canada's westernmost province of British Columbia, in front of a Sikh temple. So far, no arrests have been made.
Prime Minister Justin Trudeau said last week Canada had credible intelligence linking Indian agents to the murder, prompting an angry reaction from New Delhi. It denied the allegation as "absurd" and stopped issuing visas to Canadian citizens due to "security threats."
In a press briefing on Wednesday, State Department spokesperson Matthew Miller said: "I don't want to preview the conversations he will have in that meeting, but as we've made clear, we've raised this; we have engaged with our Indian counterparts on this and encouraged them to cooperate with the Canadian investigation, and we continue to encourage them to cooperate."
Read also: India would look into any 'specific' info on Sikh separatist killing in Canada: Jaishankar
Miller was responding to questions on the meeting between Jaishankar and Blinken.
Asked about the allegations at a Council on Foreign Relations event in New York, Jaishankar said on Tuesday said New Delhi has told Canada it would look into any "specific" information it provides on the killing of Nijjar.
Nijjar was a vocal supporter of independence for a Khalistani state in the Punjab region. The Indian government has repeatedly insisted that Nijjar was a terrorist – a label his supporters denied – and at the recent G-20 summit in New Delhi, Prime Minister Narendra Modi chided Trudeau for allowing Sikh separatist protests in Canada.
The Canadian premier's shocking accusation of India's involvement in Nijjar's murder heightened tensions to the point where both countries expelled each other's diplomats.
Trudeau, however, said he was not looking to provoke India and urged officials in New Delhi to cooperate with an investigation into the killing.
The Khalistan movement for an independent Sikh state in India peaked in the 1980s. It was put down by force, and most of its leaders are now said to be in Canada, Australia, and the UK.
US vetoes UN ceasefire bid as Israel continues Gaza assault

GAZA:

Israel pressed its invasion of the besieged Palestinian enclave of Gaza on Saturday after the United States blocked an extraordinary UN bid to call for a ceasefire in the two-month conflict.
Hamas and the Palestinian Authority swiftly condemned the US veto as the Palestinian health ministry put the latest death toll in Gaza at 17,487 people, mostly women and children.
An Israeli strike on the southern city of Khan Yunis killed six people, while five others died in a separate attack in Rafah, the ministry said Saturday.
⚡️MINDBLOWING: Hamas published a new video showing scenes of Hamas clashing with military vehicles, including Merkava tanks, penetrating the Gaza City axes. pic.twitter.com/7kzzO4CPwq

— Arya – آریا 🇮🇷 (@AryJeay) December 8, 2023
Vast areas of Gaza have been reduced to rubble and the UN says about 80 percent of the population has been displaced, with dire shortages of food, fuel, water and medicine reported.
"It's so cold, and the tent is so small. All I have are the clothes I wear, I still don't know what the next step will be," said Mahmud Abu Rayan, displaced from Beit Lahia in the north.
A UN Security Council resolution that would have called for an immediate ceasefire was vetoed by the United States on Friday.
US envoy Robert Wood said the resolution was "divorced from reality" and "would have not moved the needle forward on the ground".
Israeli Foreign Minister Eli Cohen said the ceasefire "would prevent the collapse of the Hamas terrorist organisation, which is committing war crimes and crimes against humanity, and would enable it to continue ruling the Gaza Strip".
Hamas slammed on Saturday the US rejection of the ceasefire bid as "a direct participation of the occupation in killing our people and committing more massacres and ethnic cleansing".
Palestinian Prime Minister Mohammed Shtayyeh said it was "a disgrace and another blank cheque given to the occupying state to massacre, destroy and displace".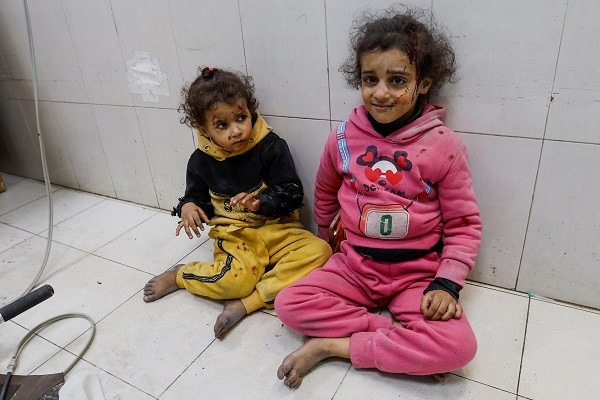 Wounded Palestinian children sit on the floor at Nasser hospital following Israeli strikes. PHOTO: Reuters
The veto was swiftly condemned by humanitarian groups, with Doctors Without Borders (MSF) saying the Security Council was "complicit in the ongoing slaughter".
Israel's military said Friday it had struck 450 targets in Gaza over 24 hours, showing footage of strikes from naval vessels in the Mediterranean.
The Palestinian health ministry reported 40 Palestinians killed near Gaza City in the north, and dozens more in Jabalia and the main southern city of Khan Yunis.
Following two months of conflict and barbaric Israeli bombardment, UN chief Antonio Guterres said Friday "the people of Gaza are looking into the abyss".
"People are desperate, fearful and angry," he said. "All this takes place amid a spiralling humanitarian nightmare."
Many of the 1.9 million Gazans who have been displaced by the war have headed south, turning Rafah near the Egyptian border into a vast camp.
Only 14 of the 36 hospitals in the Gaza Strip were functioning in any capacity, according to United Nations' humanitarian agency OCHA.
⚡️WATCH: Al-Quds Brigades published a new video showing scenes of targeting israeli military vehicles including Merkava tanks on the incursion axes towards Gaza City. pic.twitter.com/vpPQs24vT2

— Arya – آریا 🇮🇷 (@AryJeay) December 8, 2023
With the civilian toll mounting, US National Security Council spokesman John Kirby told reporters Friday that Washington believes Israel needs to do more to protect civilians in the conflict.
"We certainly all recognise more can be done to… reduce civilian casualties. And we're going to keep working with our Israeli counterparts to that end," he said.
The death toll also rose in the Israeli-occupied West Bank, where Israeli forces shot dead six Palestinians on Friday, the territory's health ministry said.
Israel claimed Friday it has lost 91 soldiers in Gaza. The real number of casualties is likely higher.
It claimed two others were wounded in a failed bid to rescue hostages overnight, and that "numerous terrorists" were killed in the operation.
Hamas said a hostage was killed in the botched Israeli rescue operation, and released a video purporting to show the body, which could not be independently verified.
An attack on the US embassy in Iraq on Friday deepened fears of wider regional conflict.
Salvoes of rockets were launched against the mission in Baghdad's heavily fortified Green Zone, adding to dozens of recent rocket and drone strikes by resistance groups against American or coalition forces in Iraq and Syria.
Separately, three Hezbollah fighters and a Syrian were killed on Friday in an Israeli drone strike on their car in the south of Syria, a war monitor said.
WHO members urge Israel to protect humanitarian workers
More than a dozen member states of the World Health Organization submitted a draft resolution on Friday that urged Israel to respect its obligations under international law to protect humanitarian workers in Gaza.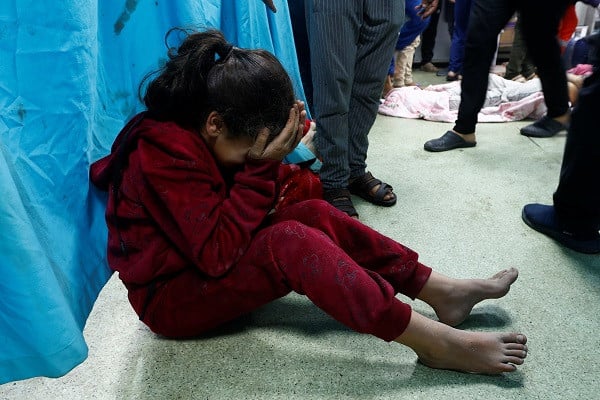 A wounded Palestinian child sits on the floor of Nasser hospital following Israeli strikes. PHOTO: Reuters
The text of the draft resolution is due to be examined on Sunday during a special session of the WHO's Executive Board convened to discuss "the health situation in the occupied Palestinian territory".
It was proposed by Algeria, Bolivia, China, Egypt, Indonesia, Iraq, Jordan, Lebanon, Malaysia, Morocco, Pakistan, Qatar, Saudi Arabia, Tunisia, Turkey, United Arab Emirates and Yemen.
Palestinian representatives have WHO observer status, and were also signatories to the proposal.
The member states expressed their "grave concern about the catastrophic humanitarian situation in the occupied Palestinian territory, including east Jerusalem, especially the military operations in the Gaza Strip".
They called for Israel to "respect and protect" medical and humanitarian workers exclusively involved in carrying out medical duties, as well as hospitals and other medical facilities.
Separately, WHO spokesman Christian Lindmeier told reporters on Friday that Gaza's health system was on its knees and could not afford to lose another ambulance or a single hospital bed.
"The situation is getting more and more horrible by the day… beyond belief, literally," he said.
The United Nations' humanitarian agency OCHA said late on Thursday that only 14 of the 36 hospitals in the Gaza Strip were functioning in any capacity.
 
Hundreds still stranded, plants closed in India's Chennai

CHENNAI:

Volunteers waded through stagnant water to hand out food and supplies, and some manufacturing plants remained shut in India's southern tech-and-auto hub district of Chennai on Friday, four days after cyclone Michaung lashed the coast.
At least 14 people, most of them in Chennai and its state of Tamil Nadu, have died in the flooding, triggered by torrential rains that started on Monday.
The cyclone itself made landfall further north in Andhra Pradesh state on Tuesday afternoon.
Authorities said some low-lying areas of the state were still inundated and government officials and volunteers were taking supplies to people stuck in their homes in slums and other areas.
The larger Chennai area is home to the Indian units of several global firms including Hyundai Motor (005380.KS), Daimler and Taiwan's Foxconn (2317.TW) and Pegatron (4938.TW) which do contract manufacturing for Apple (AAPL.O).
Read more: Chennai flooded as heavy rains from cyclone Michaung batter south India
While many of them including Pegatron and Foxconn resumed operations within a day or two of the cyclone making landfall, some plants of the TVS group located in the worst-affected areas are yet to open, industry sources said.
Adani Krishnapatnam Port (APSE.NS) in Andhra Pradesh, said on Friday the cyclone had "very badly affected" its operations and it was declaring a force majeure period starting Dec. 3.
Force majeure is a notice used to describe events outside a company's control, such as a natural disaster, which usually releases it from contractual obligation without penalty.
State-run Madras Fertilizers (MDFT.NS) notified stock exchanges that its Chennai plant has been shut and is tentatively expected to resume operations within two to four weeks.
Infrastructure questioned
Information technology (IT) services providers told staff to work from home for the week, while schools and colleges closed. A few schools and colleges were converted into temporary shelters.
This week's floods in Chennai brought back memories of the extensive damage caused by floods eight years ago which killed around 290 people.
In Andhra Pradesh, the damage from the cyclone was relatively contained, with roads damaged and trees uprooted as big waves crashed into the coast.
Defence Minister Rajnath Singh visited Chennai on Thursday and announced New Delhi will release a second instalment of 4.5 billion rupees ($54 million) to Tamil Nadu to help manage the damage. The federal government has also approved a 5.6 billion-rupee project for flood management in Chennai, he said.
Chennai residents questioned the ability of the city's infrastructure to handle extreme weather.
"Not only has urbanisation itself caused a problem, but the nature of the urbanisation has preyed upon open spaces, holding areas like marshlands and flood plains," social activist Nityanand Jayaraman said.
Experts have, however, said better stormwater drainage systems would not have been able to prevent the flooding caused by very heavy and extremely heavy rains.
"This solution would have helped a lot in moderate and heavy rainfall, but not in very heavy and extremely heavy rains," Raj Bhagat P, a civil engineer and geo-analytics expert, said on Wednesday.
Gunman described as struggling academic with 'target list'
The gunman who killed three professors and wounded one at the University of Nevada, Las Vegas, was a financially struggling academic whose job applications were rejected by several higher-education institutions in Nevada, police said on Thursday.
Anthony James Polito, 67, also had mailed nearly two dozen suspicious letters to faculty at universities across the country and had prepared a "target list" of people at both UNLV and a North Carolina university where he once worked, police said.
Polito, facing eviction from his home in the Las Vegas suburb of Henderson, had a criminal record of computer trespass dating to 1992 in Virginia, but police said there were no advance signs of violence.
The Taurus 9mm handgun he used in the shooting was legally purchased in 2022, according to Sheriff Kevin McMahill of the Las Vegas Metropolitan Police Department. He said Polito, who police shot dead after the attacks, was believed to have acted alone.
The precise motive for the rampage remained to be determined, though officials said it appeared students were not the primary target.
All four people shot on Wednesday inside Beam Hall, the campus building that houses UNLV's business school, were faculty members.
Two of the dead were identified as professor Cha Jan "Jerry" Chang, 64, and assistant professor Patricia Navarro Velez, 39. The identity of the third slain professor was being withheld pending notification of family.
Read: Las Vegas campus shooting leaves 4 dead, including suspect
The surviving victim remained hospitalized, and his condition worsened on Thursday, McMahill said.
Letters and list 
Detectives learned Polito had visited a post office shortly before the shooting and mailed 22 letters with no return address to university personnel across the United States, and had a list of people he was seeking on the UNLV campus as well as faculty from his former employer, East Carolina University in Greenville, North Carolina.
His LinkedIn profile described Polito as a semi-retired associate professor of business who taught at East Carolina from 2001-2017.
Authorities intercepted the letters before any were delivered and found a suspicious white powdery substance in at least one of them, McMahill said at a news briefing on Thursday.
The letters' contents remained under investigation, the sheriff told reporters, warning that anyone in higher education who received such an envelope should exercise caution and contact authorities.
He said officials were working to notify the intended recipients and had contacted nearly everyone on the separate target list to make sure all were safe.
"None of the individuals listed on the target list became a victim," he told reporters.
He said detectives also had uncovered evidence that Polito was struggling financially, including an eviction notice taped to the entrance of his apartment. He said a document that appeared to be a will was found inside.
"We know he had applied numerous times for jobs with several Nevada higher-education institutions," McMahill added, but he did not say whether UNLV was one of them.
Police searching Polito's home also recovered ammunition similar to the 150 rounds he was carrying.
The UNLV campus will remain closed through Friday. The UNLV website said classes had been canceled through Dec. 10.